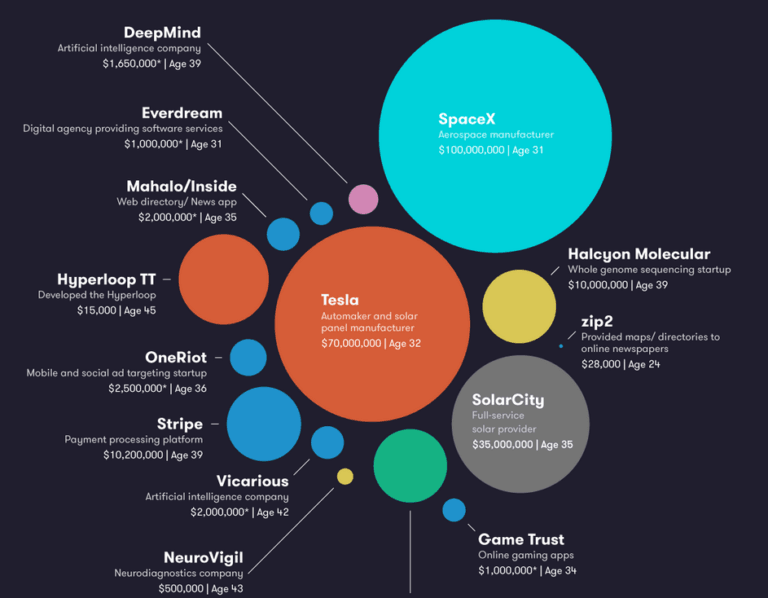 Self-made billionaire Elon Musk can seemingly do it all. At just 46, the entrepreneur has launched a number of successful companies, including Tesla, SpaceX, PayPal and the Boring Company and is now worth over an astonishing $20 billion.
Whether he's launching satellites or working on the Tesla production line, Musk is constantly proving he's a man of unexpected capabilities. He became a multimillionaire in his late 20s when he sold his start-up company Zip2, and has since then found an ability to turn outdated industries on their heads while making billions along the way. In fact, he is by far, one of the most influential entrepreneurs in history.
But where has he spent his fortune?
Musk has invested heavily in Tesla Motors. The company was founded by engineer Martin Eberhard and computer scientist Marc Tarpenning in July 2003. Musk joined the board in 2004 after leading the company's series A funding, and became CEO in 2008. By the age of 32, he had invested $70,000,000 into the company in a bid to develop, manufacture and sells high-performance, fully electric vehicles and electric vehicle powertrain components.
Gates Capital Management Reduces Risk After Rare Down Year [Exclusive]
Gates Capital Management's ECF Value Funds have a fantastic track record. The funds (full-name Excess Cash Flow Value Funds), which invest in an event-driven equity and credit strategy, have produced a 12.6% annualised return over the past 26 years. The funds added 7.7% overall in the second half of 2022, outperforming the 3.4% return for Read More
Its first car, the Roadster, impressed consumers with its sports car ability to accelerate from 0 to 60 mph in under four seconds and travel about 250 miles on a single charge. In 2008, Musk took a more active role and became CEO of the company, a position he still holds today.  It's safe to say that Tesla is now easily the global leader in electric car technology.
Another notable investment is in SolarCity. Founded in 2006 by Elon's cousin's, SolarCity is now one of the largest producers of solar panels in the world. While Musk only personally got involved when his company SpaceX bought $90 million worth of stock in the venture, his involvement took the company miles ahead to a point where he decided to acquire it all together, at an estimated $2.5-$3 billion through Tesla. Now Musk sits on the board as Chairman..
One of Musk's more recent investments is in the Boring Company. The idea behind the Boring Company is to revolutionise the way Americans travel, by connecting nearby cities with tunnels underneath. The goal with The Boring Company is to reduce the cost of tunneling while also speeding up production. Musk has hopes that The Boring Company, will be the key to unlocking hyperloop travel, one of Musk's passions. To fund the project, Musk started selling hats. On December 16, 2017, Musk announced he had sold 42,000 Boring Company hats and raised $840,000.
But none of these can compete with SpaceX, where Elon Musk has invested the most. The California-based rocket and spacecraft manufacturer was founded by Musk himself in 2002. The company, which was started with $100 million from the sale of PayPal, is now worth over $21 billion.
Musk started as CEO, and he remains in that position today. The goal of SpaceX was, and still is, to revolutionize space technology. The company has been a remarkable success, both financially and technologically, and has made space travel exciting again. At the end of last year, SpaceX had successfully landed 19 rockets and next steps are to take humans to Mars by 2024.
Between space rockets, electric cars, solar batteries, research into killer robots and the billions he's made along the way, just what will he invest in next? Find out more about Musk's investments from RS Components