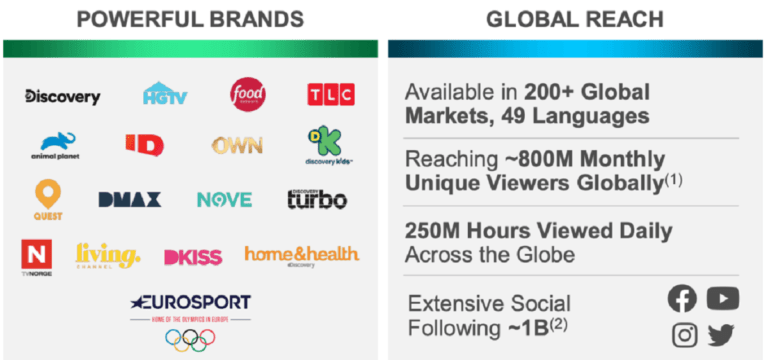 Discovery Part II
Q1 2021 hedge fund letters, conferences and more

Three weeks ago I picked up shares of Discovery Communications Inc. (NASDAQ:DISCA) in the Archegos fallout at ~$41. I documented the purchase and did a quick analysis in the first post here. Since then I had more time to reflect on the company.
It turned out that Credit Suisse wasn't done with the carnage and dumped more shares on the market. DISCA is trading around ~$38 and has recovered from their low $36. Still, I'm down 7%. To add insult to the injury, shares of the thinly traded Class B, Discovery Communications Inc. (NASDAQ:DISCB), doubled the next day. John Malone owns like 92% or more of the Class B shares and the rest are insiders. There's no float on 6 million shares outstandings. Basically you ended up in a situation where there's too many buyers and not enough shares. Since DISCB has retrivered to its pre-Archegos level.
Is First Gen An Overlooked Power Play That Deserves A Re-Rating?
The post was originally published here. Highlights: Resolving gas supply issues ensures longevity A pioneer in renewable energy should be future proof Undemanding valuation could lead to re-rating Q1 2022 hedge fund letters, conferences and more
As for the Class A, it takes a while for the market to digest a massive amount of shares. My timing with stocks has never been great. I either show up early at the party or I miss it. And there's market psychology. People want to buy stocks when they are red hot. Not when they are down. They want to jump on Gamestop when it was "cheap" at $350, not when it was $5. So sometimes the reason for lower share price is lower share price. The mood might brighten if Discovery delivers good results and provides a positive growth trajectory for Discovery+. Q1 results are expected April 28. Meanwhile Discovery's shares are getting bought back at a cheaper price.
If you value Discovery, there are 3 classes of shares and convertible preferred shares. Ordinarily companies are valued based on their fully diluted equity value, taking into account stock options and warrants. So you want to work with the fully diluted number. For Discovery that's around 679m shares.
Credit Suisse
Just a quick comment on Credit Suisse. What's going on there? The bank has been involved in high profile scandals in the last couple years (Greensill, Archagos, York Capital among other things). It would have been one of Credit Suisse's best quarters in history, though it turned out to be one of the worst. Revenue at the Swiss bank soared 31% to $8.3B due to client activity in robust markets, but it logged a net loss of 252M Swiss francs ($275M) due to the Archegos disaster. The damage isn't done. While Credit Suisse has exited 97% of its trading positions related to the collapse of the investment firm, it still predicts an additional loss in Q2 of around 600M Swiss francs ($655M). Credit Suisse suspended their dividend and is issuing $2b in new shares to shore up their balance sheet.
And the questions: Are there more skeletons in the closet? What else does management not see? How do you have a client with such a sketchy past accumulate a position of $20b+? Sounds like risk management and internal controls are not adequate. Banking is built on trust. Without it it doesn't work. They are intermediate of capital. When a bank fails they cause massive amounts of damage.That's why there are regulations and watchdogs. The story is still unfolding.
Back to Discovery
Their Discovery+ platform will drive growth forward. If they succeed with streaming, the narrative around the company will change too. It will go from a "victim of cord cutting" to streaming darling.
If Wall-Street buys your story that you can grow, you will get a higher multiple. It's pretty much all that Wall-Streer cares about. Demonstrate or sell the idea of growth and you will be rewarded. Nobody understood that better than Elon Musk.
Change the story.
Amazon is not known for selling books. It's the biggest cloud operator.
Disney is not a cord-cutting ESPN story anymore. It's now a streaming story just like Netflix is not a DVD in the mail company. Disney+ won't break even until 2024 and HBO Max until 2025 but the market doesn't care.
Even though GM is a massive polluer, they are pitching the idea that they are part of the solution with their Zero Emission factory and their EV Hummer.
Microsoft is not a Windows story, it's a cloud story.
Just look at AT&T, a company with declining legacy assets. Thursday night they released their Q1 results and the stock jumped 7% because of streaming subscriber growth. That's more than their annual dividend of 6.6%.
I know the streaming space is crowded. Netflix, Disney+, HBO Max, Peacock, Paramount and some. It's hyper competitive. You can add anything that consumes your attention. Youtube, Tiktok, video gaming etc…basically they are raging a war for your attention.
Discovery+ has 11m subscribers and trending up. I believe they will succeed and here's why: First, people love their content. They might not explicitly say it but people watch their stuff.
Viewers watch their content more than they admit. They don't talk about it. It's like Youtube or Tik Tok. People spend hours on that stuff. Nobody says I spent 2 hours on Facebook last night. It's not intentional. I lost an hour watching a 5 minute video on Youtube and I didn't even realize it.
So when people ask what did you watch over the weekend, people will say "oh I watch the Crown". But the reality is they probably binged watch The 90 Day Fiance.
Second, Discovery's competitors are in the scripted TV and movie business. Like I said it's pretty crowded. Discovery is in the "real life" entertainment category. They dominate that space. They have been accumulating assets and content over the years. Their content library is massive. They also have an advantage. Their "real life" content is cheap to produce. If you have a $100m big budget hype up show and it flops, well you don't have a $100m asset. It's worthless. By producing cheap content there's less risk of downside.
Three, I might have underestimated how sticky Discovery's content is. My guy goggles are probably the fault. When a guy turns on the TV, what's the natural instinct? Sports and news. Discovery has sports content too.
Discovery has four of the top 20 most-watched cable networks (TLC, HGTV, Discovery Channel, Food Network).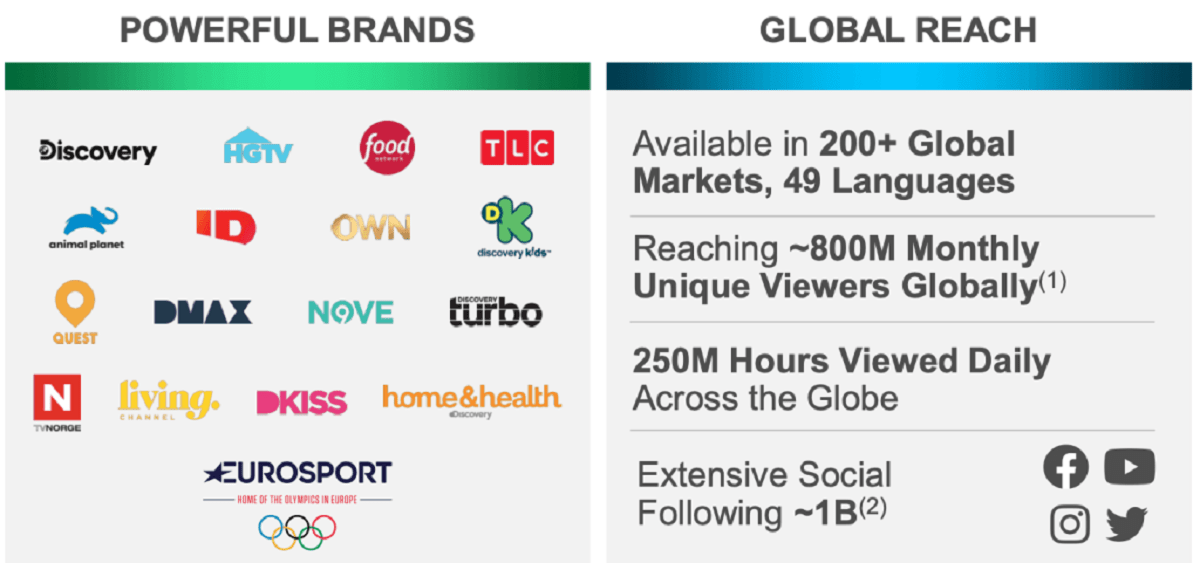 My mom has cable and she pays for these specialty channels. My mom is not cord cutting. And she's always watching their property shows.
I suspect that's the only reason my mother-in-law keeps cable is for these unscripted shows. That's the only stuff I see her watch.
A talk with a buddy two month ago (pre-carnage) told me he wanted to get rid of cable but couldn't because of his wife's insistence on keeping HGTV and TLC shows.
We don't have cable but I asked my wife what channel do you go to when you turn on the TV (at her mother's let say) and she says HGTV.
My point is Discovery's content is sticky and prized. Their content is unique and global. Their content is on every platform. I believe that Discovery+ will be a success story and will drive Discovery's share upward.
Article by Brian Langis
Updated on