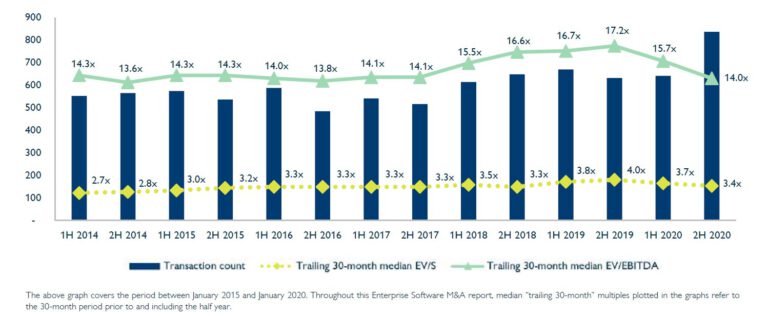 The latest Enterprise Software M&A report from Hampleton Partners, the international technology mergers and acquisitions advisor, reveals that the number of deals targeting enterprise software assets has skyrocketed, with 836 deals recorded in the second half of 2020 compared to 641 deals in the first half of 2020.

Q4 2020 hedge fund letters, conferences and more
The second half of 2020 saw the tech M&A market come back stronger than ever, despite Covid-19 lockdowns and a lull in market activity in Q2 2020. If we consider tech M&A across all technology sectors, disclosed deal value amounted to $485 billion – more than full-year totals for every year except two since 2002. In addition, acquirers announced a record 79 purchases valued at more than $1 billion in the second half of 2020. That was more than three times the number of blockbusters announced in the first half of the year.1
How A Weakening PE Market Serves As Another Sign Of A Weakening Economy
Amid the turmoil in the public markets and the staggering macroeconomic environment, it should come as no surprise that the private markets are also struggling. In fact, there are some important links between private equity and the current economic environment. A closer look at PE reveals that the industry often serves as a leading indicator Read More
In the Enterprise Software sector, we are seeing similar momentum. In the second half of 2020, disclosed M&A deal value amounted to a whopping $112 billion – the highest amount on record – and the sector saw a total of 21 billion-dollar deals compared to only six in 1H2020 and eight in 2H2019.
What's behind the figures and what does this mean for Enterprise Software M&A?
First, deal activity was lower in 1H2020 because M&A processes were placed on hold when the pandemic began. Buyer confidence diminished, and acquirers adopted a "wait-and-see" approach. Since then, however, acquirers have adapted to "the new normal" in M&A – running virtual meetings and effectively carrying out entire M&A processes remotely – and completed many of these paused deals.
Second, the new circumstances and challenges of Covid-19 have created opportunities for software services. Businesses that are increasing their digital transformation efforts are looking to software tools to help them navigate the digital sphere; and moving into the cloud and need new solutions to do so. In addition, as working from home is becoming widely accepted, staff need remote access to their files and programmes, meaning a bigger platform for desktop virtualisation and file discovery. Meanwhile, retailers need webshops and apps now that their customers have become used to online shopping.2
These are but a few examples of push factors that shaped deal-making in Enterprise Software this year. Digital implementations and high-functioning enterprise infrastructure are needed now more than ever, allowing software and SaaS providers to fill in the gaps. These, in turn, are attracting the attention of prolific acquirers en masse, who are looking to own or operate the next indispensable technology.
M&A summary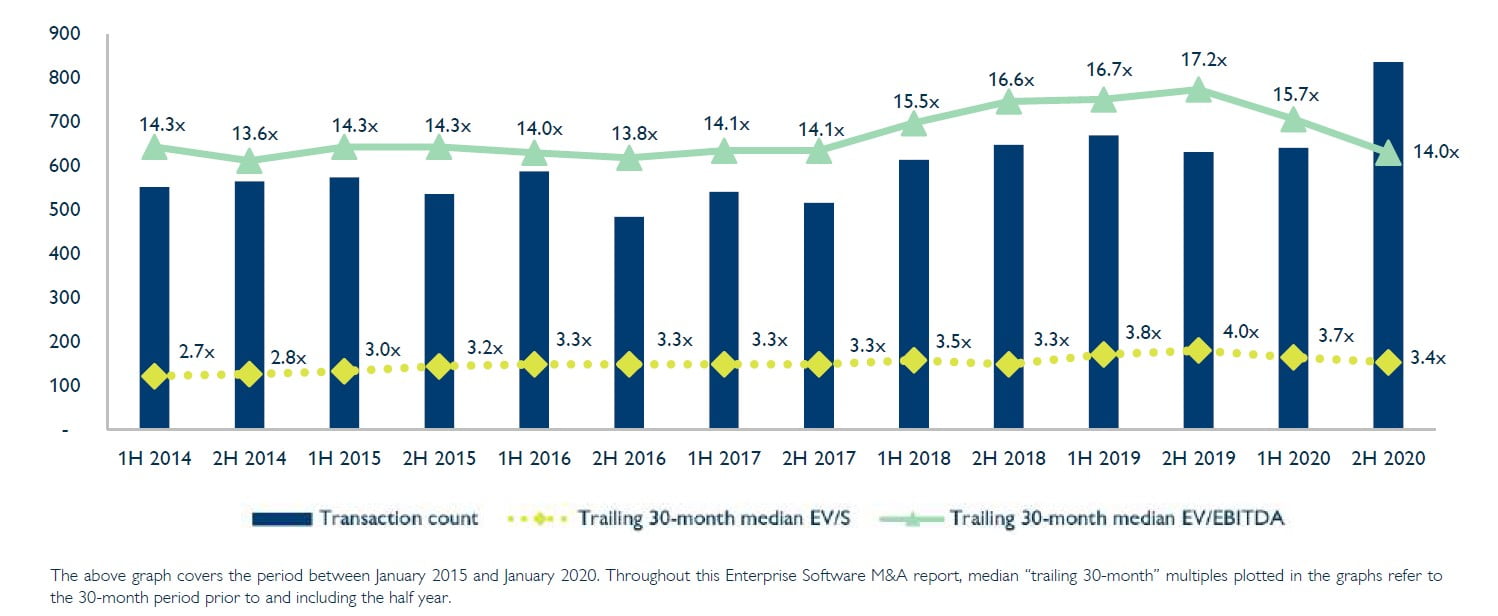 M&A market back stronger than ever
The number of M&A transactions in the Enterprise Software sector skyrocketed this reporting period, with 836 enterprise software deals recorded in 2H2020 compared to 641 deals in 1H2020 – a 30 per cent increase. The jump comes as dealmakers incorporate "the new normal" into their strategy and processes, navigating and adapting to various Covid-19 restrictions. At the same time, valuation multiples peaked in 2019 and have now returned to a more normal range from a 10-year perspective – which is slightly lower than the record highs seen between mid-2018 and mid-2020. The trailing 30- month median revenue and EBITDA multiple came in at 3.4x and 14x, respectively. We may infer that the pandemic motivated sellers to decrease pricing to a more appetising level for buyers and fuelled the increased number of deals.

The year 2020 saw 559 transactions carried out by private equity buyers or their portfolio companies, representing a record 38 per cent of deals in Enterprise Software. This surpasses private equity's market share in previous reporting periods. In addition, although private equity buyers will no doubt remain acquisitive, seeking out targets on which to spend some of their dry powder, we are likely to see them change aim in the next few months and hone in on technologies which have become even more relevant amid Covid-19.
Top acquirers 2018-2020
Over the past 30 months, Montreal-based Vertical investor Valsoft made a series of acquisitions which propelled it towards the top of the table. The company made seven acquisitions in 2020 alone, including Mac-based medical practice management software MacPractice and medical data analytics SaaS Interdev. It also entered the animal health space with the acquisition of Asteris, a provider of diagnostic imaging and teleconsultation platforms for the veterinary vertical.
For the first time, Total Specific Solutions, a Dutch vertical market software group owned by Constellation Software, also featured in the table. Most recently, the company acquired QPS, a provider of hydrographic software systems to the maritime industry, from Swedish aerospace and defence giant Saab.
Other prolific acquirers included private equity firms Thoma Bravo and Vista Equity, who recently purchased various SaaS assets. Australian logistics software company WiseTech was knocked off the table this reporting period, as most of its acquisitions were made in 2018 and 2019 as part of its intercontinental expansion.
Top trends in Enterprise Software
Private equity and financial buyers continue to invest and acquire, accounting for 38 per cent of all transactions in the sector in the first half of 2020
Enterprise applications remain a core concern for all businesses as they look to streamline processes and bring efficiency, for instance to their supply chain and logistics processes as shipping and digital commerce to replace retail
Customer analytics and business intelligence experience boom in interest as digital customer acquisition and retention becomes growing concern for digital commerce newcomers and existing players alike
Infrastructure and APIs are key for all businesses looking to improve their digital architecture and ensure their systems are up to speed
Healthcare vertical software is front-of-mind for financial sponsors, particularly in North America
Data breakdown – geography and subsector
Over the past 30 months, 65 per cent of all transactions worldwide targeted a North American company, compared to 25 per cent targeting a European country. Meanwhile, 55 per cent of European targets were bought by acquirers that were also European. It appears intercontinental deal-making has resumed after a period of more local M&A interest. Indeed, in our last report, we highlighted a small increase in local European > European acquisitions, with over 60% of European targets being bought out by European acquirers. However, this trend seems to have settled.
Business Intelligence & Customer Analytics
Sub-sector overview
Transaction count in the Business Intelligence & Customer Analytics subsector skyrocketed in the second half of 2020, with 97 deals recorded compared to 66 deals in 1H2020. The trailing 30-month median revenue multiple also jumped back to 5.4x.
Knowyour customers' customer
The pandemic has forced businesses to change the way they interact with customers. Whether it's how they deliver goods and services, or how they communicate, there is one common denominator, and that's that everything is being forced to be digitally driven much faster.
In October, communications API provider Twilio acquired Segment for $3.2 billion. Founded in 2011, Segment provides a set of APIs that gather data about a customer from a variety of sources such as CRM tools, customer service applications and websites, to provide a single, holistic view of the customer. The company had raised $283 million prior to the transaction.
Twilio's embedded VoIP communications infrastructure allows businesses to reach their customers through text messages, voice and video calls. The company counts the likes of the American Red Cross, delivery unicorn Deliveroo and bank ING as customers.
Similarly, ZoomInfo, the global leader in go-to-market intelligence solutions, acquired EverString in November. EverString provides machine learning-derived data and automated modeling to B2B companies to improve segmentation and decisionmaking. Its data-as-a-service (DaaS) platform provides company data like firmographics, technographics, contacts, machine learning insights, and intent signals.
EverString's 100 million company records and 70 million professional profiles will be integrated into ZoomInfo's already dynamic data asset of 15 million company records and 130 million professional profiles.
Design, Testing & Simulation
Sub-sector overview
Though a comparatively smaller segment, the Design, Testing & Simulation subsector saw over 40 deals inked in 2H2020 – the highest we have monitored. However, the trailing 30-month median revenue hasn't yet returned to the high multiples seen between 2017 and 2019.
Autodesk makes three acquisitions in space
Autodesk, the U.S. publicly listed software and services company that targets engineering and design industries, made three acquisitions in the second half of 2020.
It acquired Spacemaker AI, a startup that has developed AI-supported software for urban development, for $240 million. Its 115-person team develops and sells cloud-based software that utilises AI to help architects, urban designers and real estate developers make informed design decisions. Spacemaker's VC backers include European firms Atomico and Northzone, which co-led the company's $25 million Series A round in 2019.
The acquisition of Spacemaker is in line with Autodesk's long-term strategy of using the cloud, "cheap compute" and machine learning to change the way people design things.
In the same reporting period, Autodesk also acquired CAMplete Solutions, a Canadian post-processing and machine simulation software; and Pype Inc, a log management and project closeout SaaS – both for undisclosed amounts.
Enterprise Applications
Sub-sector overview
M&A activity in the Enterprise Applications subsector shot up in 2H2020 and saw the highest number of transactions on record, with 264 deals inked – compared to 190 in 1H2020 and 230 in 2H2019, respectively. Median valuations are still historically high, at 18.4x EBITDA and 4.6x revenue on a trailing 30-month basis.
In addition, almost half of all deals (47 per cent) in the subsector were made by a private equity or PE-backed acquirer, underscoring the private equity focus on software and tech that can help streamline processes, improve efficiencies and cut costs.
Knowledgemanagement tools for the digital age In October, software giant BMC Software acquired ComAround for an undisclosed amount.
Headquartered in Sweden, ComAround is a cloudbased AI knowledge management software specifically designed to optimise self service and support flows. The ComAround Knowledge solution feeds chatbots and virtual support assistants and organises enterprise knowledge into a reliable resource for customers, employees, and support agents. Combined with the BMC Helix Chatbot and BMC Helix ITSM solutions, BMC can further increase service desk efficiencies and provide companies with the agility, customercentricity, and actionable-insights necessary to become an Autonomous Digital Enterprise. The ComAround Knowledge solution supports translation of more than 100 languages and is currently used by hundreds of organisations worldwide.
Supply chain logistics continue to garner interest According to ComputerWeekly, supply chain management seems to be changing profoundly as the coronavirus pandemic unfolds, possibly shifting from an economy of efficiency to resilience, harnessing trading networks, machine learning and robotic process automation.
In October, E2open, a leading network-based provider of cloud-based, end-to-end supply chain management software, and special purpose acquisition company CC Neuberger Principal Holdings I, merged. This means that, upon closing of the transaction, E2open will become a publicly traded company, and it is expected that its common stock will be listed on the New York Stock Exchange. The transaction values E2open at an enterprise value of $2.57 billion, and an additional $175 million private funding in public entity (PIPE) was announced in December.
E2open provides a cloud-based software platform to orchestrate complex global supply chains. Its software combines networks, data and applications to provide an embedded, platform for customers to optimise their supply chain from channel shaping and business planning to logistics and global trade to manufacturing and supply management. E2open's supply chain platform enables companies to use data from clients, distribution channels, suppliers, contract manufacturers and logistics partners in real time, with artificial intelligence and machine learning to drive smarter decisions.
Other supply chain deals included Coupa Software's acquisition of Llamasoft Inc from TPG Capital for $1.5 billion. Llamasoft provides enterprise SCM systems optimisation software and SaaS that enables data modelling, design and simulation of supply chain networks to improve operational and cost efficiency. Finally, Elemica – a provider of SCM SaaS owned by Eurazeo Capital – acquired ProcessWeaver, a provider of SCM SaaS and a related mobile application. Its software has features for centralised shipping, freight shopping, tracking and tracing, address verification, partner screening, order management, invoice management, freight auditing, and more.
Information Management
Sub-sectoroverview
The Information Management segment saw healthy deal activity again this reporting period, with an above median 146 deals closed in 2H2020. The trailing 30-month median revenue multiple climbed back to 2.7x, while the EBITDA multiple dipped to 9.6x.
The segment also saw one of the largest deals in the entire Enterprise Software sector: Salesforce's acquisition of Slack for a whopping $28.4 billion. The purchase also puts Salesforce – which recently surpassed $20 billion in annual revenue – more on par with its archrival and sometime friend Microsoft, whose Teams product has been directly challenging Slack in the market. According to the press release for the deal, Salesforce and Slack aim to shape the future of enterprise software and transform the way everyone works in the all-digital, work-from-anywhere world.
Document management beyond e-signatures
Amid increasing demand for solutions enabling the remote completion of agreements that traditionally required in-person contact, in July Docusign acquired Austin-based startup Liveoak Technologies for $38 million. The news built on the companies' existing partnership, where DocuSign eSignature is integrated with Liveoak's secure agreement-collaboration platform. Liveoak uses web-based videoconferencing, rich collaboration features, identity verification and other tools to help complete an auditable transaction remotely—and it counts some of the world's largest financial institutions as customers.
DocuSign plans to leverage Liveoak's technology and expertise to accelerate the launch of DocuSign Notary, a new product in the Agreement Cloud suite .that focuses on remote online notarisation (RON) – where audiovisual technology is used to complete a notarial act when the signers and the notary public are in different places.
Infrastructure Management
Sub-sectoroverview
This segment saw a 54 per cent increase in transaction count in the second half of 2020, with 79 deals inked compared to 51 deals closed in 1H2020. Valuation multiples have seen some change too, as the trailing 30-month.median EBITDA multiple dipped to 11.1x after peaking in 2016. Meanwhile, the revenue multiple stuck to a high 5x, having gradually progressed from the 4x seen in 2014.
Splunkmakes double acquisition
In October, publicly listed data platform Splunk added two startups to its application performance monitoring portfolio. It acquired Plumbr, an application performance monitoring (APM) service offering auto-instrumentation, Real User Monitoring and deep application performance for enterprise applications. It also acquired Rigor, a company focused on digital experience monitoring which helps customers find, fix and prevent web and API performance issues impacting end user experiences.
These deals will add to Splunk's Observability Suite, which aims to guide customers across both cloud and on-premises environments, as well as the software architecture transformations occurring with applications. Both deals complement the technology and expertise Splunk acquired when it bought SignalFx for over $1 billion last year.
According to TechCrunch, the global acceleration to multicloud and hybrid cloud architectures means that development, operations and IT teams everywhere require real-time, full-fidelity and ML-driven solutions that can help them quickly and confidently modernise and build cloud-native applications.
Vertical Applications
Sub-sectoroverview
Software designed for and applied to specific verticals attracted huge amounts of M&A activity in the second half of 2020. Much interest came from private equity firms. After sitting on dry powder in Q2 2020, these financial buyers targeted many software assets in Q3 and Q4 – particularly healthcare software, as it became clear health public and private health systems quickly risked paralysis from Covid-19 and would need to update processes, systems and software in the long-term.
The trailing 30-month EBITDA multiple stayed relatively stable at 17.5x and the revenue multiple climbed up to 3.6x.
Healthcare remains biggest software vertical
The healthcare vertical saw the most software M&A activity in 2H2020 by far, representing almost a quarter of all vertical applications deals. A total 76 per cent of these transactions targeted a North American firm, which shows that, while crossover between North America and Europe does appear in healthtech M&A, regional specificities give rise to different technological needs and regulatory requirements for healthcare businesses and providers.
WellSky is an international software and professional services company with clients that include home health providers, hospital systems, blood banks, labs, hospices, government agencies and human services organisations. The company is jointly owned by private equity firms TPG Capital and Leonard Green & Partners, which teamed up withWellSky this July.
In October, WellSky acquired CarePort Health from Allscripts Healthcare Solutions (Nasdaq: MDRX), a health care information technology provider.. Bostonbased CarePort is a care coordination software company that connects health care providers and payers, an increasingly important function as Medicare Advantage enrollment continues to soar and as the US health care system steadily shifts away from fee-for-service models. Currently, CarePort serves 1,000 hospitals and health systems, plus 110,000 post-acute provider locations.
Real estate software piques strategic and financial buyers' interest
Canadian public records management SaaS provider Dye & Durham made multiple acquisitions in the space. In September, it bought Property Information Exchange (PIE) for $40 million. Thus far majority owned by MML Capital Partners, PIE is a technology company that operates under the trade name "poweredbypie" and offers cloud-based real estate due diligence products in the United Kingdom.
Later, in December, Dye & Durham acquired the property software division of Australian firm SAI Global for $67 million. The transaction is expected to close in early 2021. SAI Global's Property Division provides its B2B customer base, which includes conveyancers, solicitors and the financial services sector, with workflow software, systems and information products to facilitate and complete the transfer of property. The acquisition creates a platform in Australia that is highly aligned with Dye & Durham's existing product lines in Canada and the United Kingdom.
Meanwhile, in December private equity firm Thoma Bravo announced it was acquiring RealPage for $10.2 billion. RealPage provides a full-service property management platform and services such as renter portals, site management, expense management and financial analysis for building and property owners.
RealPage, which was founded in 1998 and went public in 2010, has a strong customer base with more than 12,000 customers. In its Q3 2020 earnings statement, the company announced $298.1 million in revenue, up 17% year over year. That puts it on a run rate of well over $1 billion.
The transaction is subject to standard regulatory review, and the RealPage board has a 45-day "go shop" window to see if it can find a better price. Given the premium pricing on this deal, that isn't likely, but it will have the opportunity to try.
Conclusion & Contacts
Technology M&A was robust last year. After a brief hiatus in Q2, deal-making came back with a roar from July through December. In fact, the second half of 2020 saw higher total value of disclosed transactions – $485 billion – in six months than in all the full years so far this millennium except for two. Hampleton's main sector of expertise, Enterprise Software, clocked almost a quarter of the total, coming in at $112 billion of disclosed transaction value. The number of Enterprise Software deals also jumped in the second half of 2020 to a record 836 completed transactions.
Covid caused a brief lull in Tech M&A activity from March through May while trade buyers dealt with operational issues, adapted to remote working, and took stock of the potential impact of the pandemic on their customers' businesses and their own. In parallel, financial investors took a step back to consider future effects of the pandemic on social and business behaviour, also monitoring the repercussions of coronavirus on their portfolio companies. Unsurprisingly, technology companies were the fastest to adapt to a "new normal" in the pandemic-affected world. For instance, by 13 March, Google had already begun shifting their employees to a remote working environment and within only a few weeks had a significant majority of their employees working from home.
Very quickly during Q2, both strategic and financial investors were able to discern which industries were impacted negatively or positively. Retail and travel were hit very hard, killing deal activity involving companies that serve those verticals. Meanwhile, ecommerce and the health vertical boomed, driving M&A amongst vendors enabling digital commerce and automation of the health sector. Details and further examples are contained in our report.
Looking forward, 2021 has started with a flurry of activity, as Hampleton enters the year with a strong portfolio of mandates including AR/VR, electric vehicles, IoT, digital marketing, e-commerce, payments, digital banking and transformation. We anticipate Tech M&A to remain robust in both volume and value this year as technology vendors continue making strategic acquisitions, and traditional industry players and financial buyers add more technology to their portfolios.
---
AboutHampletonPartners
Hampleton Partners is at the forefront of international mergers and acquisitions advisory for companies with technology at their core.
Hampleton's experienced deal makers have built, bought and sold over 100 fast-growing tech businesses and provide hands-on expertise and unrivalled international advice to tech entrepreneurs and the companies who are looking to accelerate growth and maximise value.
With offices in London, Frankfurt, Stockholm and San Francisco, Hampleton offers a global perspective with sector expertise in: Automotive Tech, IoT, AI, Fintech, Insurtech, Cybersecurity, VR/AR, Healthtech, Digital Marketing, Enterprise Software, IT Services, SaaS & Cloud and E-Commerce.
Updated on