The impacts of COVID-19 on global remittances and how that is slowing down businesses in India
Q3 2020 hedge fund letters, conferences and more
COVID-19 is profoundly impacting all facets of our day-to-day lives, and while the loss of lives is almost unprecedented, so too is the loss of livelihoods. Businesses around the world are walking the coronavirus-tightrope, trying to balance what's right for society while trying to keep the lights on.
Starting in March 2020, India went into a relatively strict lockdown that had an immense impact on the economy, causing many people to lose their jobs. Worse still was that many of the workers who lost their employment were daily wage workers, folks who were already in a precarious financial position. Compound this with the prediction that India is on track to surpass the US in terms of case count and you quickly realize that the worst may still be ahead of us.
When asked when they foresaw India's economy returning to pre-COVID-19 activity, just over a third, 34%, of the economists surveyed by Finder said that things would return to normal in the first half of 2021. Over half of the respondents, 55%, said that things would recover at some point between the second half of 2021 and 2023, with 11% saying that India will be feeling the economic impacts of the coronavirus beyond 2025.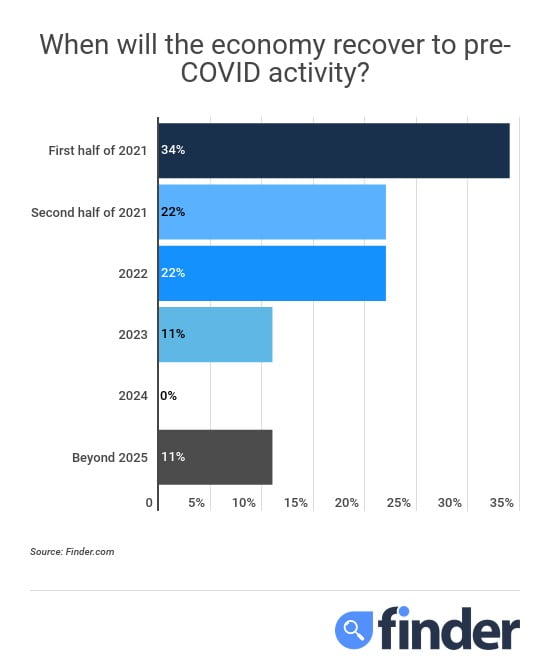 The lockdown has also had cumulative effects, with reduced travel impacting products and services not directly related to coronavirus restrictions. An Asianet survey of senior executives from 4,000 companies in Asia, the EU and the USA found that the inability to travel was one of the major hindrances businesses are facing right now. When surveyed, 79% of those respondents said "the biggest impact on the workforce has been the inability to deliver products and services."
A Reduction In Remittances To India
But it's not just domestic problems that are hampering business in India. As countries around the globe face increased economic hardships, more and more people are having to tighten their budgets. One outcome of this has been a drastic reduction in remittances to India.
Back in April 2020, the World Bank predicted that global remittances would fall 20%. This same data projected incoming remittances to India to drop even further, by 23%, from $83 billion in 2019 to $64 billion in 2020.
One of the major issues with this dip in remittance is that global money transfers are especially important to developing nations and form a key pillar of the economy itself.
"Remittances are a vital source of income for developing countries. The ongoing economic recession caused by the coronavirus is taking a severe toll on the ability to send money home and makes it all the more vital that we shorten the time to recovery for advanced economies," said World Bank Group President David Malpass.
With no end in sight to the coronavirus crisis, one major hurdle Indian businesses will face during economic recovery will be due to the lack of remittances from NRIs (Non-resident Indians) abroad since people are struggling to make ends meet in their host nations and might not have surplus income to send home. This is exacerbated by lower oil prices, which directly impact the number of remittances being sent, according to a UBS analysis. Combine all of these factors with a weak economic outlook for the US, which again impacts employment and salaries of migrants, and you end up with a rough conclusion: overall less money being sent back to India.
---
About the Author
Zak Killermann is a staff writer at Finder specializing in money transfers. After getting burned once by an over-the-counter money exchange, he vowed to never settle for anything short of the mid-market rate.