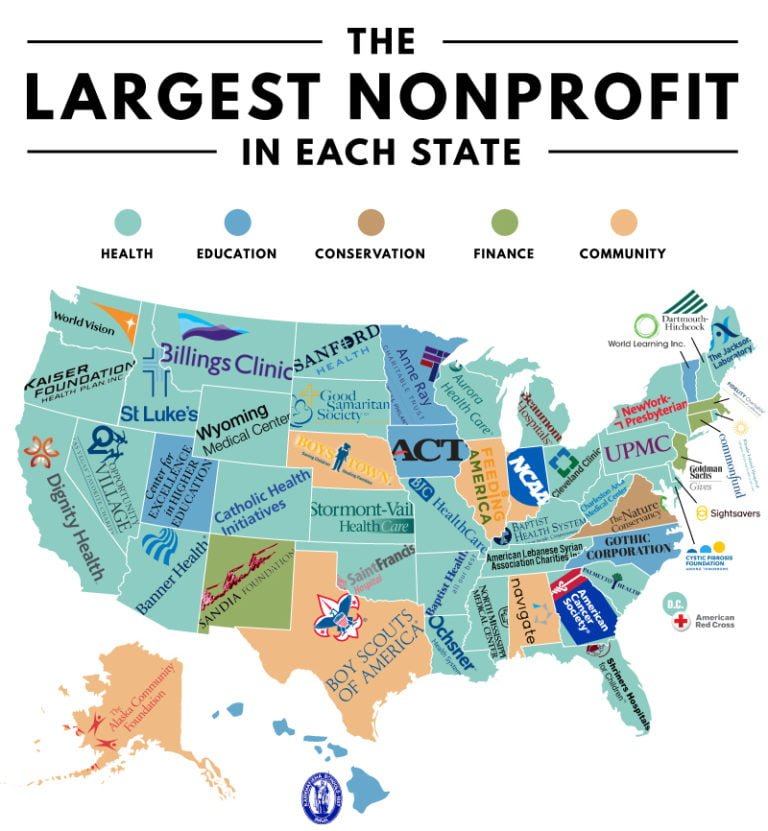 Everyone knows that nonprofits are formed to make a change in their local communities and for the greater public benefit.  Nonprofit organizations are also a large force of the American economy, accounting for over 11.4 million jobs and 10.3% of all private sector employment according to recent data from the Bureau of Labor Statistics.
Gates Capital Management Reduces Risk After Rare Down Year [Exclusive]
Gates Capital Management's ECF Value Funds have a fantastic track record. The funds (full-name Excess Cash Flow Value Funds), which invest in an event-driven equity and credit strategy, have produced a 12.6% annualised return over the past 26 years. The funds added 7.7% overall in the second half of 2022, outperforming the 3.4% return for Read More
To help show the full impact of nonprofits in the U.S. Kittleman set out to find the largest nonprofits in each state using data from the National Center for Charitable Statistics. They looked at nonprofits from 5 different sectors including health, education, conservation, finance and community. They took that data and turned it into a very useful and educational infographic that can be seen below.
Data from the National Center for Charitable Statistics shows that there is over 1.5 million registered nonprofits in the United States currently. These nonprofits are made up of a mix of public charities, foundations, health providers and various other entities. Many of the nonprofits on this list are extremely large although the list represents some smaller businesses as well. To calculate the largest nonprofits in each state by looking at both total receipts and assets for each nonprofit.
Health nonprofits dominated the list with 33 of the 50 states having a health related nonprofit top the list. Listed below is the top nonprofit for each state:
Kaiser Foundation- Portland, Oregon
Dignity Health- San Francisco, California
UPMC- Pittsburgh, Pennsylvania
Cleveland Clinic- Cleveland, Ohio
Banner Health- Phoenix, Arizona
Fidelity Charitable- Boston, Massachusetts
Anne Ray Charitable Trust- Eden Prairie, Minnesota
Ochsner Health System- New Orleans, LA
Trustees of the Estate of Bernice Pauahi Bishop- Honolulu, Hawaii
New York Presbyterian- New York, New York
Commonfund- Wilton, Connecticut
Baptist Health System- Louisville, Kentucky
Saint Francis Hospital- Tulsa, Oklahoma
BJC HealthCare- Saint Louis, Missouri
American Red Cross- District of Columbia
Shriners Hospitals for Children- Tampa, Florida
Aurora Health Care- Milwaukee, Wisconsin
Beaumont Hospitals- Royal Oak, Michigan
Sanford Health- Fargo, North Dakota
Boy Scouts of America- Irving, Texas
The Nature Conservancy- Arlington, Virginia
Rhode Island Hospital- Providence, Rhode Island
Feeding America- Chicago, Illinois
St Luke's- Boise, Idaho
Gothic Corporation- Durham, North Carolina
Catholic Health Initiatives- Englewood, Colorado
American Lebanese Syrian Association Charities Inc.- Memphis, TN
Good Samaritan Society- Sioux Falls, South Dakota
Dartmouth-Hitchcock- Lebanon, New Hampshire
Billings Clinic- Billings, Montana
American Cancer Society- Atlanta, Georgia
North Mississippi Medical Center- Tupelo, Mississippi
Palmetto Health- Columbia, South Carolina
Charleston Area Medical Center- Charleston, West Virginia
Goldman Sachs Gives- Jersey City, New Jersey
World Vision- Federal Way, Washington
NCAA- Indianapolis, Indiana
Baptist Health- Little Rock, Arkansas
Stormont-Vail Health Care- Topeka, Kansas
Cystic Fibrosis Foundation- Bethesda, Maryland
ACT- Davenport, Iowa
Boys Town- Boys Town, Nebraska
Navigate- Birmingham, Alabama
The Jackson Laboratory- Bar Harbor, Maine
Sightsavers- Wilmington, Delaware
Wyoming Medical Center- Casper, Wyoming
Center for Excellence in Higher Education- Salt Lake City, Utah
The Alaska Foundation- Anchorage, Alaska
World Learning Inc.- Brattleboro, Vermont
Opportunity Village- Las Vegas, Nevada
Sandia Foundation- Albuquerque, New Mexico
To see the full analysis, check out the infographic below to see the largest nonprofit in your state.
NOTE: Good Samwas established in 1922 not 1955 as  pictured below