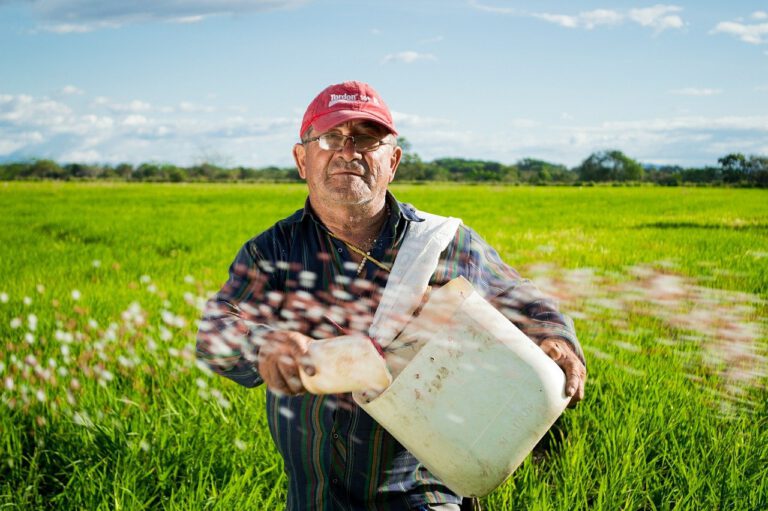 Land has always been among the first choices of investors. It is regarded as one of the safest assets because land prices have always moved up due to limited supply. Several well-known investors and billionaires have invested millions of dollars into buying land, especially farmland. If you want to know who has invested big in farmland, then here are the biggest farm owners in the U.S.

Q4 2020 hedge fund letters, conferences and more
Biggest farm owners in the U.S.
Our list of the biggest farm owners in the U.S. is based on data from Land Report. Here are the biggest farm owners in the U.S.:
[Exclusive] ExodusPoint Is In The Green YTD Led By Rates And EM/ Macro Strategies
The ExodusPoint Partners International Fund returned 0.36% for May, bringing its year-to-date return to 3.31% in a year that's been particularly challenging for most hedge funds, pushing many into the red. Macroeconomic factors continued to weigh on the market, resulting in significant intra-month volatility for May, although risk assets generally ended the month flat. Macro Read More
Boswell family (150,000 acres)
James Boswell II (1923-2009) was regarded as the "the King of California." When Boswell was 29, he got 50,000 acres of land in the San Joaquin Valley from his uncle. Over the next five decades, he was able to triple his family's holdings. The Boswell family's farm is the biggest producer of the extra-long staple pima cotton, which is used for fabric blends and high-end apparel. J.G. Boswell Tomato Company also follows a farm-to-table approach.
Fanjul family (160,000 acres)
The Fanjul brothers are the owners of Fanjul Corp., which is a massive sugar and real estate conglomerate. They flew from Cuba following Fidel Castro's 1959 revolution and settled in Florida. In the U.S., they carried out their family business of growing and marketing sugar. They purchased land, planted sugar cane, established factories and expanded into other regions. American Sugar Refining is their main sugar holding company. This company is a partnership between the Sugar Cane Growers Cooperative of Florida and the Fanjul family's Florida Crystals.
Stewart and Lynda Resnick (190,000 acres)
Stewart and Lynda Resnick are the founders of the Wonderful Company and own farmland in California and Texas. Their farmland produces goods for their brands, including Wonderful Halos mandarins, POM Wonderful and Wonderful Pistachios. Stewart and Lynda Resnick have a net worth of $7.1 billion, according to Forbes. In 1978, Stewart purchased his first farmland in California to hedge against inflation. The Resnicks own a majority stake in the Kern Water Bank, which is among California's biggest underground water storage facilities.
Offutt family (190,000 acres)
The Offutt Family has a potato farm in Fargo, North Dakota. The Offutt Family's R.D. Offutt Farms produce more than 50,000 acres of potatoes annually. The founder of R.D. Offutt Farms, Ron Offutt, partnered with his father in the early 1960s to grow potatoes. Currently, Ron's daughter, Christi, is the chair of the company, and his son-in-law, Keith McGovern, is the president. Ron is the chairman emeritus.
Bill Gates (242,000 acres)
Gates, who is the fourth richest person in the world, tops the list of the biggest farm owners in the U.S. He owns farmland in 18 states, including Louisiana (69,071 acres), Arkansas (47,927 acres) and Nebraska (20,588 acres). Bill Gates and his wife Melinda together own 268,984 acres of land, most of it farmland. They also own 1,234 acres of recreational land and 25,750 acres of transitional land. Gates holds this land directly and via third-parties, including Cascade Investments and Gates' personal investment vehicle. It is not known how Gates' farmland is being used.
Largest landowners in 2020
Here are the biggest landowners in the U.S., according to Land Report:
Stan Kroenke
Kroenke is a real estate mogul and the owner of the Los Angeles Rams. He owns about 1.4 million acres of land in the U.S., including a 124,000-acre ranch in Montana. Kroenke is also the owner of Kroenke Sports & Entertainment. According to Forbes' estimate, his estimated net worth was about $10 billion in 2020. Kroenke's first job was sweeping the floor at his father's Mora Lumber Company.
Ted Turner
Turner, who is the founder of CNN, owns land primarily in New Mexico, South Dakota, Nebraska and Georgia. He owns about 2 million acres of personal and ranch land. Turner's ranches "operate as working businesses, relying on bison, hunting and fishing, and ecotourism as principal enterprises." These ranches also support several progressive environmental projects, such as timber management and water resources.
Reed family
The Reeds are an American business family with a focus on landownership. The Reed family's land is mostly located in Washington, Oregon and California. Mark Edward Reed (1866–1933) established the Reed family. He worked at Simpson Logging Company and later (1901) married Simpson's daughter. In 1914, Reed got full control of the company and transformed it into a forest-products corporation.
Emmerson family
The Emmerson family owns Sierra Pacific Industries, which logs usable lumber after forest fires and then sells it to lumber retailers. Sierra Pacific Industries (SPI) is the biggest private lumber production firm in the U.S. The company has 14 sawmills across California and Washington. SPI was started in 1949 by Emmerson and his father Curly. The company went public in 1969, but the family took it private four years later.
John Malone
Malone, who made his fortune as a media tycoon, is the largest private landowner in the U.S. In 1999, he sold his Tele-Communications, Inc, or TCI, to AT&T for $50 billion. He owns 2.2 million acres of ranches and forests. Malone's land is primarily located in Colorado, Wyoming, Maine and New Mexico.
Updated on