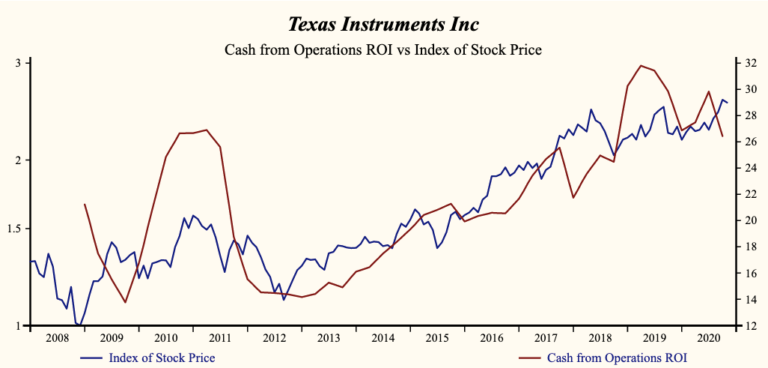 The Broad Market Index was up 2.27% last week and 55% of stocks out-performed the index.

Q3 2020 hedge fund letters, conferences and more
Another light week for SEC filings as we wait for the December 8th deadline for companies to report fiscal quarters ending in October. These are mostly retailers and their appearance this week will mark the end of update for the third quarter.
[Exclusive] ExodusPoint Is In The Green YTD Led By Rates And EM/ Macro Strategies
The ExodusPoint Partners International Fund returned 0.36% for May, bringing its year-to-date return to 3.31% in a year that's been particularly challenging for most hedge funds, pushing many into the red. Macroeconomic factors continued to weigh on the market, resulting in significant intra-month volatility for May, although risk assets generally ended the month flat. Macro Read More
Average sales growth is low and still falling. The proportion of companies recording a sales growth increase was 32%; up from 25% last quarter. This might mark the low point in the last two-years of decline. All sectors except technology recorded an improvement in sales growth frequency. More weakness in the technology sector also appears in the gross profit margin which is down on average and more frequently.
That is evidence of a peak in growth among technology stocks at a time when technology share prices dominate the stock market. The technology sector is up over 50% relative to the broad market over the past year. This early evidence suggests that technology growth will fall and industrial growth will rise. The timing of this is still in question but probably over the next year as the new world emerges from the virus. The recent strength in autos & housing suggest that these typical "early cyclicals" are already accelerating.
American Business Cycles History
Otos has 60-years of financial data on American business cycles; customarily sales growth in big ticket consumer goods (autos & housing) has led to a broader acceleration in the industrial economy. There is evidence of that now with sales growth among industrials up more frequently in the recent period. The technology sector growth rate is falling at an alarming rate thereby creating an unprecedented growth gap between technology and industrials companies.
Sell Falling Growth Companies Trading At A Premium
Shares are broadly extended now and are likely to be very volatile as we trace out the uncertainties of the post-virus world.
For now, buy and own only companies with exceptional attributes. Among rising growth companies, focus on positive and rising sales growth. Cash reserves are equally very important but be mindful of companies facing lower sales needing to cut costs to support their profit margins; companies like Tech Giant Texas Instruments.
Texas Instruments Incorporated $158.990 Sell This Rich Company Getting Worse
Texas Instruments Incorporated (NASDAQ:TXN) has been an exceptionally profitable company with a persistently high cash return on total capital of 20.1% on average over the past 20 years. Over the long term the shares of Texas Instruments Incorporated have advanced by 84% relative to the broad market index.
The shares have been very highly correlated with trends in Otos Growth Factors. A dominant factor in the growth group is the Gross Profit Margin which has been 93% correlated with the share price with a four-quarter lead.
Margins & Sales Keep Shrinking
Currently, sales growth is -7.1% which is low in the record of the company but higher than last quarter. Despite the recent uptick in negative sales growth, sales have been shrinking since early 2019 and most recently receivables have increased putting in question future sales.
Cash Flow Growth
The company is recording a high and falling gross profit margin. Sales, General & Administrative (SG&A) expenses are low in the record of the company and continue to rise. The company has room for further cost containment but for now rising costs with a weaker gross margin is slowing the EBITDA growth rate relative to sales and cash flow. Free cash flow growth remains around its highest level since 2015 but mildly down ticked last quarter.
The current indicated annual dividend produces a yield of 2.5%. Five-year average dividend growth is 23.2%. Current trailing operating cash-flow coverage of the dividend is 1.8x times. More recently, the shares of Texas Instruments Incorporated have advanced by over 5% since last reporting and 21% since the October 2018 low.
Share price is extended, sales growth is negative adding pressure to profit margins which may require aggressive cost cutting to avoid using up precious cash from operations reserves.
This provides a good opportunity to take some profits from the shares of this decelerating company.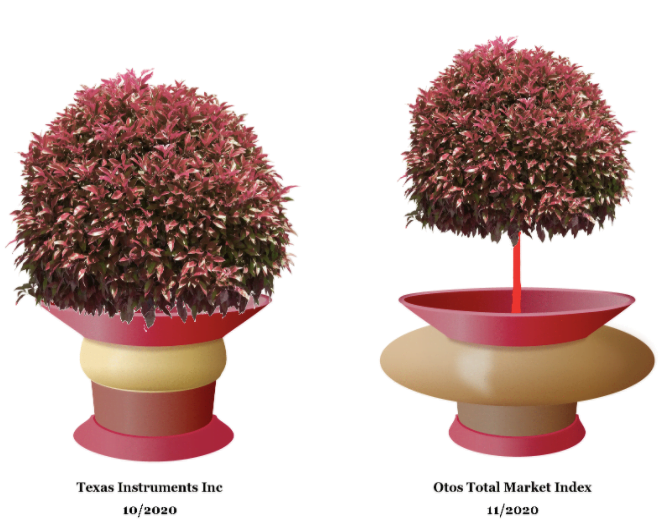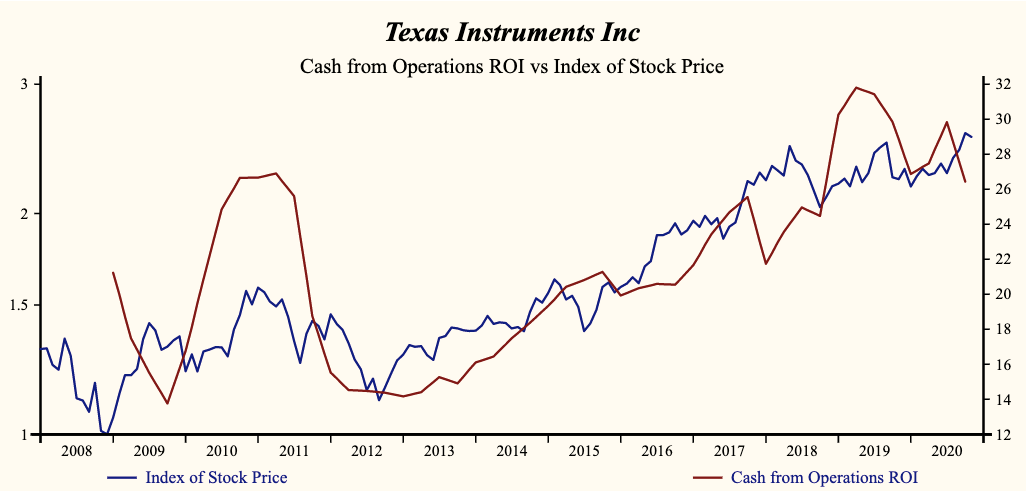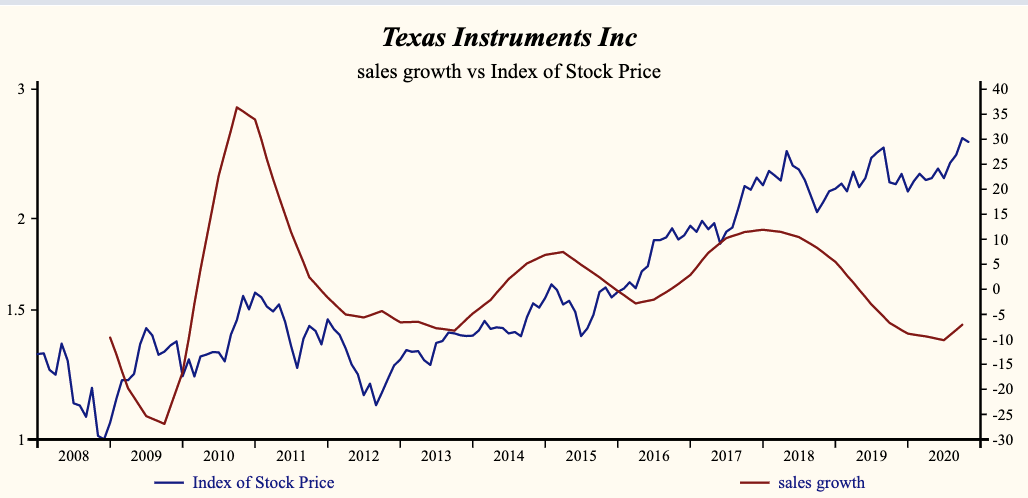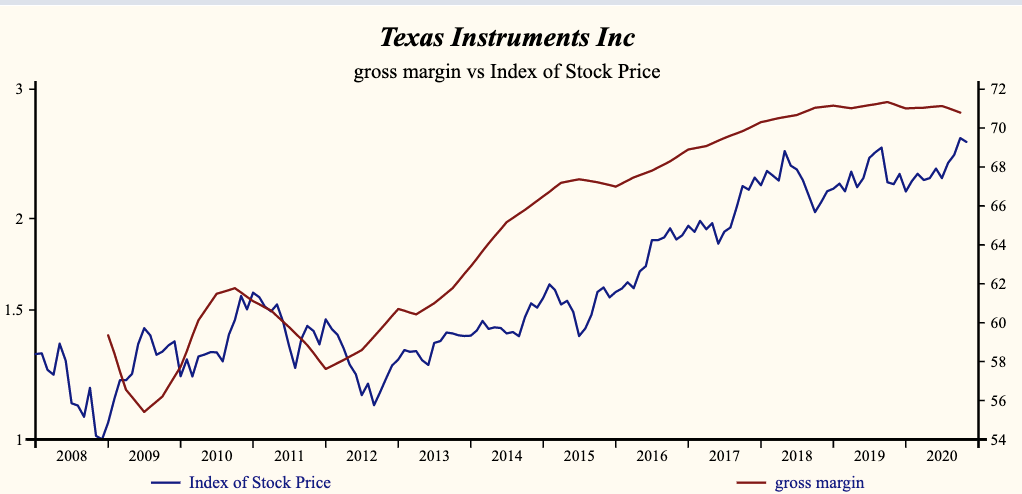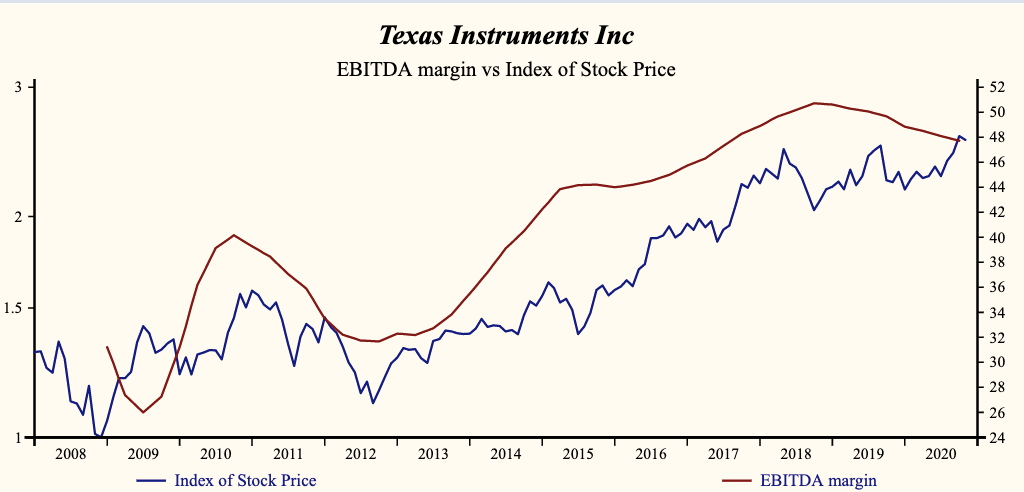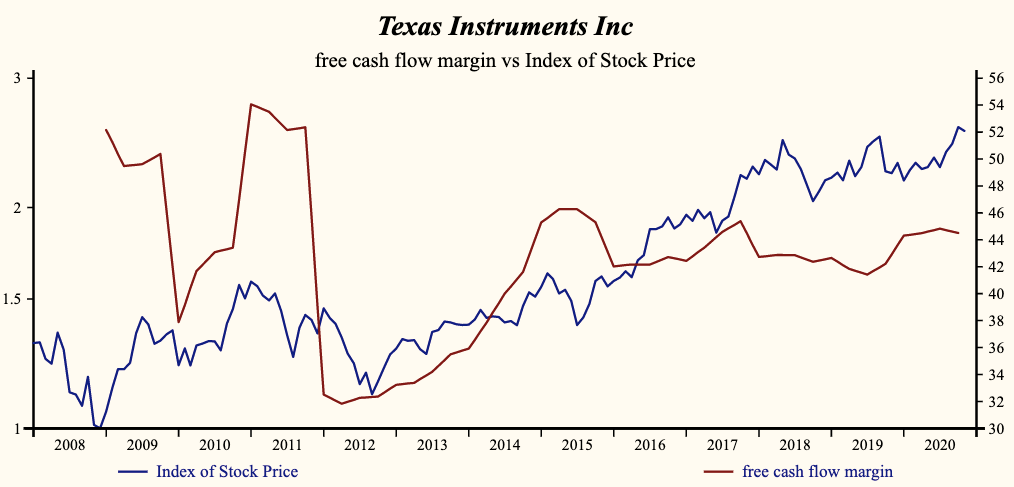 Updated on