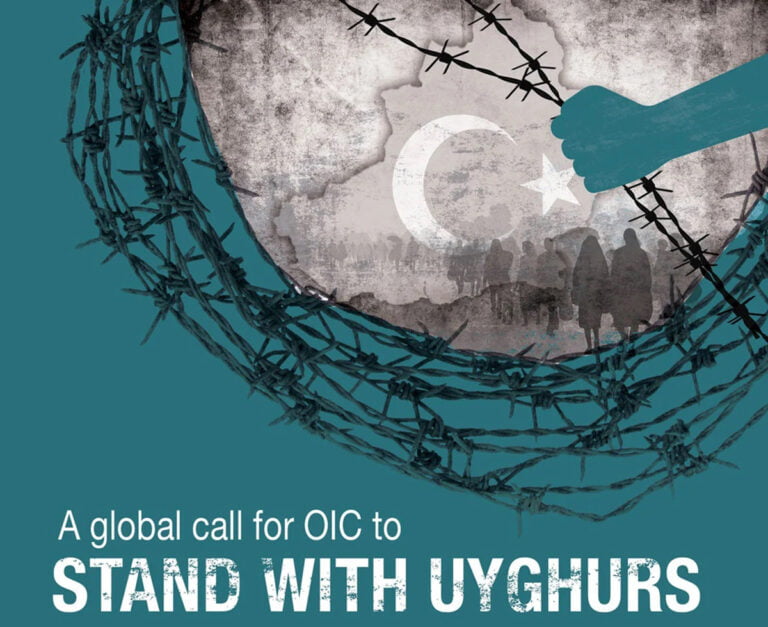 150 Muslim Organizations Demand OIC End Support for China's Genocide of Uyghurs

Open letter and press conference call out the Organization of the Islamic Cooperation's silence on the abuses occurring in East Turkistan
Q3 2020 hedge fund letters, conferences and more
[Exclusive] ExodusPoint Is In The Green YTD Led By Rates And EM/ Macro Strategies
The ExodusPoint Partners International Fund returned 0.36% for May, bringing its year-to-date return to 3.31% in a year that's been particularly challenging for most hedge funds, pushing many into the red. Macroeconomic factors continued to weigh on the market, resulting in significant intra-month volatility for May, although risk assets generally ended the month flat. Macro Read More
USCMO And Free Uyghur Now Ask OIC To Address The Genocide Of Uyghurs
(Washington, D.C., 12/18/2020) -- In a press conference hosted yesterday by the US Council of Muslim Organizations (USCMO) and Free Uyghur Now, an open letter was read calling on the Organization of the Islamic Cooperation (OIC) to address the genocide of Uyghurs and other Turkic minority groups. The letter undersigned by 150 organizations details five actions the OIC must take a stand for justice for those being abused in East Turkistan (Xinjiang, China). The letter is now publicly available on USCMO's website and has been sent to OIC leaders.
The letter specifically calls for the OIC to:
Uphold its charter to protect the Islamic values of peace and justice.
Publicly condemn China for its crimes against humanity.
Cease promotion of the Chinese government's propaganda.
Provide refuge and protection for Uyghur refugees.
Support the UN and other international investigative efforts to force China to comply with international human rights obligations.
The press conference also included speakers from more than 16 organizations, including Uyghur Human Rights Project, Human Rights Watch, and the Canadian House of Commons who came to call on the OIC to fulfill these actions and raise awareness of the atrocities happening in East Turkistan. The speakers called out not only the OIC but also the Chinese government for its attempts at whitewashing the abuses occurring within East Turkistan.
Leveraging Economic Trades
"The OIC and member countries should adhere to Islamic principles of protecting human rights everywhere and can leverage their economic trades with China to persuade it to respect the rights of its Muslim minority," said Oussama Jammal, secretary-general of USCMO.
"I urge the OIC to wake up before it's too late. Do not let your guilt or the loss of the money to be counted as greater than the value of Muslim's lives," said Rushan Abbas, founder and executive director of Campaign for Uyghurs.
"We believe that the founding principles of OIC are principles that defend human rights and the rights of Muslim minorities, and we are not willing to give up on a multi-national platform that is meant to represent, protect and unite all Muslims," said Tasnim Benalla, co-lead of Free Uyghur Now.
Members of the USCMO and Free Uyghur Now are calling attention to the human rights abuses that have been occurring for more than 3 years. To date, as many as 3 million Uyghurs and other Turkic ethnic minorities have been detained in what the Chinese government calls "vocational education facilities," where they are forced to renounce their faith, demonstrate support of the Chinese government, and face torture and other abuses.
Access a recording of the press conference here, a copy of the open letter here, and the speaker bios here.
---
The US Council of Muslim Organizations, a 501(c)3 nonprofit organization, is the largest coalition of several leading national, regional, and local Muslim organizations and institutions harnessing the collective strength of American Muslims for the greater good of all.
Free Uyghur Now (https://freeuyghur.carrd.co/) is a student-run coalition that aims at grass-roots efforts to advocate for Uyghurs and other Turkic minorities in East Turkistan through social media campaigns and advocacy efforts. Free Uyghur Now is also a member of The Coalition to End Forced Labor in the Uyghur Region alongside 53 other organizations.
Updated on