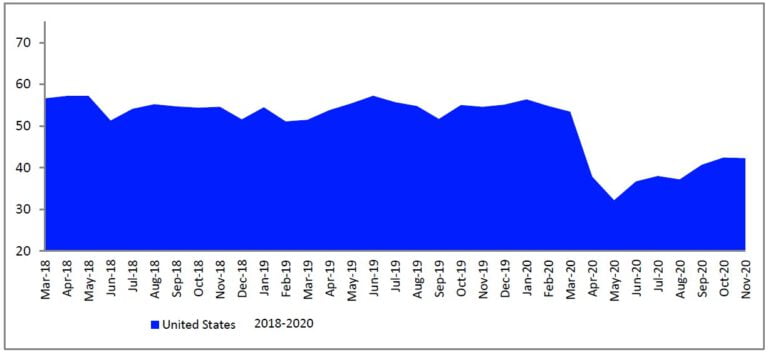 WASHINGTON, DC – US consumer confidence, as measured by the Refinitiv/Ipsos Primary Consumer Sentiment Index, is at 52.5 for November 2020, statistically even with last month's measurement ( 0.2).
Q3 2020 hedge fund letters, conferences and more
US Consumer Confidence Has Leveled Off
American consumer confidence has leveled off following months of growth. October's reading of 52.6 was the highest the metric has seen since the pandemic drop off in April. Despite dropping 1.3 points since last month, the Expectations index remains the only sub index at a higher level than it was at this time last year. All other sub indices are down by at least 10.4points compared with November 2019 markings.
Consistency is what makes the top 50 best-performing hedge funds so strong
Every month and quarter, multiple reports on average hedge fund returns are released from several sources. However, it can be difficult to sift through the many returns to uncover the most consistent hedge funds. The good news is that Eric Uhlfelder recently released his "2022 Survey of the Top 50 Hedge Funds," which ranks the Read More
Compared to three months ago, all indices are up by 4.0 points or more. As the unemployment rate continues to decline (down to 6.9% in October, continuing a 6 month downward trend), the Jobs Index has shown the greatest growth over that three month period (+7.7).
"As the election results clearly favor Joe Biden, American consumer confidence is holding steady. Despite a contested election, the metric has seen the least movement in an election month since we began tracking in 2002," Chris Jackson of Ipsos notes. "More volatility is generally observed in the month after an election concludes so it will be interesting to see if the upward trend will continue or be reversed or hold steady again, something that has not yet happened in the Index's history during an election year."
Jharonne Martis, Director of Consumer Research at Refinitiv, said, " Retailers are reporting Q3 earnings, and the Refinitiv U.S. Retail and Restaurant Q3 blended earnings index is expected to show 13.8% estimate. This is an improvement from the previous two quarters. As another wave of COVID 19 looms in the United States, "stay at home" related retailers continue to benefit as consumers' houses have been converted into offices, gyms and education centers. Those with a solid omnichannel strategy offer shoppers a safe, fast and efficient way of getting their goods and are seeing strong double digit e commerce growth."
Current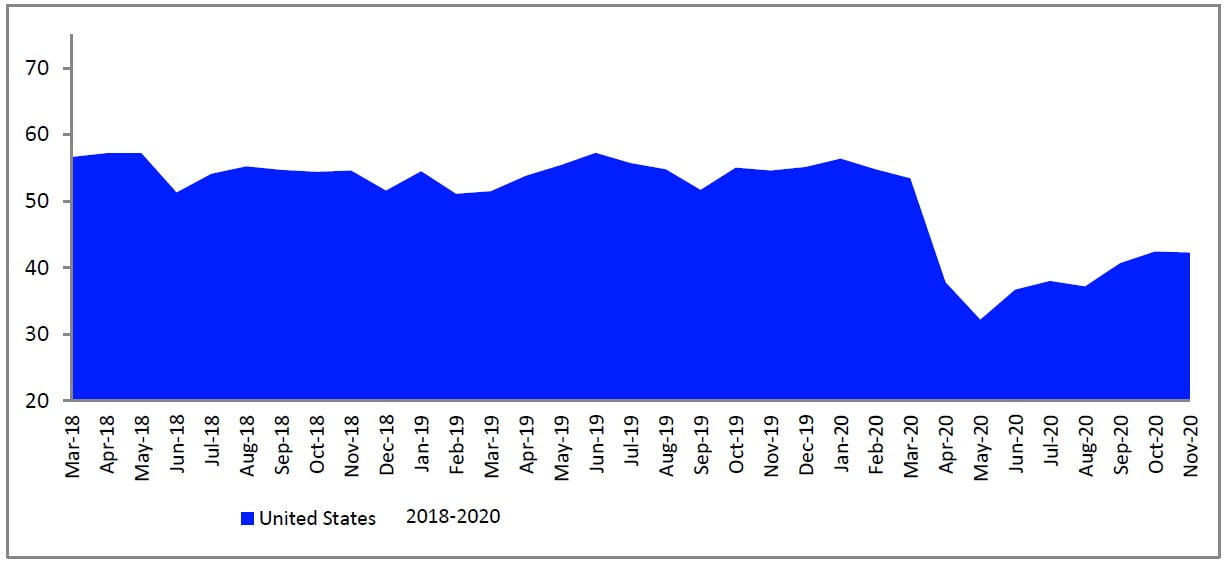 The PCSI Current Condition Index is statistically even with last month (0.1) and now sits at 42.3. American sentiment in this index has been trending upwards since May of this year and appears to be leveling out. The metric is still down 11.1 points compared to it's prepandemic reading in March of 53.4.
Expectations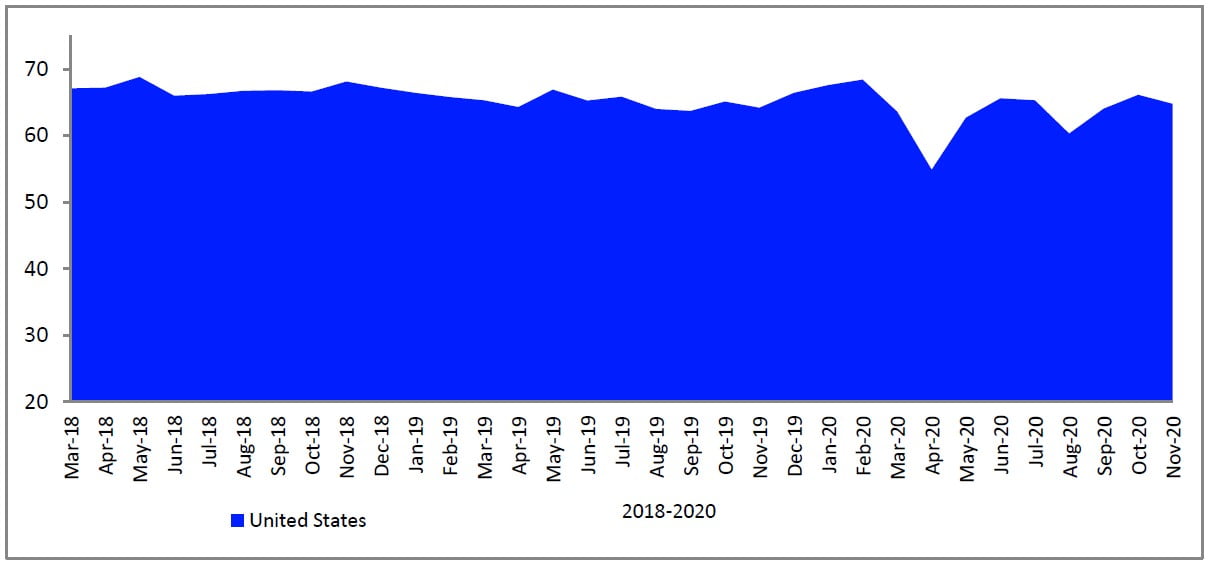 The PCSI Expectations Index, currently at 64.8, is down 1.3 points from last month. The Index is currently 1.8 points above the metric's average since April of this year. For the second consecutive month, the Index remains level with the previous year (+0.6).
Investment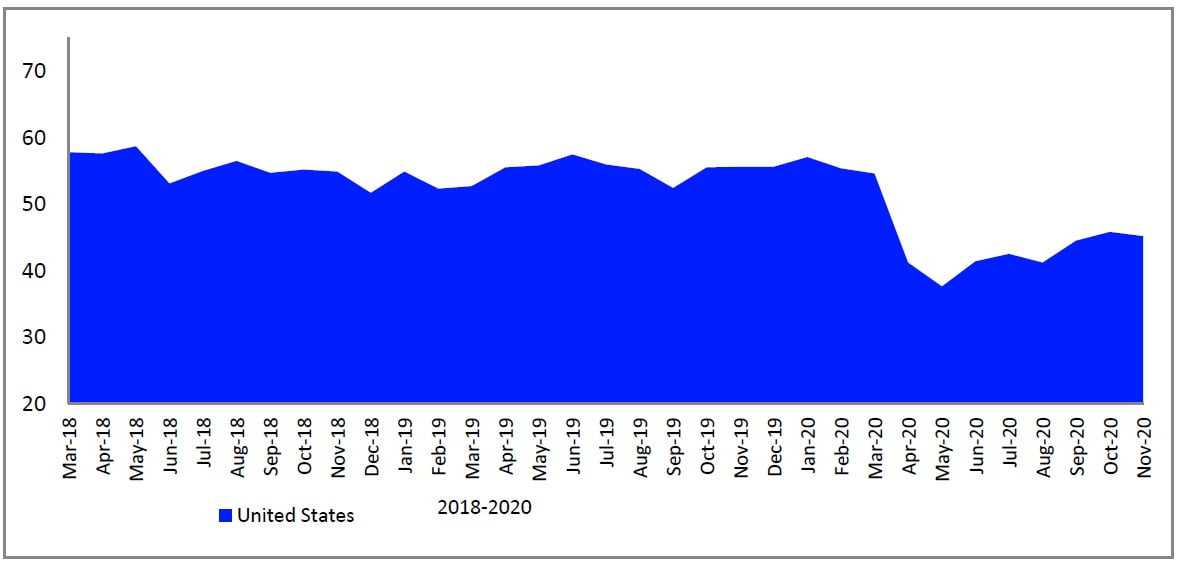 The PCSI Investment Index, indicative of American's confidence in their ability to invest in their future, is down this month, following two months of gains. At 45.2, the Index has dropped 0.6 points this month, slightly below last month's pandemic high of 45.8.
Jobs
Americans' confidence regarding their job security and future employment is flattening. The Jobs Index, currently at 59.6, appears to be slowing its growth this month (+0.7) compared to September and October when it increased by 3 or more points each month. The index continues to build on it's pandemic high but is still below pre pandemic levels observed in March (69.7).
Updated on