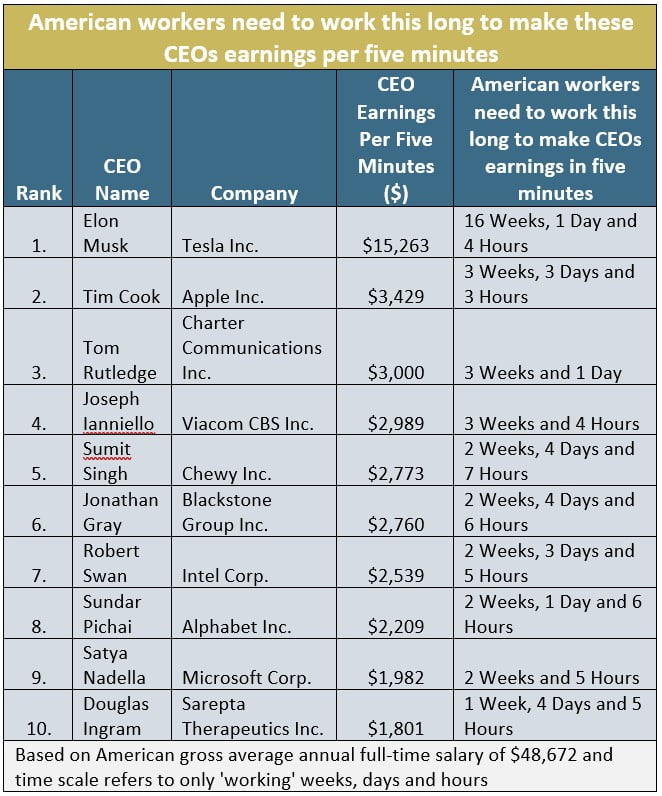 Highest paid CEOs: Americans need 16 weeks to earn what Elon Musk does in five minutes
Q3 2020 hedge fund letters, conferences and more
Comparing The Earnings Of The Highest Paid CEOs With The Average American
The biggest CEOs worldwide earn astronomical sums of money each year. People often question if these titans of industry merit the salary they receive - some feel it is deserved given the huge responsibility on their shoulders whilst others simply consider them 'greedy fat cats'.
Crypto Hedge Fund Three Arrows Blows Up, Others Could Follow
A few years ago, crypto hedge funds were all the rage. As cryptocurrencies rose in value, hundreds of hedge funds specializing in digital assets launched to try and capitalize on investor demand. Some of these funds recorded double-digit gains in 2020 and 2021 as cryptocurrencies surged in value. However, this year, cryptocurrencies have been under Read More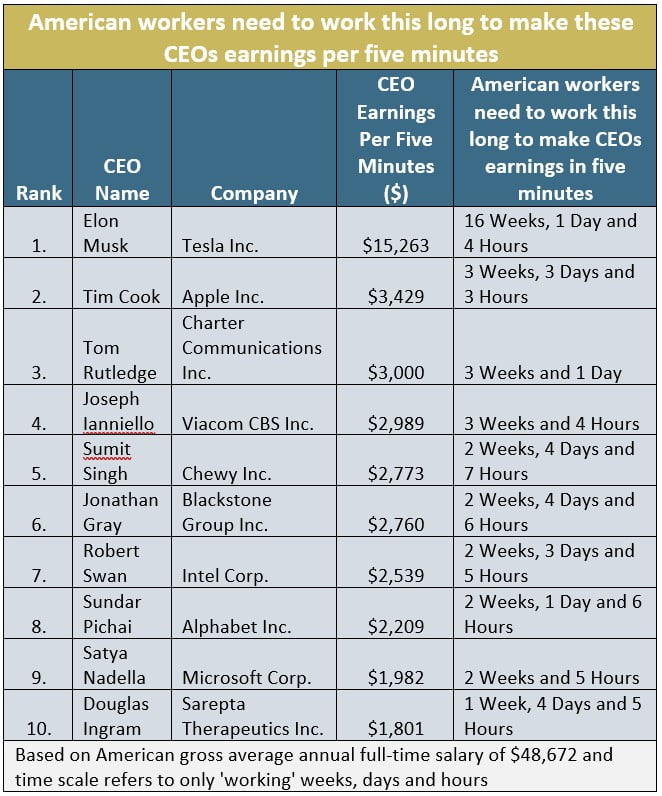 Interested in CEOs earnings, Gigacalculator.com identified the 10 highest paid CEOs in the world and then utilised their salary to hourly calculator to work out how long it would take Americans to make what each CEO does in five minutes.
Gigacalculator.com found that Americans need to work an astonishing 16 weeks, 1 day and 4 hours to make what Elon Musk does in five minutes ($15,263). To put that into context, the Tesla maverick in five minutes can buy 90 return flight tickets for New York to San Francisco.
In second place is Tim Cook, as it would take Americans 3 weeks, 3 days and 3 hours to earn the same amount the Apple CEO does in five minutes ($3,429). In the space of five minutes, Cook can buy three iPhone 12's without breaking a sweat.
Tom Rutledge And Sundar Pichai Earnings
Tom Rutledge is in third position. To bank the $3,000 the telecoms tycoon makes every five minutes, American workers would need to labour for 3 weeks and 1 day.
Interestingly, Americans would have to spend 2 weeks, 1 day and 6 hours to accumulate the same five-minute income as Sundar Pichai ($2,209), the head of Google subsidiary Alphabet Inc.
Just below Sundar Pichai in ninth place is Satya Nadella. Americans would have to work for 2 weeks and 5 hours to gain the $1,982 the Microsoft chief makes per five working minutes.
Out of the highest paid CEOs, it would take Americans the least amount of time (1 week, 4 days and 5 hours) to make the $1,801 Douglas Ingram enjoys for every five minutes he spends working.
Additionally, Gigacalculator.com surveyed 1,822 Americans to understand their attitudes towards major CEOs.
The study found found that:
84% of Americans feel that it is 'unjustified' for major CEOs to be paid millions each year, whilst 16% think it is 'justified'
73% of Americans don't understand what major CEOs do on a day-to-day basis to merit being paid millions each year
65% of Americans would like major CEOs to be more transparent about what they do on a day-to-day basis and the positive actions they are taking to grow/improve the respective organisations they lead
Overwhelmingly, 88% of Americans feel the current income disparity between CEOs and average workers is 'too wide' and needs to drastically 'shrink' in the next five years
---
Notes to editors:
Gigacalculator.com identified the ten highest paid CEOs in the world by using Bloomberg's latest CEO pay index.
All calculations based on CEOs working an average of 62.5 hours per week (statistic found from Harvard Business Review study) and average workers working an average of 40 hours per week.
For America, calculations based on gross average annual full-time salary of $48,672.
The timescales shown in this research in terms of weeks, day and hours only account for working weeks, days and hours – it does not include weekends or any overtime hours. All figures in this research are estimates.
Updated on