A Quick Note on Pennsylvania election by Greg Presseau
Q3 2020 hedge fund letters, conferences and more
The race is expectedly much closer than the polls/betting markets had thought. We got TX, FL and OH right, narrowly missed MN and WI. Pennsylvania is the wildcard right now. There are about 36% of the votes yet to be counted. I wanted to develop a 'profile' of the mail in voters and found the below info:
Seth Klarman: Investors Always Need A Strategy To Guide Them
"Many investors lack a strategy that equips them to deal with a rise in volatility and declining markets," Seth Klarman told his audience in a speech at MIT in 2012. Q3 2020 hedge fund letters, conferences and more Klarman was talking about the benefits of having a strategy, such as value investing, to provide a Read More

Source: https://electionupdates.caltech.edu/2020/03/20/some-demographics-on-voting-by-mail/
The authors were unable to reconcile all of the data but using the data available, we see the demographic as follows: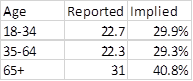 Next, if we assume that older voters lean toward Biden and then, in general, if you're using a mail in vote this year, you're more afraid of covid, you vote Biden as well. If those assumptions are correct, we see: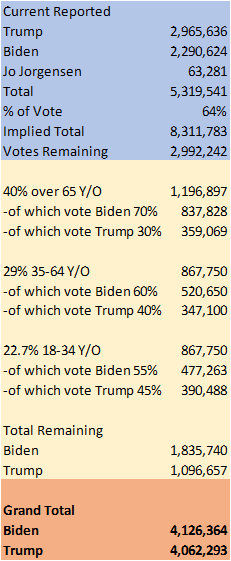 Pennsylvania Polls
If the above is correct Biden marginally wins Pennsylvania. I think the Trump voter is much more likely to make it to the polls and therefore has already been counted but we'll find out…
Short dated puts on the S&P might be a decent play…
Further updating this with the same profile of mail in voters for states that are still counting we see: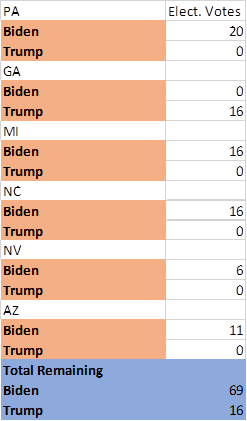 Biden could still win if he loses Georgia and Pennsylvania but needs to win all other states. It's down to a tiny margin in any event.
Mounting Covid Cases
This uncertainty on who wins probably drags on for days (weeks!?) and we'll have mounting Covid cases in the meantime. Trendless, choppy markets may be here for a while. One thing that should be clear is stronger Asian currencies as they have seemingly contained Covid while the West will be locking down/trying to figure out leadership. That should be supportive ag commodities and possibly, precious metals.
State Summary: