AdvisorSmith's new study examined six-figure professions with the fastest growing salaries. To find the occupations with the most rapid annual mean salary growth rate, AdvisorSmith used data published by the U.S.Bureau of Labor Statistics and filtered the professions where the mean yearly salary was $100,000 or more in 2019. The annual mean salary growth was compounded and calculated for each profession between 2016 to 2019. The jobs with the fastest annual mean salary growth rate were ranked to find the top 25 occupations.
Q2 2020 hedge fund letters, conferences and more
The Highest Salary Growth Rate
The study found that the fastest-growing salaries were primarily in STEM, where more than half of the top 25 professions were based around science or mathematics. The STEM professions in the top 5 spots were nuclear engineers (#2), physical scientists (#3), and chemical engineers (#4). Nuclear engineers had an annual salary growth of 4.4%, and from 2016 -2019, their salaries grew from $105,950 to $120,700.
Charlie Munger: Invert And Use "Disconfirming Evidence"
Charlie Munger is considered to be one of the best investors and thinkers alive today. His thoughts and statements on investment research, investment psychology, and general rational behavior are often incredibly insightful. Anyone can learn something from this billionaire investor and philosopher. Q2 2020 hedge fund letters, conferences and more If you're looking for value Read More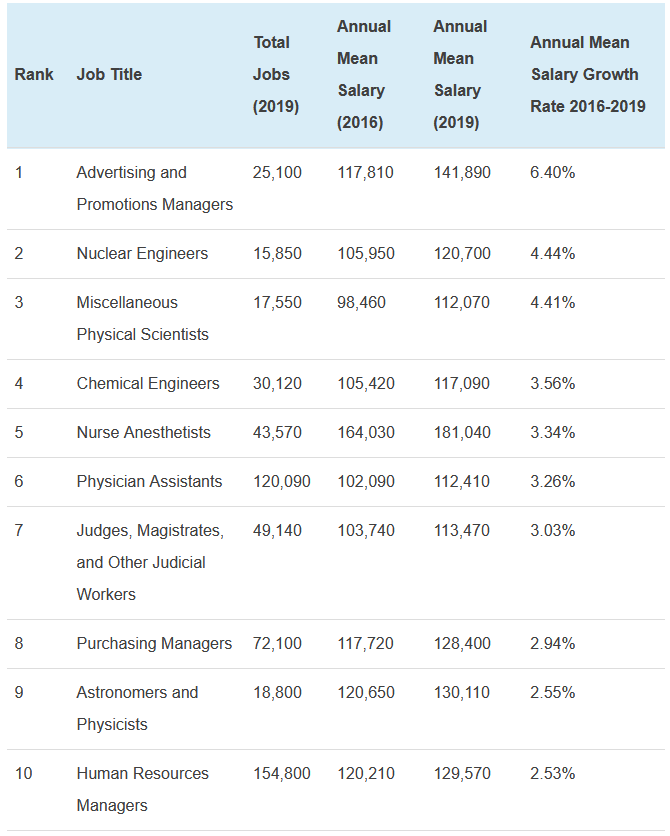 Although STEM took up most of the careers on the top 25 list, advertising and promotions managers ranked as the number one profession and outranked the STEM professions. Advertising and promotions managers had the highest salary growth rate of 6.4 percent, which was more than double the average of 2.8% for the top 25 professions. From 2016 -2019, their salaries grew from $117,810 to $141,890, which was also more than the average of $128,878 for the top 25.
AdvisorSmith created this study to offer insight for those deciding what career paths to pursue. Financial security and earning a substantial salary are motivating factors many workers consider when selecting careers, apart from skills, education, and personal interests.