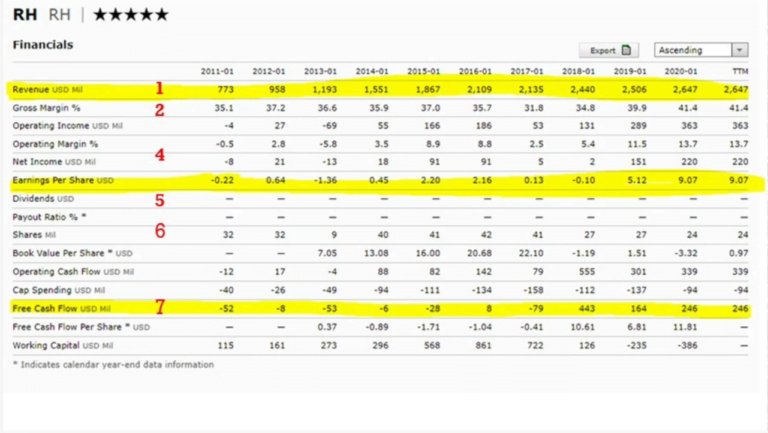 Restoration Hardware Holdings, Inc (NYSE:RH) stock analysis. RH is a stock owned by Warren Buffett so it is a very interesting research prospect. The business model is very interesting and offers scaling opportunities that leads to revenue growth and improving margins.
Q1 2020 hedge fund letters, conferences and more
Investing in the Next Generation of Emerging and Frontier Markets with Maurits Pot
ValueWalk's Raul Panganiban with Maurits Pot, Founder and CEO of Dawn Global. Before this he was Partner at Kingsway Capital, a frontier market specialist with over 2 billion AUM. In the interview, we discuss his approach to investing and why investors should look into frontier and emerging markets. Q2 2021 hedge fund letters, conferences and Read More
RH Stock Analysis: A Stock That Must Go UP!
Transcript
Now if you're in the investor at your home, please don't tell anybody in your house about this investment research. Because if you're share with your spouse who is usually the designer in the house like I did, I showed this to my wife and she said, wow, what a beautiful piece of furniture. So I'll probably end up buying pieces of furnitures. Furniture for free thousand dollars, become a member have to redo the whole house. And I will forget about my retirement savings. I will forget about everything I will have to work forever, not even till the end, forever to pay for all these overpriced furniture. So lock yourself somewhere where nobody will see what you're doing and enjoy this analysis.
Good day fellow investors. Welcome to RH (Restoration Hardware) stock analysis. It is a warren buffett owned stock, Berkshire owned stock. So it has a very interesting business model and I really want to discuss the company. And apart from from selling overpriced, sorry, upscale furniture, it has a really interesting business model. So it might be a great investment. And then it has really luxurious financial engineering, which will be a great learning lesson to see how financial analysis is done and the risk reward of investing and pushing the stock price higher.
It's a very interesting stock. And that's why I wanted to make the video. And also the learning outcomes. It's actually a positive investment situation. For those that want to buy such a stock. Then we're going to discuss buybacks and financial engineering, how they can work really well until they don't, but if you sell sooner, then you don't care when they don't. And then stock price versus business value versus real business value creation.
Let's start. So RH Stock, the stock was $32 in 2012, then it went up to 100 down again to $26 2016-17. And then it's spiked. 10 times almost almost $250 just before this crisis and then it went down to 90 when I started researching and we are already at 123.
Very interesting, it's upscale, overpriced furniture, how you want to call it, it has an Ikea business model. It's well managed over the past years, inventory levels went down and, and the management took 400 millions of cash from the inventory levels. However, there is extreme financial engineering using convertible debt and doing a lot of buybacks. And then on top of everything to sweeten the analysis, the CEO sold 150 million of shares just in December 2019 to buy his nice beautiful mansions in the United States.
Now, the business model, it's a very interesting business. So I love IKEA, the business model, I see how it attracts people. People love to buy stuff there and then also eat something probably shitty food but free food, all for $1 breakfast you don't want to find yourself in a Dutch IKEA on a Saturday or Sunday morning because everybody's crazy about those unhealthy breakfast. So [unintelligible] before being there, but try to avoid that.
Now on the business analysis, it's an Ikea model. So they you can socialise their drink your coffee, eat something really enjoy. And you can buy whatever you find there. You sit there, it's, let's say, an upscale entertainment environment that can sell your things then you can become a member and come back for more.
It's a great business model because it's casual. It's luxury, socialising and you buy what you like, and it still has revenues of 2.6 billion, so it's still scalable globally, if the business model that has been proven that it works over the last years continues to expand globally. However, it's also active tremely cyclical demand for overpriced furnishing products depends on discretionary purchasing power, real estate activity and that's the general situation in the economy.
Thus, it makes no money in bad times has to survive but a lot more a lot of money in good times. And if we look at the revenue really exploded over the last 10 years from 700 million to 2.6 billion, so there is growth, line number one, line number two margins are expanding 40%-41% gross margins. That's why you're buying overpriced furniture but it's the experience right?
Nevertheless, great gross margin, leading to high operating incomes, good operating margins, and net income of 220 million in the last 12 months and earnings per share went from negative to $9 per share. Dividends not being paid, but the company line six is doing huge buybacks and the number of shares since they started the buyback went down from 41 million to 19 million, the current non diluted, 24 million is the diluted due to the convertible shares. They have an anti diluting thing, but we'll discuss that later in the financial engineering analysis. Then line seven the free cash flow, this company has $246 million of free cash flow when compared to the market capitalization it gives you a double digit free cash flow yield. So, good business.
However, there is practically no RH stock holder equity or it is 18 million or 19 million shares outstanding. So, the book value is practically $1 per share for a share that you are paying more than $100 for the liabilities total liabilities are 99% of assets. Now, why there is so much liability because of financial engineering and extreme buybacks in 2017 the company decided, okay, how can we take advantage of the low stock price?
Because analysts were uncertain about their new business model of doing this big retail operations. When everybody's going away from retail, they decided to go the opposite way, as you have seen in the video built beautiful retail stores, and it actually worked. Plus they started with humongous buybacks, that pushed the stock price up 9 times over just two and a half years.
When you look at the repurchases of RH common stock, they paid $1 billion in 2017, 250 million in 2018. And another 250 million in 2019. So they spent $1.5 billion on buybacks and the market cap a week ago was $1.6 billion. The issue is that the cumulative earnings over the last four years were just 353 million. And they spent 1.5 billion on buybacks. That is remarkable financial engineering. How did they do it?
They issued that they issued convertible notes, 685 million of convertible notes, they lower their inventory, which is excellent management. So they did something good. It's not just financial engineering. So they got 327 million there. And they made profits of 353 million, as we said. All in all, almost close to 1.5 billion, with a little bit of rebalancing and that's how they did so much buybacks., lower the number of shares outstanding by 50% and push the stock price up 10x.
However, the whole idea is very interesting. They issue convertible bonds so they pay later in shares. And they also paid to hedge the dilution and they issue warrants to hedge the dilution a second time at a higher price. This is complicated. I've written a full analysis report PDF for those that want to read about this interesting financial engineering practice in detail, so you can find that in the link in the description below.
However, just quick overview, so they have issued 2024 convertible bonds and at zero interest rates, so 300 million, it was up to 350 million the potential total offering size. However, on those bonds, they paid a hedge transaction of 91 million so they got 350 million and they paid 91 million to hedge the transaction between the strike price of the bond at 211. And the strike price of the warrants that was around 300 something. No dilution will be until the price of 338 per share. So you get 350 million and you pay 91 million on debt. It's not zero interest, is not zero coupon, but it works if the stock price goes up.
So in this situation, the only goal the management has here is of course, do business as good as possible but push the stock price higher. Why is that? Why do they want to push the stock price higher? Well, don't we all want the stock price to go higher? Yes. But if that is your only goal, it's not creating a sustainable long term business. Then you have to move fast as a shareholder and who is moving fast the CEO he got an option.
To buy a million shares for 50 if the stock reaches $150, or different targets from 100 to 150, and that was created the compensation scheme on May 2, 2017. What happened on May 4, 2017? Well, the company immediately announced 700 million repurchase plan. That's how you push a stock price higher and higher. And then, you see, this is a letter the CEO, written during this crisis.
First, I hope he took the picture before the crisis, not taking the time to make such a picture during the crisis. But then again, he is so confident, secure, happy, blessed during this crisis, so it's really a nice picture. Why is he so confident? Well, if you look at the SEC form for his sold about 150 million of RH shares, in December 2019. Of course, if I would have 115 million in cash of my bank account, in this crisis, I would be very, very happy, relaxed and calm. I wonder if all the other shareholders sold, too.
So the investment proposition is pretty simple. The management will do whatever it takes to push the stock higher, exercise option and sell more and more millions because before the CEO retires, the best for the CEO would be a nice takeover, but he was waiting to still get the two-free years of options he has to get and then sell everything.
The fact is that the stock price doesn't really matter for a buyer for a takeover. So it's the same for the buyer. If buying a company with 40 million shares at 100 or 20 million shares at 200. Doesn't mean much for the buyer, it means for those that are willing to sell those shares If you're a shareholder, you can buy this and then sell as stocks go up because this is about playing the buyback game. And you have to see how that fits you it is luxury financial engineering.
And the risk is there to a year of no profits and no cash flows due to recession, there is no book value, there is no protection, creditors might want to own what is a good cyclical, scalable business. So creditors might want to dilute the current shareholders fast, the convertible bonds, convert them into many as many stocks as possible, and then play the buyback game again. So that is the risk depending on how long this situation lasts. And that can backfire. But of course, if you sold 150 million of stocks in December, then nothing can backfire anymore.
My personal take on RH Stock is at 1.5 billion in market cap with 200 million in growing cash flows in the good environment, it looks like a good business a good deal plus the scalability. But I'm looking for great businesses that focus on the business, not on financial engineering, I feel the financial engineering increases the risk. So you have to see how that fits you. I don't like really investments where I have to move fast take advantage of the trend.
But I still think in this current environment, it's sooner that the stock will go to 250, then 250 because if they can get another convertible loan on the small float, on the higher high short situation, they can push this very quickly to 250. The CEO can get his rewards, and then sell it to someone in a year or two for 300 per share on no increase in market capitalization.
If you enjoyed this analysis, stock analysis is what I do so check my stock market research platform, in the link in the description below, or on my website. Subscribe for more stock analysis and interesting stock market discussions. Thank you and I'll see you in the next video.