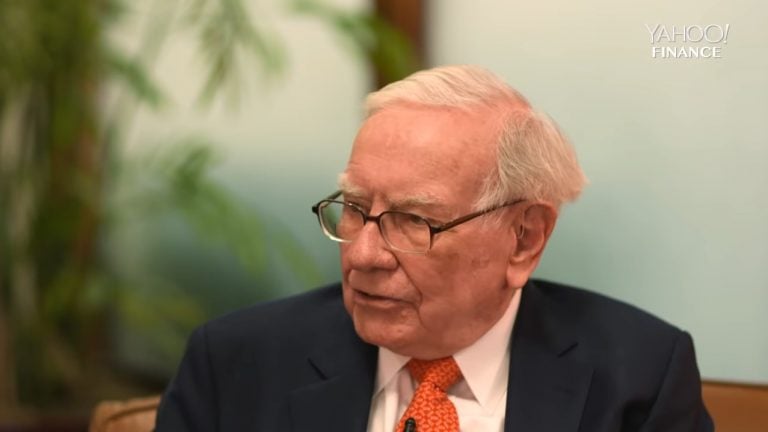 Warren Buffett's Berkshire Hathaway has under-performed the broader S&P 500 index in recent years. Some of his largest holdings including Kraft Heinz and Wells Fargo have dragged down Berkshire Hathaway's performance. Many industry experts have begun to question Buffett's investment strategy. One article even argues that Buffett's "era of investing is over."
But there is no denying that Berkshire is one of the world's largest and most successful holding companies. Besides owning a bunch of businesses such as GEICO, Dairy Queen, Duracell, and Fruit of the Loom, Warren Buffett has also invested in dozens of publicly-listed companies. Here we take a look at his top 10 largest holdings as of December 31, 2019.
Berkshire Hathaway filed its latest 13F with the Securities and Exchange Commission (SEC) on February 14. The company is sitting on an estimated cash pile of $130 billion, most likely because the Oracle of Omaha doesn't find the current valuations attractive.
21st Century Investing with The Investment Integration Project's William Burckart
ValueWalk's Raul Panganiban interviews William Burckart, The Investment Integration Project's President and COO, and discuss his recent book that he co-authored, "21st Century Investing: Redirecting Financial Strategies to Drive System Change". Q1 2021 hedge fund letters, conferences and more The following is a computer generated transcript and may contain some errors.
In its 13F filing, Berkshire Hathaway disclosed fresh investments in Kroger and Biogen. Buffett disclosed his $549 million investment in Kroger more than a year after Berkshire sold its stake in Walmart. Biogen is the billionaire investor's first biotech investment. By the end of December 2019, Berkshire had invested $192 million in the biotech giant.
These are Warren Buffett's top 10 largest holdings as of December 2019:
10- Delta Air Lines, Inc., $4.14 billion
As of December 31, Berkshire Hathaway owned 70,910,456 Delta Air Lines shares worth $4.14 billion. Buffett owns 10.9% stake in the airline. The stock went up nearly 20% in 2019, but lagged the S&P 500 index. Delta is one of the best-managed airlines in the US. Warren Buffett has had contradictory views on airline stocks. After having hated airline stocks for decades, he began buying Delta shares in 2016.
9- Moody's Corp., $5.85 billion
Moody's accounts for just 2.42% of Berkshire's portfolio. The stock soared nearly 70% in 2019. It's one of the few stocks in Buffett's portfolio that outperformed the S&P 500 last year. According to the regulatory filing, Berkshire owns 13.03% stake in the financial services company.
8- U.S. Bancorp, $7.85 billion
Buffett owns 8.4% of the Minneapolis-based banking giant. The stock delivered 25%+ return in 2019. Despite being one of Warren Buffett's largest holdings, U.S. Bancorp accounts for just 3.24% of Berkshire Hathaway's portfolio.
7- JPMorgan Chase & Co., $8.29 billion
JPMorgan is one of Warren Buffett's favorite investments. During the fourth quarter of 2019, the billionaire investor reduced his stake in several major banks including Bank of America, Wells Fargo, and BNY Mellon. But he did not sell a single share of JPMorgan. Buffett owns 59,514,932 shares of the bank.
6- Kraft Heinz Company, $10.46 billion
The Oracle of Omaha has received a lot of criticism for his investment in Kraft Heinz. Berkshire Hathaway has a 26.7% stake in the company. Kraft Heinz shares plunged 42.3% in 2018, and fell another 28% in 2019. No one knows how the investment would turn out in the long run, but it weighted down on Buffett's portfolio in 2018 and 2019. It still is one of Buffett's largest holdings.
5- Wells Fargo & Co., $17.38 billion
Berkshire Hathaway sold 55,156,100 shares of Wells Fargo in the fourth quarter of 2019. Buffett still owns 7.33% stake in the bank. Wells Fargo pays a handsome dividend, but the stock has been a laggard. Buffett first invested in Wells Fargo in 1990. In recent years, he has been selling shares of banks to keep his ownership under 10% as several banks continue to buy back their own shares. Crossing the 10% ownership threshold could attract regulatory scrutiny.
4- American Express Co., $18.87 billion
Buffett's love affair with American Express began all the way back in 1964. AmEx was going through tumultuous times, and panicked investors were offloading their shares. Buffett went against the tide and poured about 40% of his partnership's assets in the company. He made another big bet on American Express in 1994. At the end of 2019, Berkshire Hathaway owned 18.27% of AmEx.
3- The Coca-Cola Company, $22.14 billion
Coca-Cola is Warren Buffett's third largest holding. Berkshire Hathaway owns 400,000,000 shares of the company. The stock went up 16% in 2019. Coca-Cola also pays a healthy dividend. According to the regulatory filing, the stock accounts for 9.15% of Berkshire Hathaway's portfolio. Buffett invested $1 billion in Coca-Cola in 1988, making it the largest holding in his portfolio at the time.
2- Bank of America Corp., $32.57 billion
Berkshire Hathaway purchased $5 billion worth of Bank of America preferred stock amid the European debt crisis in 2011. The investment's value has since ballooned to $32.57 billion. Buffett sold 2,240,000 shares in the fourth quarter of 2019 to avoid crossing the 10% threshold. Berkshire Hathaway owned 9.93% of Bank of America at the end of 2019.
1- Apple Inc., $71.98 billion
After having shunned technology stocks for decades, Warren Buffett made a big bet on Apple. The iPhone maker is Berkshire Hathaway's larges holding, accounting for 29.74% of Buffett's portfolio. The billionaire investor sold more than $800 million worth of Apple stock in December quarter. Apple shares skyrocketed more than 80% in 2019. The stock has gained 8% year-to-date.