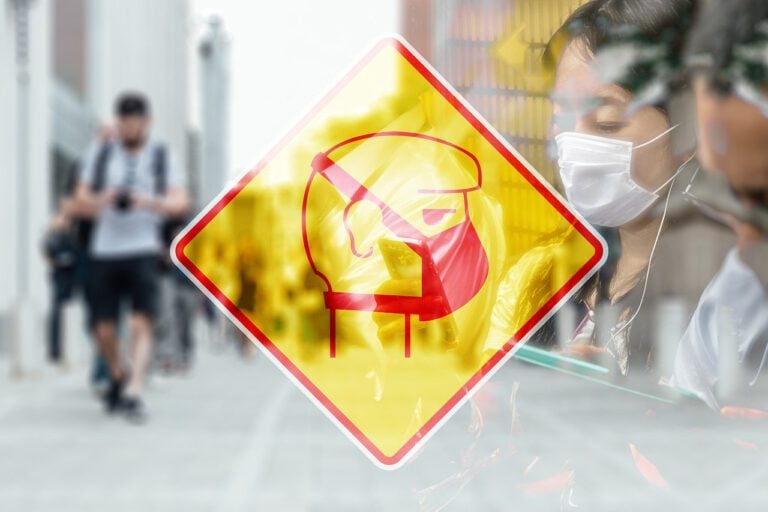 With the coronavirus outbreak coinciding with the U.S. earnings seasons, it is only normal to expect companies to talk about this deadly virus in their earnings conference calls. In fact, many major U.S. companies not only talked about coronavirus, but also warned about its potential impact on their financial numbers.
Q4 2019 hedge fund letters, conferences and more
Coronavirus impact: many US companies unclear
According to FactSet, it searched the conference call transcripts of 364 S&P 500 companies, which reported their earnings during the Jan. 1 through Feb. 13 period, for the term "coronavirus." Of the 364 companies, 38 percent or 138 companies mentioned the term "coronavirus" at least once in their earnings call. The industries that discussed the virus the most were industrial, IT and health-care sectors.
Robinhood 2021 Conference: Cathie Wood discusses her investment process with Lee Ainslie [Exclusive]
ARK Invest is known for targeting high-growth technology companies, with one of its most recent additions being DraftKings. In an interview with Maverick's Lee Ainslie at the Robinhood Investors Conference this week, Cathie Wood of ARK Invest discussed the firm's process and updated its views on some positions, including Tesla. Q1 2021 hedge fund letters, Read More
However, just 25 percent of the companies accounted for any type of impact, including changing their guidance, due to the virus. Other companies were unable to give any clear information about the impact of coronavirus on their business. FactSet expects such companies to issue negative guidance sometime later in the quarter as they gain more clarity on the matter.
For example, Ralph Lauren, in its Feb. 4 earnings call, said that their guidance does not include any potential impact of the virus. However, in a press release on Feb. 13, the company updated its guidance after taking into account the negative impact of the virus outbreak.
"The Company's fourth quarter Fiscal 2020 guidance is now estimated to be negatively impacted by $55 million to $70 million in sales and $35 million to $45 million in operating income in Asia, driven by current trends in China, Japan, and Korea," the press release read.
Visa also said that it is too early to talk about the impact of the virus. A company executive said that if people are not booking hotels and flights and there is a disruption in the supply chains, then there would be some impact on their business. "It's just going to depend on how long this goes on," the executive said.
Companies factoring in coronavirus impact
Talking of the U.S. companies that are open about the impact of coronavirus, Apple has been most vocal. Apple does not expect to meet its second-quarter financial guidance owing to the slowdown in production due to the virus. Apple manufactures many of its products in China.
"Work is starting to resume around the country, but we are experiencing a slower return to normal conditions than we had anticipated," Apple said in a statement earlier this week.
Boston Scientific has lowered its sales guidance for the first quarter of 2020. The company, which has a $600 million exposure in China, expects a "negative first-half impact" and a "preliminary" negative sales impact of about $10 million to $40 million.
Coca-Cola admitted that coronavirus is a bigger concern than SARS (severe acute respiratory syndrome). China accounts for about 10 percent of Coca-Cola's global volume.
"China's economy was in a different place when SARS happened," the company said. "It's worth noting that China's economy is [now] much bigger, and this could become more connected to the rest of the world."
Estée Lauder expects the third quarter to feel the biggest impact of the outbreak due to the drop in sales of luxury beauty products in China. For the second half of the year, the company now expects growth of just 1 percent over the same period last year.
TripAdvisor expects a low-single-digit percentage impact on its financial numbers due to the virus. "We do see some unexpected or new cancellation levels in Asia, but we're not that exposed to Asia as an overall part of our business," the company told analysts during the earnings call.
Under Armour expects a loss in revenue of about $50 million to $60 million due to the virus outbreak.
Impact on revenue and EPS guidance
Overall, FactSet notes that the first quarter guidance from U.S. companies has been less negative than average. In terms of EPS guidance, 51 companies have come out with a negative EPS guidance and 25 companies issued a positive EPS guidance. Talking of revenue guidance, 33 companies have issued negative revenue guidance, while 27 came out with positive revenue guidance. According to FactSet, the percentage of companies (55 percent) with negative revenue guidance this time is less than the five-year average of 57 percent.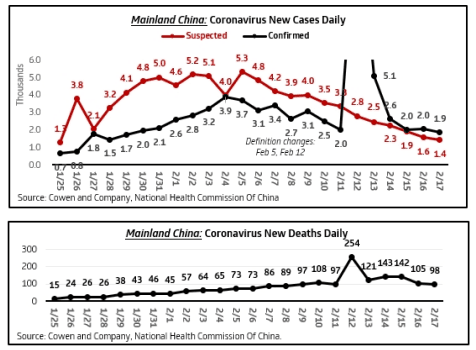 Coronavirus, meanwhile,  has had a decreasing impact on companies outside the US. The virus may be slowing down with China reporting fewer new cases and infection-related deaths. Still, the outbreak breached two crucial benchmarks on Tuesday. First, the total death toll is now above 2,000 and second, the total confirmed cases are now more than 75,000.