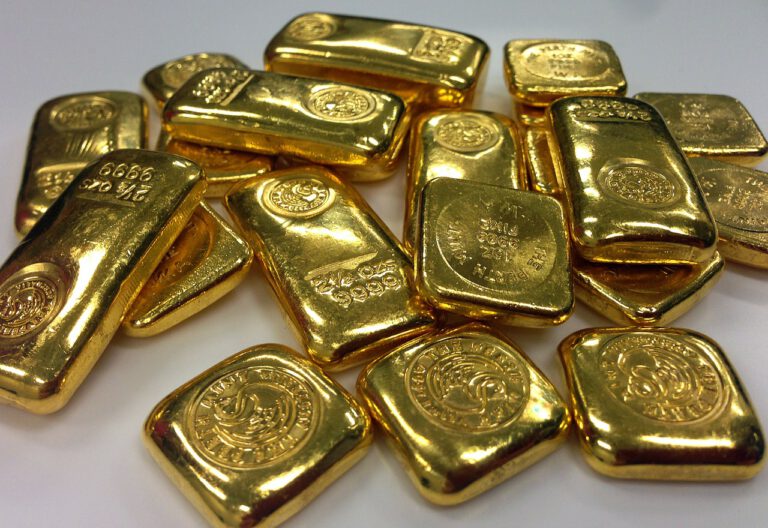 Government-guaranteed gold bullion coins are a great way to get exposure to the escalating gold price while also avoiding some of the inherent risks associated with derivatives and mining shares.

Q4 2019 hedge fund letters, conferences and more
If you are buying gold bullion coins or selling gold bullion coins in a calm financial market, the bid-ask spread, or the percentage cost between buying a gold bullion coin and then selling it to that same bullion dealer will range slightly.
Morningstar Investment Conference: Fund Manager Highlights Personalized Medicine, Energy Security
Hedge fund managers go about finding investment ideas in a variety of different ways. Some target stocks with low multiples, while others look for growth names, and still others combine growth and value when looking for ideas. Some active fund managers use themes to look for ideas, and Owen Fitzpatrick of Aristotle Atlantic Partners is Read More
Perhaps the following will read like common sense, but we must state this obvious point.
Gold bullion coin bid-ask spreads will also depend on your finding an honest, competitively priced bullion dealer, who depending on the volume of gold bullion coins you are buying and selling, shows transparent pricings in real time. Dishonest online dealers often won't publish their live pricing and require you to get on the phone with one of their hundreds of salesmen to hear their commission incentivized pitches.
Buying tips
At the moment the gold bullion coin bid ask spread is competitively ranging from about 2 to 5%.
In a financial crisis, like during the fall of 2008, bullion bid ask spreads can widen and hover well above the ongoing spot prices.
Regardless of market conditions, you will typically pay a lower ask price per ounce if you are for instance buying a larger 10 oz gold bullion coin lot vs only 1 oz of gold coin at a time.
The following chart shows the ongoing gold price from 1970 into this year, 2020.
Seeing gold go up by 3 to 5% or more in small durations of time is perfectly normal especially in a building bull market like we have today.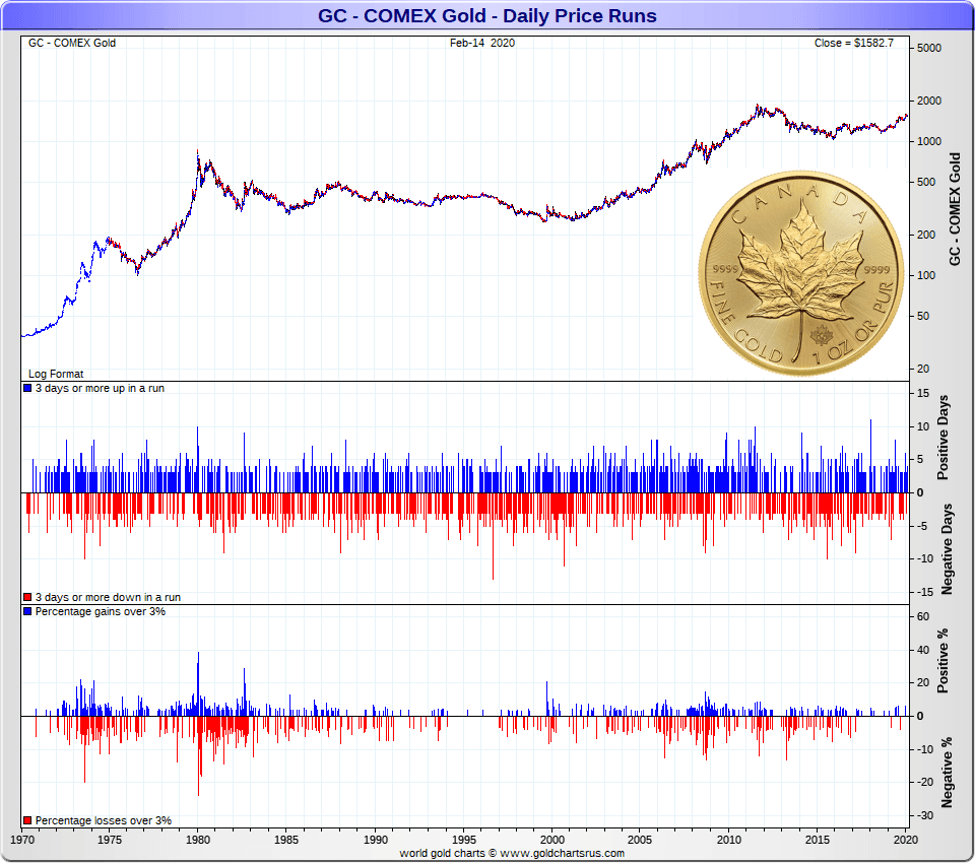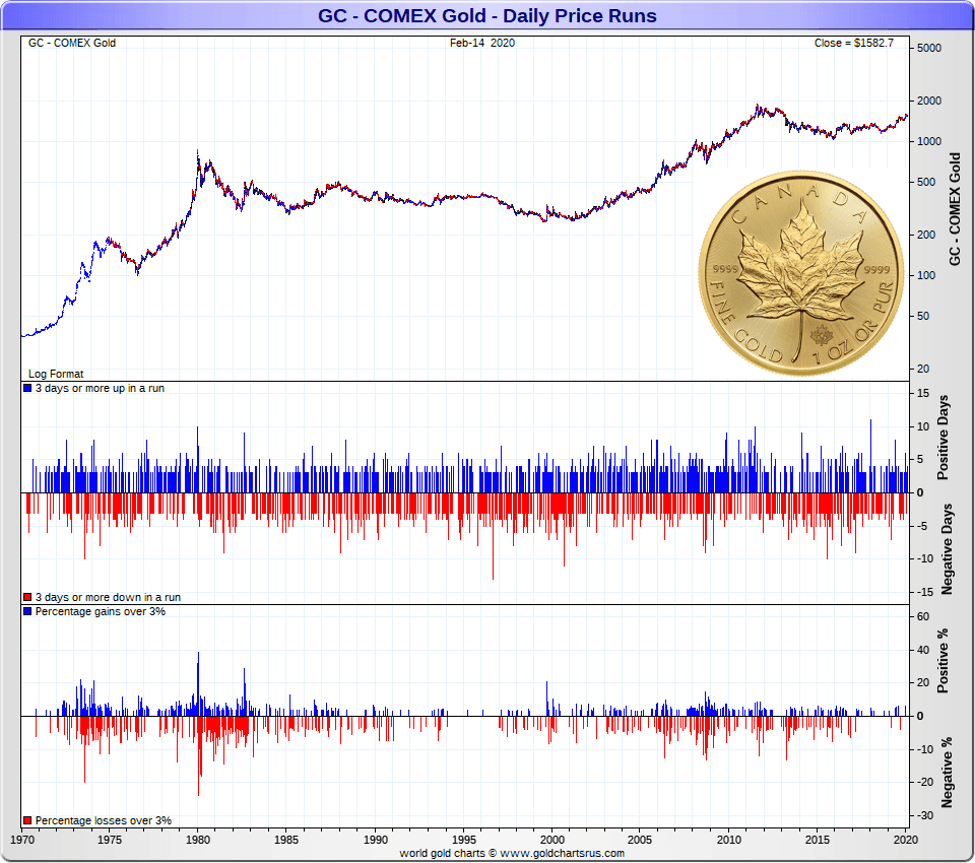 As you can also see in that same chart above, the fiat US dollar has lost substantial value to gold over these last 50 years of time (the fiat $USD has lost over -97% of its value to gold, given that gold prices in 1970 began around $35 oz to start that year). This trend will likely only continue generally on.
A longer list of best gold bullion coins to buy could be made given the variety of gold bullion coins now minted and available across the world.
Important considerations
We too offer high quality and regularly purchased Australian Perth Mint Gold coins, Chinese Gold Panda coins, common date pre-1933 US Gold Coins, Britannia Royal Mint Gold Coins, and highly sought after Gold Mexican Liberated coins. All the aforementioned are fine gold bullion choices so long as you are only paying a few percentage points above the ongoing gold spot price.
But for this best gold bullion coin piece on Value Walk, we break down the TOP 5 choices our majority US based customers make. Doing this can help you be confident that the ongoing two-way market for specific gold bullion coins will be as big as possible (for best liquidity and consistent bid pricing). As important as it is to know the price of the gold bullion coins you are buying, it is also important to know what one gets when selling gold bullion coins of fungible likeness.
Many of the best 1 oz gold coins we are about to mention are also issued in smaller fractional gold coin sizes too. You don't have to have over $1,500 to splurge on one gold coin. You can buy smaller sized gold coins if you like although fractional gold coins typically have wider bid ask spreads. And again too, you will typically pay a lower price for your gold bullion with the more you are buying per transaction.
Best Gold Coins to Buy? | Top 5 Countdown by SD Bullion
This "TOP 5 Best Gold Coins" is based on our customer's gold bullion coin buying volumes and typical gold coin buying motivations.
#5 Austrian Philharmonic Gold Coins
Guaranteed by the Republic of Austria with an official euro legal tender status, the Austrian Gold Philharmonic is a great gold bullion coin value buy.
The 1 oz Gold Philharmonic Coin has a 100€ legal tender face value but they are both bought and sold based on their one troy ounce .9999 fine gold content.
Having been first manufactured in 1989, they can be privately bought and sold within the USA in high volume. You can typically sell Gold Philharmonic Coins in major cities around the world, close to the ongoing spot gold price.
#4 American Gold Buffalo Coins
These highly sought after 24k gold bullion coins are the lone US Mint .9999 gold bullion coin available in high volumes.
Guaranteed by the United States government, their legal tender authenticity is enforced by the US Secret Service.
The one troy ounce Gold Buffalo Coin has a $50 US dollar legal tender face value, but they are actively bought and sold around the world based on their fine 1 oz fine gold content.
Manufactured first in the year 2006, you can buy and sell large quantities of these popular gold bullion coins privately within the USA and abroad.
Both bid and ask prices for Gold Buffalo Coins are typically above the spot gold price with competitive high volume bullion dealers.
#3 Gold Krugerrand Coins
The oldest modern Gold Bullion Coin, first struck in the year 1967.
The 22k gold Krugerrand coin (.916 fine gold) is known and recognized around the financial world. Guaranteed by the South African government and struck each year by the South African Mint.
Gold Krugerrands are somewhat unique amongst the competition in that they have no legal tender face values, yet they too are traded based on their 1 oz gold content. The coin's gross weight is 1.0909 troy ounces (comprised with 8.33% copper, and 91.67% gold)
They can both be bought and sold in smaller quantities privately within the USA and will typically fetch prices slightly above, at, or just below the ongoing spot gold price.
The following South African Gold Krugerrand coin video will give you a more in depth understanding of the legacy of this iconic gold coin.
#2 Canadian Gold Maple Leaf Coins
Guaranteed by the Canadian government and struck by the Royal Canadian Mint.
Given the anti-counterfeit technology embedded within this gold bullion coin since the year 2014, the Royal Canadian Mint's Gold Maple Leaf coin may for nearly a decade now be the best gold bullion coin value in the world.
First struck in 1979, the Gold Maple Leaf Coin is one of the oldest modern gold bullion coins.
The 1 oz Gold Maple Leaf coin has a $50 CAD legal tender face value but they like all gold bullion coins are typically traded based on their fine gold content.
They can be privately bought and sold in smaller quantities within the USA.
The Royal Canadian Mint also makes smaller fractional versions of these coins ranging from ½ oz, ¼ oz, 1/10 oz, 1/20 oz, and 1 gram gold coin sizes.
One ounce Gold Maple Leaf Coins yield fiat currency bid ask prices tightly bound to the fluctuating global spot price for gold.
The following short Gold Maple Leaf Coin video will give you an understanding as to why they are typically the second most often bought coins worldwide.
#1 American Gold Eagle Coins
These 22k gold coins are guaranteed by the United States government, struck by the US Mint, and their legal tender status is enforced by the US Secret Service..
The one ounce Gold Eagle Coin has a $50 US dollar legal tender face value but like almost all gold bullion coins, they are bought and sold based on their guaranteed gold content.
First struck in the year 1986, they have become by sheer overall sales volumes, the best selling gold bullion coin globally. Gold Eagle coins can be both privately bought and sold within the USA in high volumes.
Given that these gold bullion coins are 22k, they are harder than their .999 fine contemporaries. The US Mint adds both copper and silver to these gold coins which contain the guaranteed gold content stamped upon them. Their one ounce gold coin containing gross weight is 1.0909 troy ounces (comprised with 3% silver, 5.33% copper, and 91.67% gold)
You can both buy and sell one ounce American Gold Eagle Coins at prices typically both yielding above the ongoing gold spot price.
This following video on the 1 oz American Gold Eagle Coin will give you further information on why it is our customer's first coin choice.
This concludes our TOP 5 Best Gold Bullion Coin to buy list.
Visit our SD Bullion YouTube page to see our [ TOP 10 Bullion Product Playlist ] and find out how customer gold bullion buying volumes stack up versus silver bullion buying volumes.
Updated on