Now that another 21st Century silver bullion bull market appears about to take off.
We want to take this opportunity for Value Walk readers, to break down the best silver bullion coins to buy, based on SD Bullion's customer's silver bullion buying actions.
Q4 2019 hedge fund letters, conferences and more
If you are considering also making an allocation into gold bullion, do not miss our recent best gold coins to buy list guest posted here on Value Walk.
To keep this particular best silver coins to buy list short and sweet, a brief but honorable mention is now given to other highly popular 30 gram Chinese Silver Panda coins, 1 oz Australian Perth Mint Silver Kangaroo Coins, and highly collectible Silver Mexican Libertad coins of various sizes.
Generally, when buying silver bullion coins in volume, you will typically pay a lower price per troy ounce over the silver spot price the more you are buying per transaction.
In other words, if you are buying only five one-ounce silver coins, for instance, the price per coin you pay above the fluctuating silver spot price will be slightly higher than you might pay if you were buying larger lots [like a tube of 20 silver bullion coins, or in mint case (e.g. monster box) typically containing 500 oz].
When buying your silver bullion in a calm market, most silver coin supplies should be sufficient to then meet demand, so the silver coin price premiums per troy ounce will typically be about five to fifteen percent above the fluctuating spot silver price (depending on the product and how many you are buying).
We know, paying a 15% price premium above the silver spot or even a 20% spread between a bid and ask price to get one or a few coins is a lot. This is first and foremost why buying silver bullion in small lots is a long term bet and tangible savings play for most so-called silver 'stackers'. Buying silver bullion is not a short term or often medium-term trade either, more so a trade that can last decades prudently positioned.
Have a look at the following two silver price run charts.
This first one is illustrating the up and down price volatility for the fiat Federal Reserve note denominated silver spot price per troy ounce over the full fiat currency era (1971-2020, in $USD).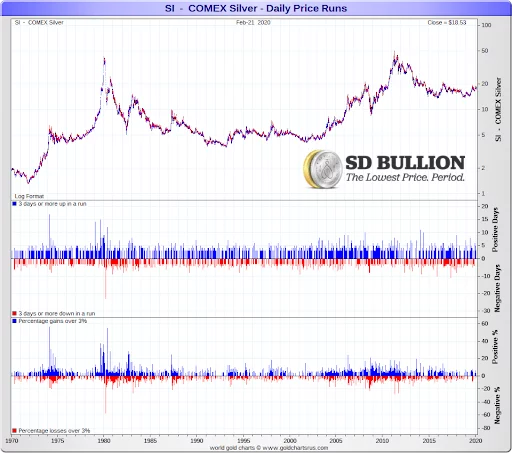 You will note in the following positive daily runs for the silver chart, although not of late, there have been many extraordinary upside runs for silver spot prices in the 1970-1980 and 2000-2011 bull markets and often too in the aftermath of returns to the median price. We expect the 2020s and 2030s should be similar for silver.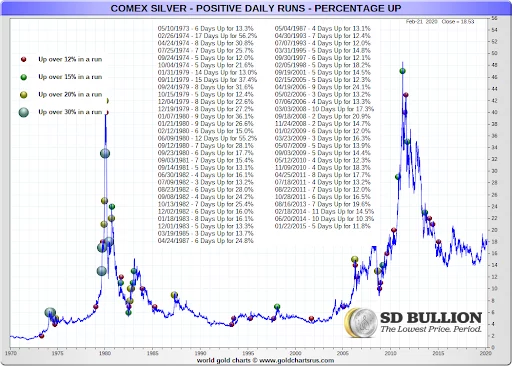 Our long term expectation looking at the silver price chart above is that silver will eventually cup and handle back to the old high of $50 per troy ounce in fiat US dollars. The $USD fiat currency unit in use now is well more debased than either the 1980 and or 2011 versions. Based on 1980 inflation data metrics (see the SGS-ALT silver price chart below), the ultimate run for silver should be a question of triple digits per troy ounce, in the time to come.
🤯
$50 oz Silver in $USD 2011
debased to 2X that in today's fiat $

How?!

Gov't inflation data is a
compounding lie yr after yr

$3-digit oz #Silver
pretty much guaranteed*

When to sell some #Silver #Bullion? https://t.co/Ugyx5KOAoF

*baring asteroid
full of $Ag wrecking Earth pic.twitter.com/IG6Jk5ZZfu

— James Henry Anderson (@jameshenryand) August 30, 2019
Many modern silver bullion coins can be sold back to silver bullion dealers at prices above, at, or just below the fluctuating silver spot price.
When you go to sell silver bullion in a decent quantity of volume back to a dealer, you will often get more fiat currency per troy ounce than even what the silver spot price is at the time of sale.
The reason you typically get paid more than the silver spot price for silver bullion coins is that most government silver bullion coin mints sell their products with higher seigniorage fees than what silver bullion dealers are paying their customers. Bullion dealers like to buy much of their secondary silver coin supplies if they can at the lowest price possible and then pass some of those savings along to their customer bases.
That said, if silver bullion dealer's bid prices are too low, their customers will sell their silver coins elsewhere. Silver bullion dealers must stay bid-ask spread competitive on the most popular silver bullion coins they make markets in, to maintain market share remain in business.
When considering which silver bullion coins are best, you could examine silver selling privacy and silver buying objectives within your country if that is of major importance to you. US readers can just internet search "IRS bullion buying and selling privacy" for more details on that matter.
Now and without further delay, let's dig into (pun intended) the best silver bullion coins to buy.
Best Silver Bullion Coins to Buy (TOP 5)
Best Silver Coin to Buy? (#5) Austrian Philharmonic Silver Coins
Guaranteed by the Republic of Austria, the Silver Philharmonic Coin has a 1.50 euro legal tender face value but they are traded based on their 1 troy ounce .999 fine silver content.
They got first manufactured during the acute silver bullion shortage in the fall of the 2008 global financial crisis and have been struck each year ever since.
Silver Phils as they are often referred inside the bullion industry, can be privately sold to US-based bullion dealers requiring no IRS 1099B filings in any volume.
You can typically sell 1 oz Silver Philharmonic Coins above the current fluctuating spot silver price.
The following video shows Silver Philharmonic Coins being produced and how their design celebrates the world-famous Austrian Philharmonic Symphony Orchestra and their European Union 1.5 euro legal tender silver bullion coin status.
Best Silver Coin to Buy? (#4) Britannia Silver Coins
Guaranteed by the United Kingdom and the one thousand-year-old Royal Mint. These silver bullion coins are consistently high quality in the finish with a purity of .999 fine silver bullion.
The popular Silver Britannia Coin has a 2-pound legal tender face value in the UK but they are traded based on their 1 troy ounce silver content contained in each silver bullion coin.
First minted in the year 1997. The one troy ounce Silver Britannia Coin can be privately sold within the USA in high volumes, requiring no IRS 1099B filings by US-based silver bullion dealers when they buy back from private investors.
You can rather easily sell Silver Britannia Coins above the current spot silver price to networks of silver bullion dealers all over the world.
The following short video will give some behind the scenes footage in the production of 1 oz Silver Britannia Coins as well as their look and high-quality finish.
Best Silver Coin to Buy? (#3) US 90% Silver Coins
Older 90% US silver coinage struck pre-1964 is highly bought and sold throughout the silver bullion markets. Too there are some 40% silver coins issued and still bought and sold amongst investors after silver got essentially fully demonetized post-1964.
All constitutional silver coins are still guaranteed by the United States and the United States Mint.
Often referred to as "junk" silver coins, they all have low legal tender face values but get traded based on their silver content weight and silver bullion melt value. Thus when considering junk silver coin prices, you must know the silver weights of each 90% silver coin or 40% silver coin to know what it's silver value is.
You can sell 90% silver coins just below the fluctuating silver spot price typically. You can often buy 90% Constitutional silver coins at or just above the silver spot price.
The following short video will explain more about why our customers love Constitutional 90% silver coinage of our forefathers.
Best Silver Coin to Buy? (#2) Silver Maple Leaf Coins
Guaranteed by the Canadian government and struck by the Royal Canadian Mint, these .9999 fine silver bullion coins are perhaps the best value buy still in the silver bullion coin market.
The Silver Maple Leaf Coin is one of the oldest and most widely bought modern silver bullion coins across the world. Silver Maple Leaf coins have $5 CAD legal tender face values but they are bought and sold based on their fine silver content.
First struck in the year 1988, investors can sell RCM Silver Maple Coins in limitless quantities within the USA in a private fashion (i.e., there is no 1099B IRS Bullion Dealer Reporting Requirements on these silver bullion coins when dealers buy them from the public).
Silver Maple Leaf Coins have since the year 2014, come with anti-counterfeit designs such as micro engravings and radial lines which makes it difficult for Chinese counterfeiters to reproduce or mimic. The Royal Canadian Mounted Police enforces the Silver Maple Leaf Coins legal tender status and ensures the authenticity of the Royal Canadian Mint's silver bullion coin mintage.
You can both buy and typically sell 1 oz Silver Maple Leaf Coins at prices typically just above the ongoing dynamic global spot silver price in virtually any and all fiat currencies around the globe.
The following Silver Maple Leaf Coin video will explain why our customer base makes RCM Silver Maples their second most purchased silver bullion coin by volume.
Best Silver Bullion Coin to Buy? (#1) Silver Eagle Coins
All 1 oz American Silver Eagle coins (ASEs) are guaranteed by the United States government, struck by the US Mint, and enforced at bonafide genuine legal tender by the US Secret Service.
The Silver Eagle Coin has a .999 silver bullion purity and this year 2020, is the final year of this particular design. In the year 2021, the ASE coins will be getting new designs with multiple anti-counterfeit measures valued added to this most popular silver bullion coin program.
The Silver Eagle Coin has a $1 US dollar legal tender face value but they are traded, bought, and sold based on their guaranteed silver content plus it having one of the highest seigniorage fees amongst high volume produced silver bullion coins.
First manufactured in 1986, the Silver Eagle Coin has become the world's #1 silver coin program by gross fiat currency sales volumes each year. Silver Eagle Coins can be privately sold within the USA in limitless quantities and there is no IRS Bullion dealer reporting requirement on them.
You can sell Silver Eagle Coins at prices typically $1 oz or more above the spot silver price. Only a small handful of high volume bullion dealers can only acquire new 1 oz Silver Eagle Coins directly from the US Mint at $2 oz over the dynamic spot price.
In the acute silver bullion coin shortage in the fall of 2008, the price premium for American Silver Eagle coins sold via online exchanges peaked at over 180% of the then silver spot price (e.g. silver spot price may have been $10 oz yet 1 oz ASEs were selling around $18 apiece on average).
The following short video on 1 oz Silver Eagle Coins will give you further insight as to why they are our customers and the world's favorite silver bullion coin by purchasing volume data.
This concludes our best silver coins to buy list.
To learn more about the Top 10 Bullion Products to buy, search and visit our SD Bullion website and YouTube video playlist for further information.