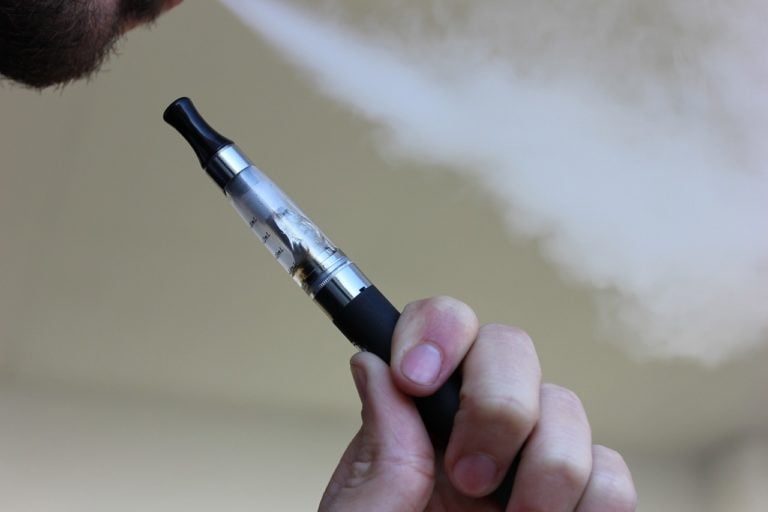 Earlier last month, the Food and Drug Administration (FDA) banned companies from producing and selling flavored e-cigarettes. This was done in an effort to check the rising vaping-related habits and illness among youth. However, if a new report is to be believed, teens have already found a loophole in the e-cigarettes flavor ban.
Loophole in e-cigarettes flavor ban
In January, the Trump administration came out with a ban on the sale and produce of many e-cigarettes flavors, such as fruit (mango, watermelon and more) and mint that use refillable cartridges. The flavor ban, however, did not include tobacco and menthol varieties. There is another exemption as well. The ban does not apply to non-refillable devices, or the ones that one could discard after use.
This loophole, according to a report from The New York Times, is being used by teens to continue with their e-cigarette habits and overcome the e-cigarettes flavor ban. Thus, teens are now mostly using disposable e-cigarettes made by Puff Bar and not cartridge-based products, such as Juul.
Q1 2021 13F Round-Up: Notable Hedge Fund Changes
Below is our 13F roundup for some high profile hedge funds for the three months to the end of March 2021 (Q1). Q1 2021 hedge fund letters, conferences and more The statements only include equity positions as 13Fs do not include cash and debt holdings. They also only include US equity holdings. Funds may hold Read More
Juul initially attracted teens as its e-cigarettes were of an easily-concealable size and users could swap flavors when one ran out. Puff Bar makes e-cigarettes in flavors such as strawberry, banana ice and sour apple. Also, Puff Bar is cheaper than Juul. For Puff Bars, each item costs about $7 to $10, compared to $35 just for the device from Juul. Additionally, the pack of two pods from Juul costs $10.
"Teens are very savvy and if they are addicted, they are going to do what it takes to continue a habit that is now plaguing their lives," Principal Kristina Rodgers of Roosevelt High School in Seattle told The New York Times.
Juul is now facing investigation over the company's role in the rise of teen vaping. Also, the company is undergoing $1 billion restructuring. Altria, which owns a partial stake in Juul, said recently that it took a hit of a $4.1 billion due to its exposure to the e-cigarette company.
Why these loopholes exist?
The Trump administration allowed these loopholes or exemptions in the e-cigarettes flavor ban following protests from the e-cigarette sellers after an all-out ban on e-cigarettes. The loopholes reportedly were based on the findings of the National Youth Tobacco Survey.
As per the findings of the 2019 National Youth Tobacco Survey, more than 5 million middle and high school-aged children use e-cigarettes, with the majority preferring cartridge-based products. Thus, the e-cigarettes flavor ban allowed the sale of menthol and tobacco flavored pods as these were less appealing to the kids.
Defending the loopholes of the e-cigarettes flavor ban, Alex Azar, Health and Human Services Secretary, said earlier this month that they are trying to maintain a balance by making sure that kids don't get access to the attractive products or flavors, but at the same time ensuring that the products remain available for adults.
Earlier this month, President of the American Vaping Association, Gregory Conley, referred to the limited ban as a partial victory. Conley said it will help thousands of small businesses to continue with their operations. However, he noted that the temporary exemption would need federal action. All vaping products are required to file an authorization application by May this year to continue selling their products. Companies who fail to do so will be subjected to FDA enforcement action.
What now?
The rise of disposable e-cigarettes completely defies the objective of the ban. "President Trump needs to grow a spine and enact the real flavor ban he promised — not this loophole-ridden version that was tailor-made to appease the vaping industry," Senator Jeff Merkley told The New York Times in an email.
It seems President Trump also regrets the loophole version of the e-cigarettes flavor ban. According to the NYT, Trump earlier this month told Azar that he "never should have done this vaping thing."
The FDA previously referred to the use of tobacco as a "public health tragedy." Moreover, a rising number of people of all ages are getting infected with EVALI, the vaping-related lung illness. There have been around 2,711 confirmed cases of hospitalizations and 60 deaths in the U.S. as of Jan. 21. The number of cases, however, has slowed after peaking in September, according to the CDC (Centers for Disease Control and Prevention).