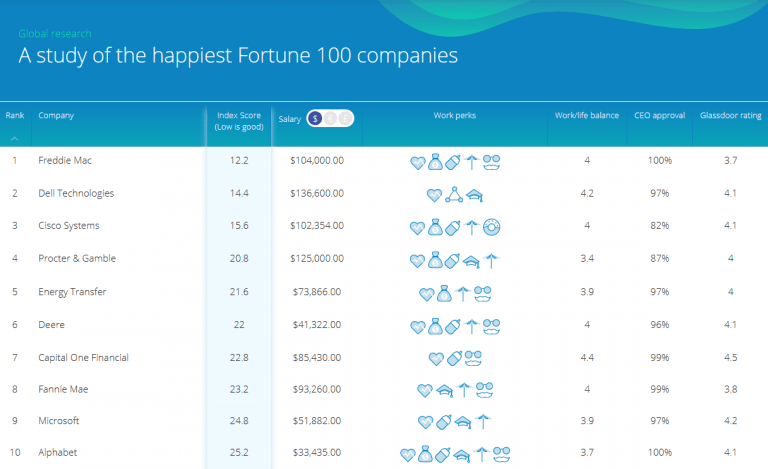 A look at the best and worst Fortune 100 companies based on their employees
Michael J. Kasbar from World Fuel Services the WORST CEO in the world as he only has a 4% Glassdoor rating from staff
World Fuel Services offers minimal work perks in comparison to the rest of the Fortune 100 companies
Facebook CEO, Mark Zuckerberg makes the list of BEST CEOs with a 99% rating
Donald Page (Freddie Mac CEO) however tops the list with 100%
Q4 2019 hedge fund letters, conferences and more
A new index by business productivity tool providers, UpSlide, looks at the Fortune 100 companies in the US and Europe to determine which companies have the happiest employees, based on what matters to them.
Jim Chanos Unveils Lastest Short As Fund Manager Bets On Further Market Declines
Jim Chanos has a new short target in his sights. Earlier this week, the hedge fund manager disclosed that he is betting against "legacy" data centers that face growing competition from the trio of technology giants, which have previously been their biggest customers. The fund manager, who is best known for his winning bet against Read More
The study reveals which companies have the worst and best-rated CEOs based on Glassdoor reviews and reveals Michael Kasbar from World Fuel Services has a 4% rating, whereas best CEO Donald Layton from Freddie Mac has 100% rating.
These are the 10 WORST CEO's as rated by staff
1) Micheal Kasbar (4% rating)  - World Fuel Services
2) Mary Barra (6% rating) - General Motors
3) Christopher Crane (8% rating) - Exelon
4) Noel White (8% rating) - Tyson Foods
5) James Gorman (9% rating) - Morgan Stanley
6)  A. James Teague (9% rating) - Enterprise Products Partners
7) Richard Hume (9% rating) - Tech Data
8) Stefano Pessina (23% rating) - Walgreen Boots Alliance
9) Michael Tipsord (34% rating) - State Farm Insurance
10) Larry Merlo (35% rating) - CVS Health
But who are the BEST rated CEOs in the Fortune 100 list?
Looking at extraordinary leaders and gives a CEO rating based on how much employees love to work for them – both Freddie Mac and Alphabet are in joint place with the best overall ratings, with Capital One and Fannie Mae following closely behind.
The top 10 Fortune 100 CEOs
1) Donald Layton (100% rating) - Freddie Mac
2) Larry Page (100% rating) - Alphabet (Google)
3) Albert Bourla (100% rating) -  Pfizer
4) Richard Fairbank (99% rating) - Capital One Financial
5) Hugh Frater (99% rating) - Fannie Mae
6) Mark Zuckerberg (99% rating) - Facebook
7) Michael Dell (97% rating) - Dell Technologies
8) Kelcy Warren (97% rating) - Energy Transfer
9) Satya Nadella (97% rating) - Microsoft
10) Samuel Allen (96% rating) - Deere
The full list of companies can be found in the index here: https://www.upslide.net/en/happiness-index/
The study also reveals the work perks each of this provide and ranks the businesses overall based on a number of factors.
---
UpSlide creates software that helps people work better. For UpSlide, working better means being efficient, producing high-quality results and enjoying yourself.
UpSlide tools free office workers – who spend their days in Word, PowerPoint and Excel – from monotonous tasks, and help them achieve quality and consistency.
"Happiness at Work Index 2019" UpSlide ranked first in (HappyIndex®/AtWork 2019 ranking (26+ employees start-up category))
Methodology:
Companies were ranked by each category shown in pink, 1 being the best and 100 being the worst. Then the overall ranking is the average score across all metrics, with the lowest score showing the highest overall individual rankings.
Where there were duplicated the following applied so that the minimum score possible is 1 and the max is 100 across all companies.
Sources:
Company career page sources:
https://www.massmutual.com/-/media/files/employee_benefits.pdf
https://www.pgcareers.com/benefits
https://www.freddiemac.jobs/benefits/
Updated on