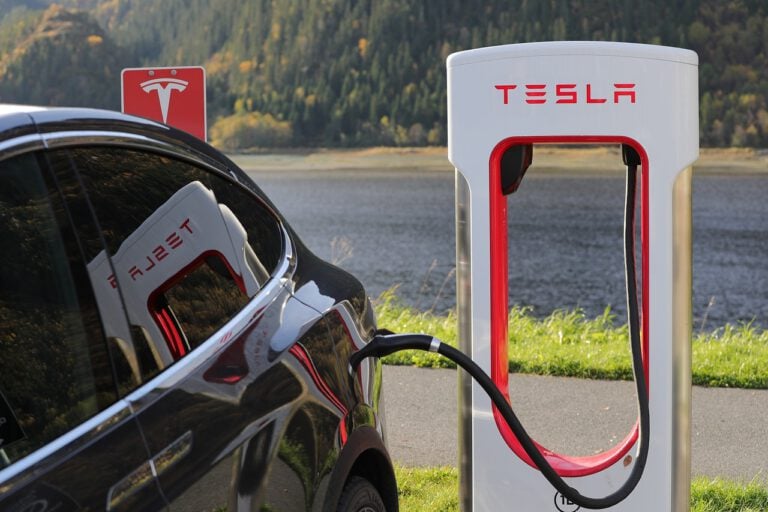 Whitney Tilson's email to investors discussing his latest thoughts on Tesla Inc. (NASDAQ:TSLA) where buyers are losing tax credits.
1) Electric-car maker Tesla (TSLA) reported another profitable quarter after the close yesterday, and the stock is soaring today. It has now more than doubled since I changed my mind (phew!) and wrote on October 24 that it was no longer a good short after the company surprised investors by reporting a profitable quarter. As I wrote at the time:
Q4 2019 hedge fund letters, conferences and more
Crypto Hedge Fund Three Arrows Blows Up, Others Could Follow
A few years ago, crypto hedge funds were all the rage. As cryptocurrencies rose in value, hundreds of hedge funds specializing in digital assets launched to try and capitalize on investor demand. Some of these funds recorded double-digit gains in 2020 and 2021 as cryptocurrencies surged in value. However, this year, cryptocurrencies have been under Read More
Over the next few months, the company will likely report positive developments regarding the launches of the Shanghai Gigafactory and Model Y. In addition, I suspect it has more kitchen-sink benefits it can use to spruce up its fourth-quarter earnings. So for now, I think the wisest course of action is to sit on the sidelines and perhaps look for an opportunity to short the stock early next year...
It's now early next year... and Tesla's market cap has swelled to more than $100 billion – the second-largest of any automaker in the world – so is it time to get back into Tesla on the short side?
My brief answer is: not yet.
As many of my fellow short sellers have learned the hard way, it's dangerous (and costly) to stand in front of a freight train – and I'm not just talking about Tesla's stock buyers. The company genuinely has a lot of things going for it...
Everyone I know who owns a Tesla loves it with a burning passion, which creates incredible word-of-mouth – meaning the company doesn't have to spend a dime on advertising (think of that when you're watching all of those expensive ads by Tesla's competitors during the Super Bowl on Sunday). Two of my friends at Stansberry Research's headquarters purchased Teslas in the past year, and they can't stop talking about them and taking their friends for test drives. The value of having an army of evangelists like this is enormous...
In addition, Tesla has a huge lead – in consumer mind share, unit sales, and technology (software, charging infrastructure, and so forth) – in a new industry: electric vehicles (EVs). And this industry is likely in the early stages of an S-curve adoption. EVs are vastly superior to gas-powered cars in almost every way – acceleration and handling, environmental impact, maintenance and repairs (their drivetrains have only 20 moving parts versus more than 2,000 in a typical car), etc. – so I expect that EVs will account for more than half of auto sales in the developed world by the end of this decade. My colleague Enrique Abeyta and I are doing more research on this sector – and on autonomous vehicles – so keep an eye out for our thoughts in future Empire Financial Daily e-mails.
Lastly, Tesla CEO Elon Musk has somewhat reined in his nonstop lying and pathological narcissism, and the company is now executing much better. As I anticipated in October, the Model Y production ramp is now underway and ahead of schedule, and the Shanghai Gigafactory is starting production only 10 months after breaking ground. This is a remarkable achievement (though Tesla investors may someday regret giving the Chinese the opportunity to steal every last bit of the company's intellectual property – not that I think this long-term issue will dampen their current excitement).
To summarize, this meme captures the bull case for Tesla – a disruptive meteor that will soon make every traditional automaker obsolete.
At this point, you may be thinking, "Wow, Whitney, those are some good arguments. Why aren't you telling everyone to buy the stock?"
Let me count the reasons why Tesla buyers are still dangerous...
As a starting point, here's a list from a report that BofA Securities issued yesterday:
10 key reasons to remain cautious on TSLA as a buyer

Volume growth is real, but governed by capacity expansion and capital commitment
EV addressable market is not unlimited, and likely smaller than appreciated for now
Growth is also constrained by product portfolio expansion/refresh or lack thereof
Capital intensity of growth indicates TSLA is far from a FAANG (Facebook, Amazon, Apple, Netflix, and Google) company/stock
Cost of capital is negligible for now and a major, but possibly temporary, advantage
Profitability and cash flow are not good or consistent, and are major risks
TSLA is still not clearly self-funding and raising capital after a decade in existence
Credit investors are skeptical, but with equity cushion, have joined the bandwagon
Creative accounting and presentation helps on a transitory basis
Momentum helps for now, but rotation to Value could be painful
Here are my thoughts as well:
A) While Tesla has an "early mover" advantage, other automakers aren't standing still. Collectively, they're investing tens, if not hundreds, of billions of dollars into EVs and are scheduled to roll out more than 200 models over the next three years... and many of these look amazing.
Will any be a so-called "Tesla killer"? It's hard to know, but it's far from clear that Tesla will be the long-term winner. Remember Iomega, Gateway Computer, Netscape, Palm, Friendster, MySpace, Nokia, and Research in Motion? Investors tend to get excited about emerging, disruptive companies... but fail to remember the carcasses along the way.
And even if Tesla maintains a leading market share among EVs, it may never make much of a profit – certainly not one that can support its current high valuation. Most EV or Tesla buyers to date have been environmentally conscious, high-income early adopters who are less price sensitive. But as EVs go mainstream, price will matter much more – and Tesla will be competing against giant automakers that have economies of scale, and the willingness and ability to sell EVs at or even below cost thanks to profitable gas-car businesses.
Additionally, government subsidies have played and will continue to play a critical role in the adoption of EVs – and here, Tesla will likely be at a disadvantage in many countries. For example, the federal tax credit for Tesla buyers in the U.S., by far the company's largest market, has been falling over time... and on January 1, it dropped from $1,875 to zero. Meanwhile, buyers of competitors' models still get the full $7,500 credit – a huge difference.
Will Tesla buyers disappear
B) Tesla investors are losing their minds over two profitable quarters in the second half of 2019, but as Anton Wahlman points out in Seeking Alpha, the company's financials actually declined year over year: In The Second Half of 2019, Tesla's Revenue Fell 3%, and Earnings Fell 45%. Excerpt:
Tesla (TSLA) is trading up in early pre-conference call reaction to the preliminary Q4 2019 financial results press release. As I suspected, we continue to live in a fact-free environment, where up is down, and down is up.
For the actual facts as to where Tesla's numbers have been going during the second half of 2019, compared to the prior year (second half of 2018), you have come to the right place. Comparing the second half of 2019 over the second half of 2018 is important for two reasons:
The Model 3 deliveries to Europe and Asia started taking place in the first half of 2019, so the second half of 2019 is the first multi-quarter period in which we had a complete set of data from not only the U.S., but also globally.
We all know that a single quarter can have an anomaly. Two quarters smooth the picture, although in the case of the second half of 2019 there were no such material differences between the two quarters. They were more similar than not. In that sense, the similarity only confirms the overall revenue and net income trends, which should bring comfort to both the bulls and bears in their analysis.
In addition to what Wahlman highlights, in Tesla's fourth quarter, Model S and X deliveries plummeted by 29%, U.S. sales dropped, and the average selling price of the Model 3 declined by roughly $10,000.
Tesla buyers and growth
It's hard to reconcile these numbers with Tesla's unlimited-demand, hypergrowth story.
C) With its seasonally strong second half of the year behind it, Tesla is now in its weakest quarter of the year. A year ago, deliveries were only 63,026 in the first quarter, down more than 30% sequentially from 90,966 in the fourth quarter of 2018, in large part because the U.S. federal tax credit for Tesla buyers fell from $7,500 to $3,750 (remember, it just dropped to zero).
And there may be an especially sharp drop-off in this year's first quarter because tax changes in the Netherlands led to huge Model 3 sales there in the last quarter (an estimated 16,289 deliveries), which have dropped to almost zero so far this year.
In summary, Tesla analysts and investors may be in for a very rude surprise this quarter. I think Tesla hinted at this when, in its earnings release, it noted that "We expect positive quarterly free cash flow... and positive GAAP net income... going forward, with possible temporary exceptions, particularly around the launch and ramp of new products." Uh, you mean like the Model Y?
Possibly making matters worse, if Tesla realizes that it's going to miss its first-quarter numbers, it may – in a repeat of 2019 – "kitchen sink" results by taking charges, write-downs, and provisions. This would likely result in even larger reported losses – perhaps more than $2 per share.
Tesla buyers and financials
D) Speaking of accounting shenanigans, I don't trust Tesla's financials one bit. I'm not saying there's outright fraud, but the company is clearly pushing the envelope in every way possible – which, in my long experience, usually ends very badly for shareholders.
I have so many areas of concern, among them: reversals of restructuring charges made during previous quarters (which boosted net income by $0.06 per share last quarter), treating costs for research and development as well as its dealerships as overhead rather than costs of goods sold (which inflates Tesla's gross margin relative to other automakers), how the company accounts for previously written-down inventory, how it recognizes revenue deferred in previous quarters, and how it minimizes capital expenditures via guaranteed purchase commitments from its suppliers – at inflated pricing, of course (the Panasonic agreement, for example).
Accounting
But Tesla's biggest accounting shenanigan of all may be how it handles warranty repairs. As one of my readers writes:
I believe that Tesla is materially misrepresenting its warranty accruals, which has the effect of inflating its gross margins. I estimate that the company is performing something like $500 million a year in warranty work but calling it "Goodwill Repairs" and burying it in its Service & Other segment, where the work doesn't directly affect automotive gross margin. This trick also helps them avoid "lemon laws" and recall campaigns. In total, Tesla may be under accrued on warranties by between $1 and $2 billion based on current Goodwill Repairs costs. These charges would have run through automotive gross margin, with the cash costs appearing in Cash Flow from Operations.
For more on this, see this Seeking Alpha article, Tesla Warranty Expense: A Case of Goodwill By the Auditors, and this thread on Twitter.
In conclusion, I think both the bulls and the bears make compelling arguments, so I'm still sitting on the sidelines – for now. I think you can only short a stock like this if you're highly confident that the company is going to miss investor expectations – and not by a little, but by a lot. That may well happen in the first quarter, so if I develop conviction on this, I'll once again recommend shorting it. Stay tuned...
Best regards,
Whitney
Updated on