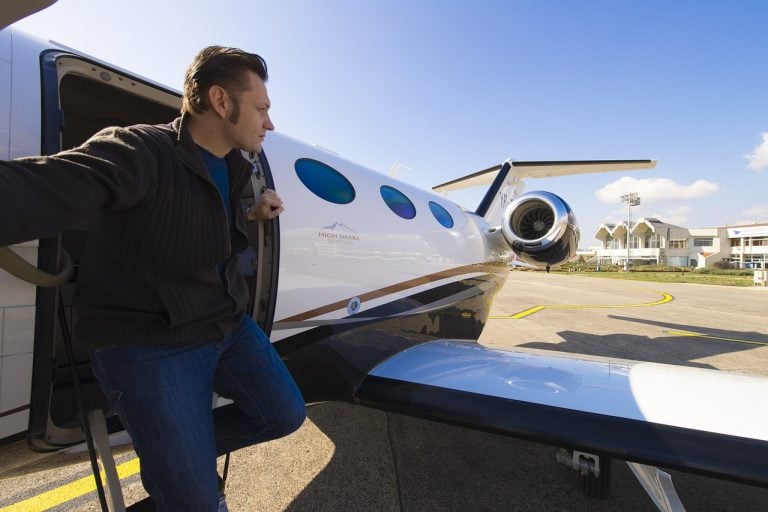 When you are planning your next holiday, a big question that you face is the mode of transportation. Three major factors that influence your choice are the price, convenience and availability. You must balance all three to come up with the right choice. Most would prefer a flight, but considering we are in the holiday season, availability will be a big concern. One viable alternative that is fast catching up is to rent a private jet. If you think this would cost a fortune, then you may be wrong. With a few tips and proper planning, you can rent a private jet without spending too much.
Being flexible is the key
If you are flexible about where you depart from, then you will see big savings when renting a private jet. For instance, leaving from a smaller regional airport will bring down the cost of renting a private jet. According to experts, Teterboro, N.J. could be considered a hub for private jets.
A significant portion of the cost of a private jet is the fees the jets must pay each time they leave and enter an airport. Thus, taking a jet from a major airport like JFK could add $2,000 to $3,000 to your bill. You could save that money if you board a jet at a smaller airport such as Teterboro.
Greenlight Capital Full Q2 2021 Letter: Einhorn Thinks Inflation Is Here To Stay
David Einhorn's Greenlight Capital returned -2.9% in the second quarter of 2021 compared to 8.5% for the S&P 500. According to a copy of the fund's letter, which ValueWalk has reviewed, longs contributed 5.2% in the quarter while short positions detracted 4.6%. Q2 2021 hedge fund letters, conferences and more Macro positions detracted 3.3% from Read More
You can also consider a shared ride if you don't mind sitting with strangers in a small plane. Operators such as Tradewind offer shuttles between a few locations. You can even consider getting on empty-leg lists. If you have flexible traveling dates, you can sign up for empty-leg email lists from companies such as Magellan Jets.
Such companies regularly send emails to their customers informing them about discounted flights available. These discounted flights could be on a corporate executive's jet which flew from New York to Los Angeles but is now looking for a traveler to offset the cost of returning to New York.
How could you save money?
Now let's talk about the most important part of booking the flight: the cost. The cost of the jet will depend on several factors, including the distance it will be traveling, the duration of the trip and size of the aircraft. These are more or less predetermined charges; thus, your objective should be to get the most value for your money. To do this, you should know what your needs are and the options you have.
Sites such as Jet Advisors help you compare the prices of different types of jets. To give you an idea, long-range jets could cost about $12,000 per flight hour, while light jets cost around $2,500 per flight hour. Thus, using a light jet would help you save costs.
A myth associated with smaller planes is that they are not very comfortable. The comfort and turbulence a plane faces primarily depend on the weather conditions and how high the plane flies. Most private jets fly over 40,000 feet, well above the usual limit of about 35,000 feet for commercial planes. A higher altitude generally ensures smoother weather conditions than those faced by commercial planes.
Another major factor that adds to the cost of renting a jet is where the plane is stationed at the end of the day. In other words, the cost would be more if you hire it just for one way. On the other hand, you will get more value if you book a same-day or next-day roundtrip. In this case, the same plane and crew will be used for your trip.
Other things that add to the cost of jet include airport landing, which varies airport to airport, fees for a flight attendant (about $600 a day), the crew's overnight expenses (about $500 per night per crew member) and taxes (about 7.5%). You should inquire about these costs beforehand to see if you could save on them or not.
Another avenue where you could save money is in-flight amenities such as Wi-Fi. You should ask beforehand if the plane has Wi-Fi and if it is free or not. This could help you save a few hundred dollars.
Use broker services to rent a jet
To rent a private jet, it is recommended that you use the services of brokers. Although online sites would help you book a private jet, a broker will inform you about all the options you have. For instance, a broker will tell you where the planes are currently parked. This may help you to bring down your costs.
Spending on a broker is wiser than losing more money due to a lack of information or knowledge. Brokers would give you information on the different types of jets available and price quotes. If you are going through a broker, you should inquire about all aircraft, including those at regional or smaller airports. Don't be shy about asking about your safety or if the plane you will be flying on is safe or not.
You can refer to this video as well: