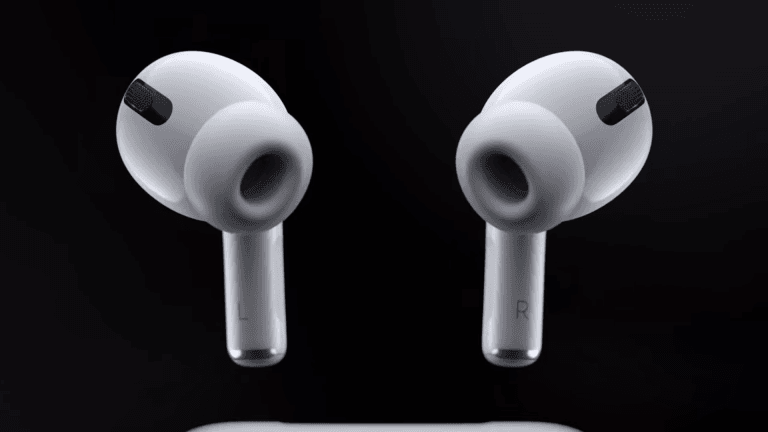 If you are in the market for a new pair of fully wireless earbuds, Apple has more than just the second-gen AirPods. The company launched Powerbeats Pro a few months ago, and has just released the AirPods Pro with features like active noise cancellation (ANC) and water-resistance. They both have the same price tag. Both of them deliver excellent sound quality. So, which one is better for you? This AirPods Pro vs Powerbeats Pro comparison could help you decide.
AirPods Pro vs Powerbeats Pro: Design
The AirPods Pro's design is closer to Apple's regular AirPods. They have a bud that fits in your ear and a stem sticking out. Just put the earbuds in your ears and you're set to start enjoying music. There is no hook to wrap around the ear. The buds ship with a White color charging case and a USB-C to Lightning cable.
Apple ships the Pro AirPods with three different sizes of silicone ear tips to ensure they fit comfortably in your ears. The new AirPods Pro come with a software feature called Ear Tip Fit Test. When you put the Pro earbuds in your ears, Apple's algorithms and the microphones in the buds measure the sound in each ear and compare it to the sound originating from the speaker driver. The feature detects whether the ear tip is a good fit and the right size for you. If not, the algorithms will recommend you to swap out the tips.
Avoiding the Losers with XOUT Capital's David Barse
ValueWalk's Raul Panganiban David Barse, Founder and CEO of XOUT Capital, and discuss his unique approach to investing. Q1 2021 hedge fund letters, conferences and more The following is a computer generated transcript and may contain some errors. Interview with XOUT Capital's David Barse
The AirPods Pro are also equipped with a new vent system to equalize pressure. The vent system reduces discomfort caused by wearing earbuds for extended hours.
The Powerbeats Pro don't have a software feature like Ear Tip Fit Test. But they come with ear tips in four different sizes to help you find the right fit. The Powerbeats Pro have a sporty design with wraparound ear hooks that keep the buds in place even during vigorous activity. It makes them more suitable for fitness enthusiasts.
The Powerbeats Pro as well as their charging case are heavier than the AirPods Pro. While the Pro AirPods come only in White color, the Powerbeats Pro are available in Black, Navy Blue, Moss Green, and Ivory colors. The charging case is black.
Water resistance
Both the AirPods Pro and Powerbeats Pro have the same IPX4 rating for water and sweat resistance. They can easily survive rainy commutes, water splashes, and sweaty workouts. But they may fail if you wear them during your swimming sessions.
Features and controls
Both the AirPods Pro and Powerbeats Pro get the latest Bluetooth 5.0 technology and Apple's custom H1 chip. The H1 wireless chip enables faster connections, low latency, and hands-free Hey Siri activation. Once you pair them with your iPhone, they both automatically connect to the iPhone as soon as you flip open the case.
Both products have built-in sensors that can detect when you pull one of the buds out of your ear. So, they automatically pause music when you remove the buds.
For controls, the AirPods Pro get Apple's new Force sensor that allows you to switch between active noise cancellation (ANC) and transparency modes with a long press on the stem of the earbuds. The Force sensor also has different controls such as single, double, and triple taps to play, pause, and skip music. But there is no option to adjust the volume. It also allows you to take and hang up phone calls.
The Powerbeats Pro have physical buttons for controls. They get physical volume rockers, and a multi-function button on each earbud for controlling music playback, answering and ending calls, activating Siri, and declining calls. The volume rockers are a big plus for Powerbeats. Unfortunately, users can't customize the button presses for different actions.
AirPods Pro vs Powerbeats Pro: Audio quality
Both products deliver the top-notch audio quality, but the AirPods Pro get some new tricks up their sleeves. The AirPods Pro get active noise cancellation (ANC) to block out ambient noise so you can listen to the music at lower volumes even in noisy environments. They have two microphones – one facing outside and another facing inside – to minimize noise.
If you want to talk to someone or connect with your surroundings, the AirPods Pro let you switch from ANC to transparency mode. The transparency mode proves useful when you are working out, crossing the road, jogging, or cycling in busy places. The AirPods Pro also have Adaptive EQ, which tunes the low- and mid-frequency of the music to the shape of your ear to deliver an immersive audio experience.
The Powerbeats Pro don't support ANC. Instead, they get noise isolation, which uses ear tips as barriers to block out ambient noise. You can listen to music even in a crowded and noisy bazaar without cranking up the volume on Powerbeats. They deliver punchy bass, clear sound, and brilliant instrumental separation.
Battery life
The AirPods Pro deliver 5 hours of music playback on a single charge. Using the active noise cancellation reduces the battery life to 4.5 hours. They come with a wireless charging case that packs another 3-4 cycles of charging. Users should expect about 24 hours of battery life on the AirPods Pro. If you want to juice up the buds quickly, the charging case gives one hour of music playback in just five minutes.
The Powerbeats Pro offer up to nine hours of music playback. That's almost twice as much as the AirPods Pro. The total battery life is about 24 hours, given the charging case packs two cycles of additional charging. Even though they both offer the same 24 hours of juice, the longer battery life means you won't have to charge the Powerbeats frequently.
The Powerbeats deliver 1.5 hours of music playback in 5 minutes and 5 hours in 15 minutes of charging. Unlike AirPods Pro, the Powerbeats Pro do not support wireless charging.
Pricing
Both products have been priced at $250. Considering the Powerbeats Pro have been around for a while, you can get them for as low as $200 from online retailers.
Conclusion
They both offer excellent sound quality and easy controls for the same price. The Powerbeats Pro are superior in terms of battery life, but they are also slightly heavier. Which one is right for you comes down to your personal preferences. If you are a fitness enthusiast who wants a sporty pair of earbuds, the Powerbeats Pro are the better choice. If you are a music lover who puts audio quality on the top of their priority list, the AirPods Pro will have you covered with ANC, transparency mode, and the Force sensor.