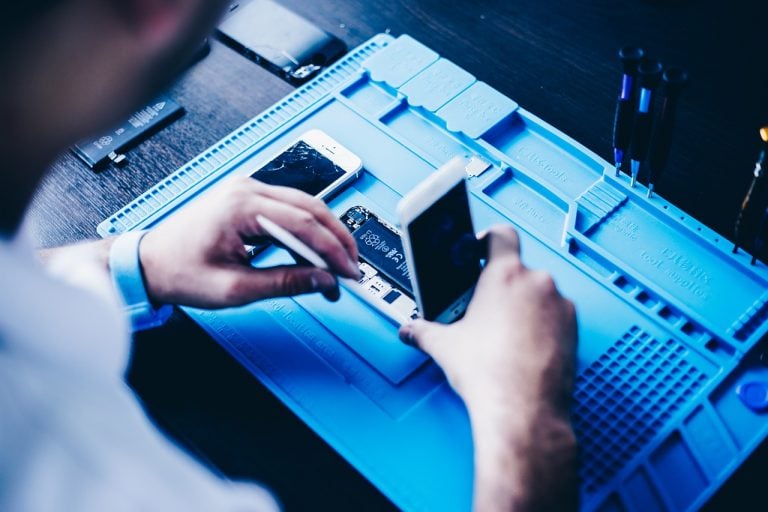 Apple products are extremely popular and are always in demand. This is why scammers and fraudsters try to benefit from this by selling fake Apple accessories. For a normal user, it can be extremely difficult to differentiate between genuine accessories from fake ones. However, you can learn how to spot fake Apple accessories with the help of a few useful tips.
How to spot fake Apple accessories
Apple recommends buyers to buy only Apple-certified accessories, or the ones that come with the "Made for Apple" moniker. So, you should try to buy accessories directly from Apple (both online and offline) or an Apple Authorized Reseller. However, it is not always possible, and there are occasions when you have to buy an Apple accessory from a third party. This is when you are prone to getting a counterfeit product.
Talking of how to spot fake Apple accessories, your first clue should be to check for the packaging. The packaging of the product that comes from Apple is easily identifiable – white, sealed Apple packaging.
Hedge fund managers present their best ideas at Robinhood [In-Depth]
The latest Robinhood Investors Conference is in the books, and some hedge funds made an appearance at the conference. In a panel on hedge funds moderated by Maverick Capital's Lee Ainslie, Ricky Sandler of Eminence Capital, Gaurav Kapadia of XN and Glen Kacher of Light Street discussed their own hedge funds and various aspects of Read More
Coming to the accessories purchased from third parties, many of these are approved by Apple. Such products are commonly known as "MFi" accessories. So, if you bought an Apple Certified MFi accessory, it should carry the specific logo, such as "Made for iPhone" or "Made for iPad" or "Made for iPod."
If the packaging of the product does not tell you much, or you are not convinced, then you will have to examine the product itself. Suppose you bought a cable. If it is genuine, it will carry the words "Designed by Apple in California."
A cable is also genuine if it carries the words "Indústria Brasileira," "Assembled in China," or "Assembled in Vietnam." These words should be followed by a 12-digit serial number. Moreover, these wordings will be at a distance of about 7-inches from the USB connector, and are in a light grey font.
What if the counterfeit accessory maker has been able to mimic these wordings as well? You will still be able to spot the fake ones, but now you will have to inspect the build of the product, such as the quality of material used.
Identifying fake accessories by examining the product
The first thing that you should look for is the Lightning connector. Apple says the genuine ones should be "single piece, Smooth," with "Rounded, smooth, gold- or silver-colored contacts." On the other hand, the fake ones will have "More than one piece," have a "Rough or inconsistent finish" with "Squared contacts" and "uneven surface."
The next thing that you should examine is the width and length of the boot. According to Apple, it should be consistent, compared to varying length, width and thickness of the fake ones. Further, the connector's faceplate should be Gray/metallic, unlike white or black in the fake ones.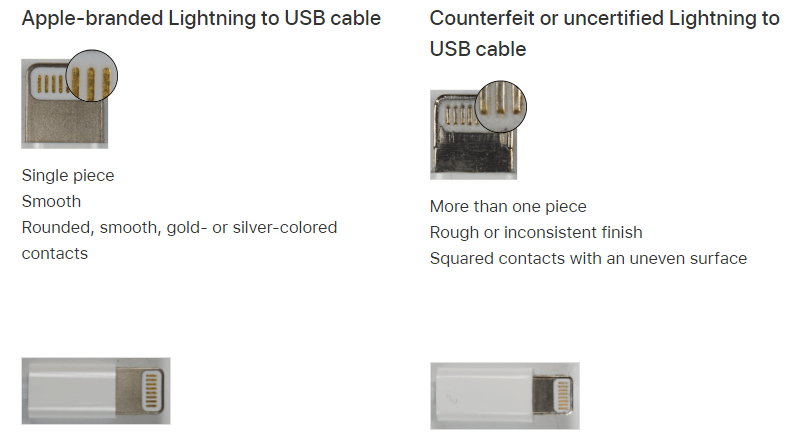 Coming to the other end of the cable (USB-connector end), Apple says that the surface of the connector should be smooth and consistent, while its shell should be flat. Talking of the shell, Apple further says that its interlocks should be trapezoidal and equally spaced from the edge. Also, the USB contacts will be gold plated, while the surface for the USB connector should be uniform and flat.
Talking of how to spot a counterfeit power adapter, here you should also study the material quality and build. As per Apple, the icon for the 30-pin dock connection is "laser-etched and clear" while for the fake one it is "blurry or missing laser etching." Additionally, Apple says the connection "between adapter body and Lightning connector is flush."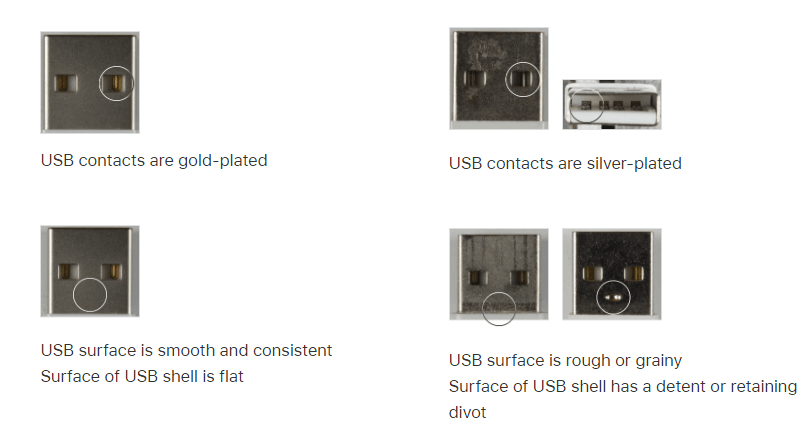 Along with these differences, you should also examine the text on the back of the power adapter, and look for typos or misaligned text. The same applies for the differences between a genuine and fake Lightning to Micro USB Adapter.
What's wrong with fake accessories?
Fake or counterfeit Apple products have been a major issue for the past several years. In 2016, Apple even sued a retailer called Mobile Star, LLC. The lawsuit at the time revealed that about 90% of Apple-branded cables on Amazon were fake.
Using a fake or counterfeit Apple accessory could result in several problems, and could even prove life threatening. The first issue is with the performance. The fake ones, as can be expected, will be slower than the original one. Moreover, it could also happen that your iOS device may not even recognize the fake charger. If this happens, you will get a message saying, "This accessory may not be supported."
Since the quality of material used in the fake ones aren't up to the mark, they are fragile and can be easily damaged. For instance, it has been seen that the end of the fake charger falls off after some time.
Another major issue with the counterfeit products is that they get hot pretty quickly as they are made of cheap build material. Every now and then we hear that an iPhone caught fire while being charged. Well, most of the time, it is the use of a fake charger at fault.
For more information on how to spot fake Apple accessories, visit Apple's support page.