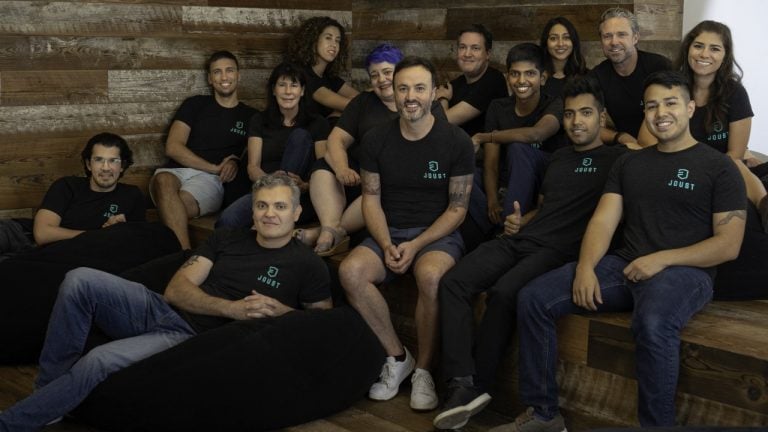 ValueWalk's interview with Lamine Zarrad, CEO & Co-Founder of Joust. In this interview, Lamine discusses his and his company's background, providing a banking app for freelancers, if Joust has a competition with PayPal, why wire transfers take long, and addresses fraud with real time payments.
Can you tell us about your background?
I am the CEO and co-founder of Joust — a banking app for freelancers and the self employed. I have a varied background which includes service as a U.S. Marine, Advisor for Merrill Lynch, a National Bank Examiner for the Office of the Comptroller of the Currency (OCC) and most recently the CEO of Tokken, Inc.
Q2 hedge fund letters, conference, scoops etc
David Abrams Explains How To Value Stocks
Continued from part one... Q1 hedge fund letters, conference, scoops etc Abrams and his team want to understand the fundamental economics of every opportunity because, "It is easy to tell what has been, and it is easy to tell what is today, but the biggest deal for the investor is to . . . SORRY! Read More
In my work, I draw on a broad view of unmet needs in the world. In founding Joust, I am pushing financial services toward greater inclusiveness through technology -- aiming to give freelancers the financial freedom they deserve. I was born in the former Soviet Republic of Azerbaijan and came to the United States as a refugee.
What about your company?
Joust is an all-inclusive banking app for freelancers and the self-employed.
We provide three unique tools. First, an invoice-guaranteeing tool called "PayArmour."  If you use this feature, we can guarantee payment on your invoices. Essentially, that means if you send an invoice, for a small fee, we will guarantee receipt of payment either the same day or with a net30 guarantee.
Second, a merchant account. Most small businesses, freelancers, and self-employed workers need the ability to accept all forms of payment, which includes credit cards. Usually, the way to accept credit card payments is to go through this lengthy process of acquiring merchant services through a third-party financial platform. Instead, we do it all in one place.
Last but not least, we give our customers an FDIC-insured bank account, which the self-employed need, but do not always seek out.
How is your banking app competing against the big six banks and the growing number of fintech firms?
There are 56.7 million independent workers in the U.S (one third of the workforce). At the current growth rate, the majority of the U.S. workforce will be freelance by 2027. Yet, big banks are not addressing the financial concerns of these workers.
At Joust, we address the self-employed workers' pain points -- all in one app. We save workers time, expense and hassle.
How is your banking app competing with more established fintech firms like Paypal?
Paypal and similar companies are fantastic players in the fintech space, but they are not Joust competitors. We are the only ones doing what we are doing -- digging deep into freelancers' and independent workers' pain points and solving them in one place. In fact, our recent move to Austin was, in part, to be around other fintech firms. We are excited to be a part of Austin's rich digital banking landscape and explore potential collaborations/partnerships.
Why do wire transfers normally take a few days, is this really for protection?
Wire transfers usually take some time because of a combination of two factors. One, the analog processes, which often require a series of manual entries by banks in the FedWire system. And two, the risk controls which frequently have arbitrary hold periods.
How does your banking app ensure real time transfers do not lead to fraud or other serious problems?
Our real-time transfer functionality is only available to validated customers who have established Joust profiles. That being said, we are particularly efficient about establishing user profiles -- and it can take as little as a few minutes.
If you could craft any legislation related to banking industry what would it be?
I would establish a federal sandbox for fintech companies to experiment with new ideas and products.
---
About Lamine Zarrad

Lamine Zarrad is the co-founder and CEO of Joust. He began his entrepreneurial journey as a refugee, going on to serve in the U.S. Marines, and then building an expertise around banking regulations and financial services. With Joust, Lamine combines his passion for inclusion with his banking skills—to create the nation's first, all-inclusive banking services app for freelancers, entrepreneurs, and the self-employed.
Understanding the struggles of his audience, Lamine and the Joust team also created the first-ever invoice guarantee product, PayArmour—giving users the option to receive same-day funding for their unpaid invoices.
The Joust app is available for download on both Google Play and the Apple App Store.