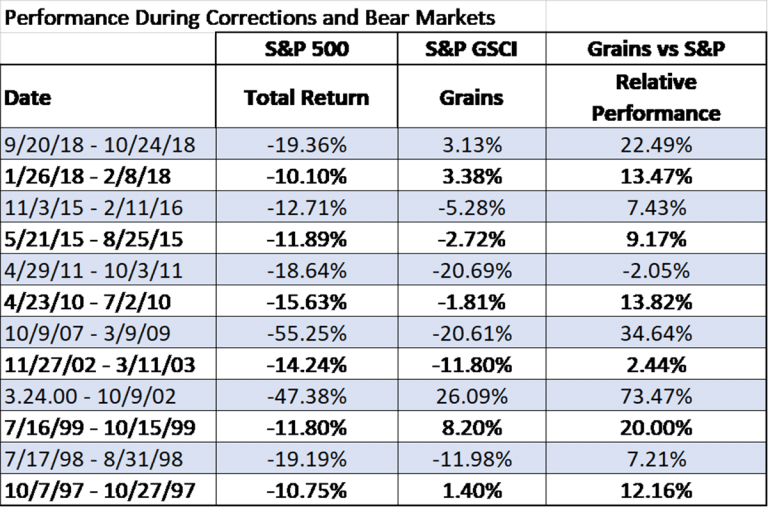 Agricultural commodities have outperformed equities during eleven of the last twelve market downturns. At the same time, they demonstrate a low correlation with equities in general, that is, during both bull and bear markets. Investors looking to adopt a more defensive posture in their portfolio may want to consider an allocation to agricultural commodities.

Historical Outperformance During Market Downturns
The chart below highlights the relative performance of the S&P GSCI Grains index vs. the S&P 500  during market corrections (declines of greater than 10%) and bear markets (declines of greater than 20%).
Q2 hedge fund letters, conference, scoops etc
Cliff Asness Of AQR At Morningstar Investment Conference
Over the years and during times like the volatility that has swept the market year to date, the best hedge fund managers display their adaptability. Being able to move and change with the times is essential when it comes to investment management. AQR co-founder and CIO Cliff Asness joined Ben Johnson of Morningstar to discuss Read More
Source: Bloomberg – Daily Prices; Yardeni Research – Dates of corrections and bear markets. For the entire period 10/07/1997 – 10/24/2018 the S&P 500 index had an annualized performance of 6.82% and the S&P GSCI Grain had an annualized performance of 1.31%. Performance data quoted represents past performance. Past performance does not guarantee future results.  Index performance is not illustrative of fund performance.  One cannot invest directly in an index.  For a full definition of indices used in the chart, please see the disclosure.
The data above is self-explanatory: exposure to grain commodities has the potential to help reduce risk in investment portfolios.
Diversification Benefits When It's Needed Most
Many investors are unaware that agricultural commodities have a low correlation[i] with the S&P 500 in general.  In fact, the correlation with the S&P 500 has been even lower during previous market downturns going back nearly three decades (see chart below).  This suggests that the desired diversification benefits of holding grain related investments may be realized when it's needed most, when equity prices are falling.
Source: Bloomberg – Daily Prices, 5/1/91 – 7/31/19
What May Account for the Outperformance of Agricultural Commodities
People need to eat.  People also need to feed the animals that they plan to eat (animal feed is the number one global use for corn and soybeans).  Thus, supply and demand may not be affected as greatly by economic cycles as other segments of the economy.  In fact, even with all the talk of negative interest rates, recessions, and the possibility of a global economic slowdown; demand for corn and soybeans is increasing and is on pace to exceed production for the second year in a row.[1]
Additionally, weather, one of the main determinants of the price of agricultural commodities, is not influenced by the economy.  Droughts can occur during equity bull and bear markets.
Finally, agricultural commodities tend to trade at/near their cost of production until there is a supply concern at which point prices have historically moved higher.  Grains trading at or below their cost of production can potentially provide portfolio stability with limited downside risk. Right now, corn, for example, is trading near its cost of production and history suggests potentially limited downside from current prices.
Steadily increasing demand, low correlations to equities, potentially limited downside from current prices, and a history of outperforming equities during bear markets and corrections are all reasons investors may want to consider adding grains to their portfolio.
How Can Teucrium Help Investors Position Their Portfolio for a Potential Market Downturn?
Teucrium Agricultural Commodity ETFs
Teucrium Trading manages a suite of five Exchange Traded Products (ETPs) which seek to replicate, before fees and expenses, indices designed to track the performance of four core agricultural commodities futures markets, namely, corn, soybeans, wheat, and sugar.
The firm's ETFs are as follows:
The Teucrium Corn Fund (NYSE: CORN) – provides exposure to corn futures
The Teucrium Soybean Fund (NYSE: SOYB) – provides exposure to soybean futures
The Teucrium Wheat Fund (NYSE: WEAT) – provides exposure to wheat futures
The Teucrium Sugar Fund (NYSE: CANE) – provides exposure to sugar futures
The Teucrium Agricultural Fund (NYSE: TAGS) – provides exposure to four core agricultural commodities futures, namely, corn, soybeans, wheat, and sugar.
Definitions
S&P GSCI Grains Index - Serves as a measure for the investment performance of the grains commodity markets. S&P 500 – Serves as a measure for the performance of the U.S. equity market.
Past performance is not indicative of future results

The expressed views were those of Teucrium Trading, LLC as of August 29, 2019 and may not reflect the views of Teucrium on the date the material is first published or any time thereafter.  These views are intended to assist readers in understanding certain factors that may contribute to the price of corn.  In no way do the views expressed constitute investment advice, and this article should not be considered as an offer to sell or a solicitation of an offer to buy securities.
Investing in a Fund subjects an investor to the risks of the applicable commodity market, which investment could result in substantial fluctuations in the price of Fund shares.  Unlike mutual funds, the Funds generally will not distribute dividends to shareholders.
The Sponsor has limited experience operating commodity pools; a commodity pool is defined as an enterprise in which several individuals contribute funds in order to trade futures or futures options collectively.  
Investors may choose to use a Fund as a vehicle to hedge against the risk of loss and there are risks involved in hedging activities. This material is not an offer or solicitation of any kind to buy or sell any securities outside of the United States of America.
Commodities and futures generally are volatile and are not suitable for all investors.  The Funds are not mutual funds or any other type of investment company within the meaning of the Investment Company Act of 1940, as amended, and are not subject to regulation thereunder.  
For a complete description of the risks associated with the Funds, please refer to the applicable prospectus. Shares of the Funds are not FDIC insured may lose value and have no bank guarantee. Foreside Fund Services, LLC is the distributor for the Teucrium Funds.
A copy of the prospectus for each Fund may be obtained at the links below:
SOYB: http://www.teucriumsoybfund.com/pdfs/soyb-prospectus.pdf
CANE: http://www.teucriumcanefund.com/pdfs/cane-prospectus.pdf
WEAT: http://www.teucriumweatfund.com/pdfs/weat-prospectus.pdf
CORN: http://www.teucriumcornfund.com/pdfs/corn-prospectus.pdf
TAGS: http://www.teucriumtagsfund.com/pdfs/tags-prospectus.pdf   
Copyright © 2019 Teucrium Trading, LLC. All rights reserved
[1] USDA WASDE Report 08/12/2019  http://www.teucriumcornfund.com/usda-grain-reports
[i] Correlation is a measure of the degree to which asset prices move in relation to each other.
Updated on