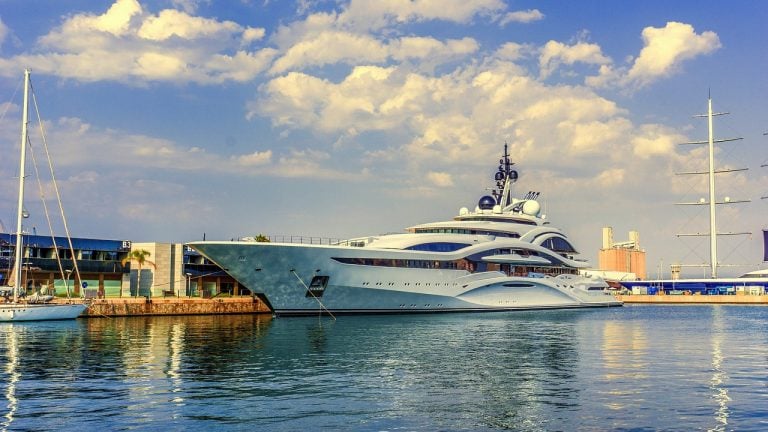 Exploring All The Aspects Of Your Cruise Ship Ensures Full Enjoyment Of Your Cruise
DETROIT (August 22, 2019) – Variety is the spice of life when it comes to cruising, say the travel experts at CruiseCompete, and sailing on different types of ships is a wonderful way to experience the world through different lenses. Each cruise ship is a new adventure, with its own unique style, amenities, and programs, and as such, deserves a thorough exploration.
Here are 10 "must-do" activities for when you sail on a large "new to you" cruise ship, according to a travel writer at CruiseCompete affiliate All Things Cruise.
This AI-Powered Emerging Hedge Fund Manager Is Blazing A New Path
Investment strategies used by hedge funds have evolved over the years, although the biggest changes have come in the use of computers to develop portfolios. Rosetta Analytics is a woman-founded and woman-led CTA that's pioneering the use of artificial intelligence and deep reinforcement learning to build and manage alternative investment strategies for institutional and private Read More
1. Explore the entire ship, top to bottom. This will take some time. With the deck plan in hand, start at the highest level accessible to passengers. Walk bow to stern, portside in one direction, starboard in the other. Many might be unending lines of staterooms, but sometimes ship's put little lounges or bars in unusual places. Move one deck lower. Repeat the process.
Why:  Many people see only a fraction of what's on offer.
2. Visit every bar on every deck. This will also take some time. There's probably at least a dozen, maybe double that. This includes bars in specialty restaurants and poolside bars. Assuming you drink, order something in each one. Talk to the bar staff.
Why:  Certain bars get crowded. Find out when you need to get to the popular ones and be able to get a seat. Establish one as your favorite.
3. Get as close to the bow as you can. At least one outside deck probably doubles as a jogging track. On a perfect day, while the ship is at sea, feel the (stiff) wind in your face. Look for dolphins. Look for other ships on the horizon.
Why:  It's an exciting, often loud experience.
4. Read the ship's program, cover to cover. Do it on one of your first days at sea. It's easy to give it the once over and miss 60% of what's going on. You might have eliminated paper documents from your life years ago, yet here's one, delivered daily. There are lots of activities spelled out in the fine print. You may not be into needlework or trivia, but you might like blackjack lessons or cooking classes.
Why:  The idea is "There's something for everybody."  Are they right?
5. Visit every public space. OK, you gave the 12+ decks the once over early in the voyage. At a quiet time during a sea day, systematically visit every room that's not a restaurant or someone's stateroom. In addition to the theater and casino, there's likely a card room, library, cigar lounge, gym with steam room and sauna, spa, tennis courts and a pool with a retractable glass roof.
Why:  We get into habits. We visit familiar spots, missing out on other features the ship offers.
6. Try at least one dining venue you might ignore. If you are a casual buffet guy, try the formal dining room. If you eat every meal in the dining room, try a specialty restaurant. If you always go for steak and potatoes, try the Asian restaurant.
Why:  If you do everything over and over, a sameness or routine develops. Mix it up.
7. Study the room service menu. Who opens the drawer and pulls out the booklet explaining things like how to make phone calls? Judging by its pristine condition, very few people. The room service menu should be in there. Everything is probably free or included in your fare. How about a romantic dinner for two on your balcony? Think about planning a cabin party for your friends.
Why:  If you entertain at home, why should your cruise be any different? Especially if someone else does the cooking!
8. Find a quiet spot. Large ships can mean large crowds. Think lots of kids having a great time in the pool, oblivious to how far water travels when you jump in from a great height. Find a spot, sheltered from the wind, ideally with some shade.
Why:  This becomes your special spot to decompress. You read. You nap. Maybe, just maybe, you share it with others.
9. Visit all the channels on your stateroom TV. At sea, your selection is limited, but the cruise ships do what they can to provide variety. You've probably got news stations. They might run some movies. Maybe they replay lectures and talks. There may be a few music only channels. There's probably a bow camera view too.
Why:  Someone back at company HQ probably figured out what their passenger demographic wants to watch while on vacation. What did they choose?
10. Pamper yourself. When was the last time you had a full body massage? Enjoyed a 25-year-old scotch? Ordered caviar and champagne? Pick something you really enjoy that you don't usually do at home.
Why:  Vacations are meant to help us decompress. They also create memories we revisit when things get stressful in our lives back home. Create some of those memories.
Many people drift through life. Others embark on new experiences with the attitude "If I never pass this way again, what should I do to make the most of this experience? Which are you?
CruiseCompete member-agents are the most well-educated, forward-thinking and trusted cruise specialists in the industry. If you'd like more information or assistance planning a future cruise or a cruisetour, please visit CruiseCompete and try the Virtual Cruise Advisor™ or Live Help.
Find CruiseCompete's "Sea Tales 2019 Family Cruise Travel Planner" at www.cruisecompete.com/resources.php. To see consumer feedback click here.
---
About CruiseCompete
CruiseCompete has been the premier online cruise marketplace since 2003 (see media praises).
Consumers come to CruiseCompete to research and book cruise vacations. More than 1.5 million users have generated close to 4 million requests from consumers, and agents have delivered almost 17 million quotes since 2003. They can compare offers from trusted travel agents, see consumer reviews of agents and agencies responding, then contact travel agents directly for more information and to book cruises. CruiseCompete is a member of the Family Travel Association, the leading authority and resource for family travel information and is home to the Sea Tales 2019 Family Cruise Travel Planner at Travel Resources.
CruiseCompete CruiseTrends™ offers monthly stats for an inside look at consumer trends and what consumers want in cruise vacations.
CruiseCompete takes top honors in Travel + Leisure's "Top 60 Best Apps and Websites for Travelers" with an honorable mention. The Wall Street Journal praised CruiseCompete as "Best Cruise Travel Site," The New York Times says, "… independent travel agents compete to offer you the best deal," and follows similar praise from Travel + Leisure, Kiplinger and The Washington Post. The Street says, "Score luxury cruises at bargain prices."
For more information, please visit https://www.cruisecompete.com/ or https://www.cruisecompete.com/group_cruises/
CruiseCompete is an Iowa limited liability company, is not a travel agency or owned by a travel agency.