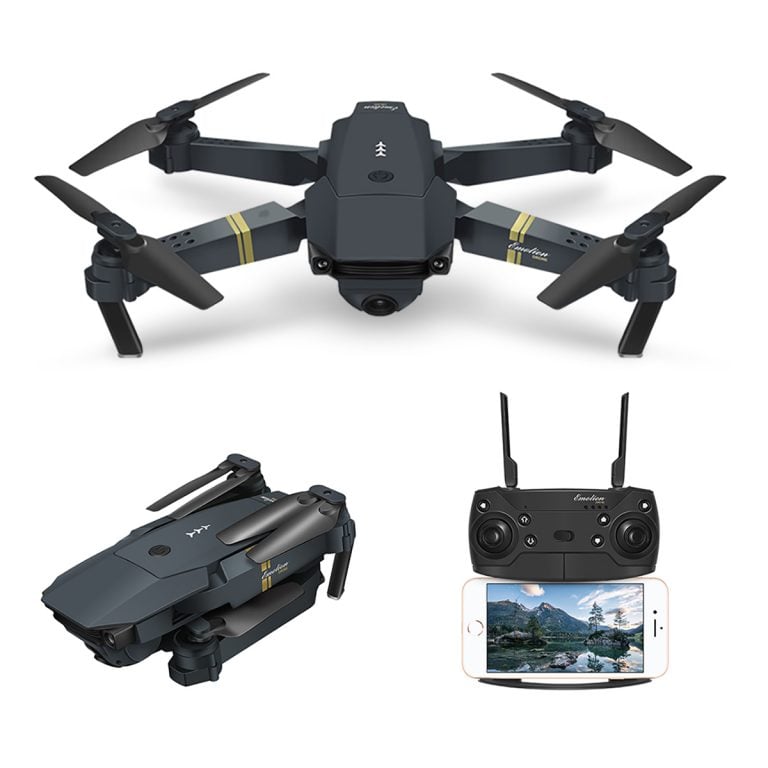 Drones are seen as the next big thing in the tech world, and for some, have become a must-have gadget. However, most of the affordable drones in the market currently either lack the needed features or are not durable enough. On the other hand, the high-end drones, such as the DJI Mavic Pro, are feature-rich and dependable, but are priced out of the reach of many.  One drone, however, offers the best of both worlds, i.e., offers many of the features that come with high-end drones and is very affordable as well. This drone is the Eachine E58 drone.

Disclosure: Thank you to Banggood for sending me this drone in return for a review
The Eachine E58 drone is a small, foldable radio-controlled drone. When folded out, the Eachine E58 drone looks very similar to the DJI Mavic Pro, but in a miniature form. The USP (unique selling proposition) of this device is its price (less than $100). You are unlikely to find a drone with similar quality and features for a better price than this. Moreover, it's much more portable than many others in the market.
London Quality Growth Investor Conference: Buy Dassault Systemes
At this year's inaugural London Quality Growth Investor conference, Denis Callioni, analyst and portfolio manager at European investment group Comgest, highlighted one of the top ideas of the Comgest Europe Growth Fund. According to the speaker, the team managing this fund focus on finding companies that have stainable growth trajectories with a proven track record Read More
You can see some pics I took with the drone below.
The Eachine E58 drone is incredibly light and weighs below 100 grams. It is compact enough to easily fit in the palm of your hand, jacket pocket or your backpack. More importantly, it feels relatively solid enough to survive drops, bumps against a wall and any other obstacle. In our testing, we were surprised at how easily it survived hard drops that would have smashed other drones and this one didn't leave a dent. I have broken many other drones and was impressed with how the Eachine faed compared to other drones I have crashed and destroyed.
Despite its affordable price tag it offers features such as an altitude hold function, the headless mode and in-air flipping stunts. Another unique feature of the Eachine E58 drone is its 6 axis gyro-stabilization, which so far was only available in the high-end drone models.
Another useful thing that this drone comes with is a pair of white lights that can act like headlights. In low-light conditions, these lights could help in determining the orientation of the drone. Similarly, on the rear, there is a single red light bar, resembling a car's tail light. This light also helps visually determine the orientation of the drone.
In terms of camera quality (2MP still images camera and 720p HD video camera), the Eachine E58 drone offers mush better color balance and frame rate than most other drones in the same category. The battery life is standard, i.e., 8-9 minutes of flight time. This, however, is enough for fun flying and capturing a few shots as well. Moreover, you can get up to three batteries in the package.
Talking of its controller, it is impressive as well with one-touch buttons for take-offs and landings. Like the drone, the controller is compact as well, almost the same size as the folded drone. Even the phone holder is solid, and you can trust it for keeping your more expensive phone in there.
Another positive about the Eachine E58 drone is that it offers modular repairs. So, if an arm gets damaged or one of the motors stops working, you can easily replace it provided you have the spare parts.
Talking of shortcomings, there is nothing much that you can complain of at such a price point. Still, there are a few letdowns including videos being captured at just 20 fps, and the drone could struggle in anything above a light wind.
Nevertheless, these shortcomings are acceptable if you consider the price that this drone is selling for. Overall, this Eachine E58 drone is perfect for anyone who is new to the drone thing and is eager to learn more or who doesn't have the money to go for a DJI-type drone.
To buy this drone visit this link.
Updated on