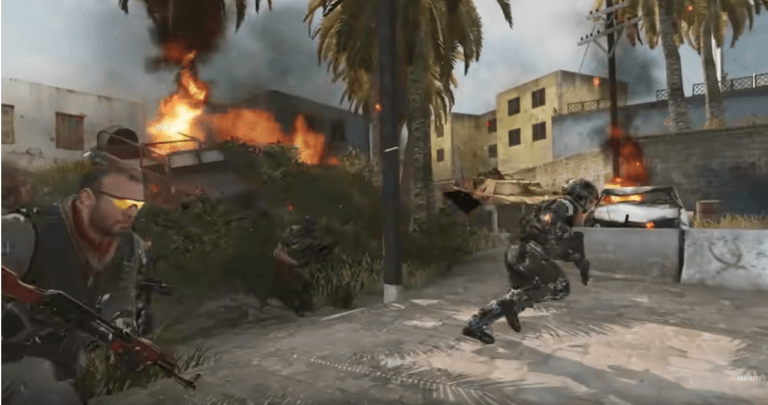 Call of Duty: Modern Warfare (developed by Infinity Ward and published by Activision) is now just months away from release. Although we have already seen some of the single-player elements and gotten glimpses of the 2v2 multiplayer modes, many of the crucial gameplay features are still being kept under wraps. However, this will change on Aug. 1 when Activision reveals more multiplayer mode details via the Call of Duty: Modern Warfare multiplayer reveal live stream.

In a tweet on Tuesday, Activision stated that the Call of Duty: Modern Warfare multiplayer reveal live stream is scheduled for Aug. 1 at 10 a.m. Pacific. You can watch the live stream via this link.
"A new generation of Call of Duty Multiplayer is coming. Mark your calendars for the global reveal of the Modern Warfare Multiplayer Universe on August 1st," the tweet states.
How A Weakening PE Market Serves As Another Sign Of A Weakening Economy
Amid the turmoil in the public markets and the staggering macroeconomic environment, it should come as no surprise that the private markets are also struggling. In fact, there are some important links between private equity and the current economic environment. A closer look at PE reveals that the industry often serves as a leading indicator Read More
Let the countdown begin.

Coverage for the #ModernWarfare Multiplayer Premiere begins on 8/1 at 10 AM PT. pic.twitter.com/xjMIJKzWoL

— Call of Duty (@CallofDuty) July 30, 2019
Call of Duty: Modern Warfare is expected to revolutionize the multiplayer experience. With this in mind, the Call of Duty: Modern Warfare multiplayer reveal live stream will surely be a must-watch event. Last week in a Reddit post, Communications Manager Ashton Williams confirmed that Modern Warfare's multiplayer mode will feature playable female characters.
Before this upcoming live stream, Activision released five minutes of 4K gameplay, offering players an idea of what to expect from this new multiplayer 2v2 mode called Gunfight. This mode will feature two teams of two players each playing in "multi-round cage matches" across three custom maps.
After every two rounds, teams will swap positions to the opposite sides of the map. All four players will have the same load-out, including a primary and secondary weapon, a grenade and a piece of "Lethal Equipment." The first team to win six rounds will be the winner.
Speed is the key with Modern Warfare's multiplayer mode because each round counts down on a 40-second timer. If there is no result after 40 seconds, then a flag will appear on the map, and the first team to capture the area around the flag for more than three seconds is declared the winner. Overall each round will last for about a minute.
Call of Duty: Modern Warfare is seen as a reboot of the popular 2007 first-person shooter set in today's battlefields. Infinity Ward has used the name Modern Warfare and some past characters to evoke a feeling of the classic Modern Warfare game. In the new Modern Warfare, many fan-favorite characters will make a comeback, including John "Soap" McTavish and Captain Price.
Except for the name and characters, there are not many other similarities with the 2007 game because the upcoming game is a completely new storyline set in a different timeline. According to Infinity Ward's narrative director, Taylor Kurosaki, the game's storyline is still being worked upon, but it could be between five and nine hours long. Moreover, the word "modern in Modern Warfare refers to the state-of-the-art killing machines currently in use in places like the Middle East and Russia.
The first trailer for the game was released on May 30, and it shows protagonist Captain Price and a few night vision sequences. Call of Duty: Modern Warfare will be the first game in the Call of Duty franchise to include cross-play functionality. The game will also have free downloadable content, but it won't be available until after the launch of the game.
In a blog post previously, Infinity Ward confirmed that Modern Warfare will be the first Call of Duty game to feature "Aim Down Sight" reload by default. Aim Down Sight reload means your view won't be obstructed by an animation while aiming down the sight of your weapon. Instead, your view will be fixed on the target.
"In the past, if you're ADS, and you're shooting and you reload, the weapon would go off to the side, and you'd have to retrain to get to your target. This time if you reload, it stays on the target, so you can stay in the battle," Activision said a blog post previously.
There are rumors that the mini-map in the game will be replaced by a Compass. Additionally, since battle royale-style play is popular today, it is speculated that Modern Warfare could also feature a free battle royale mode. This battle royale mode may be an update to the Blackout portion of Black Ops IIII or be a completely new title.
There also won't be a zombie mode in Call of Duty: Modern Warfare. Campaign Gameplay Director Jacob Minkoff told PlayStation Lifestyle that their goal is to develop a mode representing present-day battlefields. Including zombies "would compromise the feeling of playing in a world that feels realistic and authentic and relative to today's conflicts and things we face," Minkoff said.
Updated on