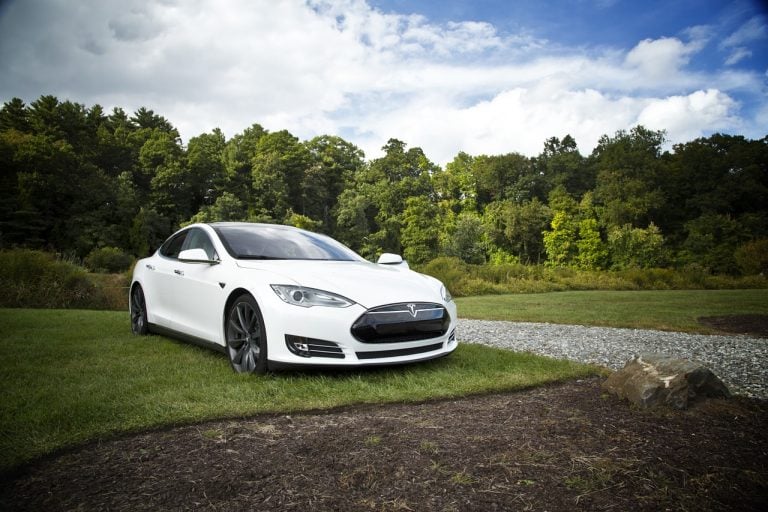 Stanphyl Capital letter to investors for the month of June 2019, discussing the core points of their Tesla short thesis.
Friends and Fellow Investors:
Q1 hedge fund letters, conference, scoops etc
Alluvial Fund May 2021 Performance Update
Alluvial Fund performance update for the month ended May 2021. Q1 2021 hedge fund letters, conferences and more Dear Partners and Colleagues, Alluvial Fund, LP returned 5.4% in May, compared to 0.2% for the Russell 2000 and 1.0% for the MSCI World Small+MicroCap . . . SORRY! This content is exclusively for paying members. SIGN UP Read More
For June 2019 the fund was down approximately 11.5% net of all fees and expenses. By way of comparison, the S&P 500 was up approximately 7.0% while the Russell 2000 was up approximately 7.1%. Year-to-date 2019 the fund is up approximately 17.5% while the S&P 500 is up approximately 18.5% and the Russell 2000 is up approximately 17.0%. Since inception on June 1, 2011 the fund is up approximately 93.3% net while the S&P 500 is up approximately 159.2% and the Russell 2000 is up approximately 106.7%. Since inception the fund has compounded at approximately 8.5% net annually vs 12.5% for the S&P 500 and 9.4% for the Russell 2000.  (The S&P and Russell performances are based on their "Total Returns" indices which include reinvested dividends.) As always, investors will receive the fund's exact performance figures from its outside administrator within a week or two and please note that individual partners' returns will vary in accordance with their high-water marks.
Our terrific May performance was almost completely unwound in June as our myriad short positions (the fund is currently very net short) reversed themselves. Despite this setback we remain very net short as I continue to believe we're entering a bear market for U.S. stocks. In fact, although the S&P 500 set a nominal new high this month the individual stocks and Russell 2000 index we're short are all well below their 52-week highs, and there's ample evidence the U.S. economic slowdown is worsening: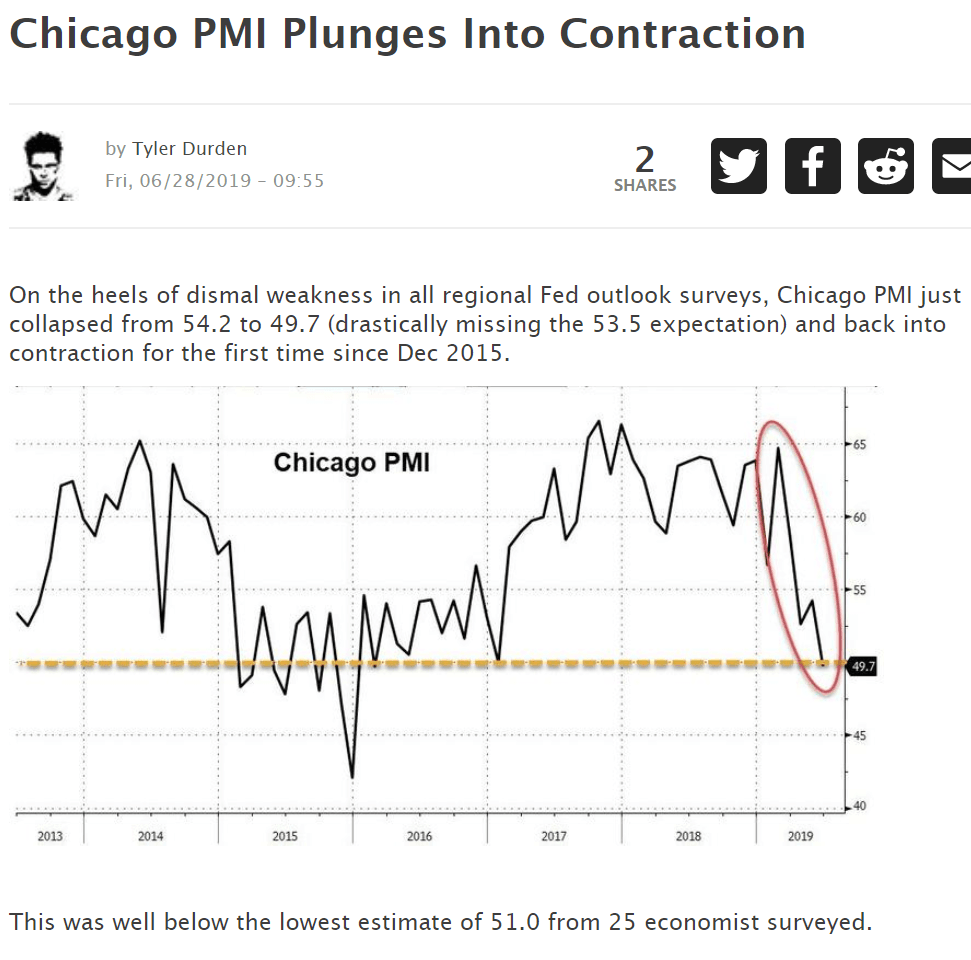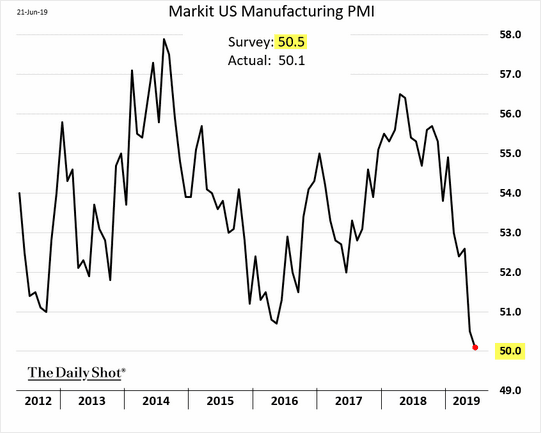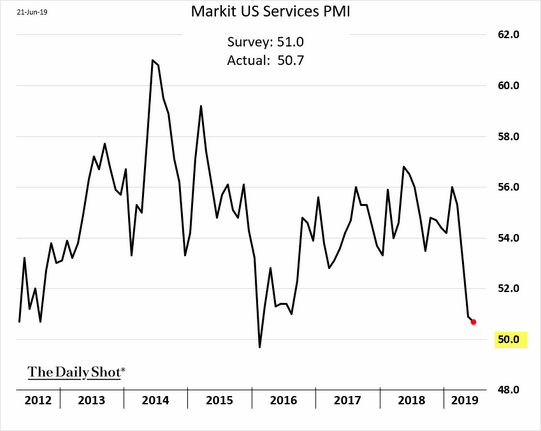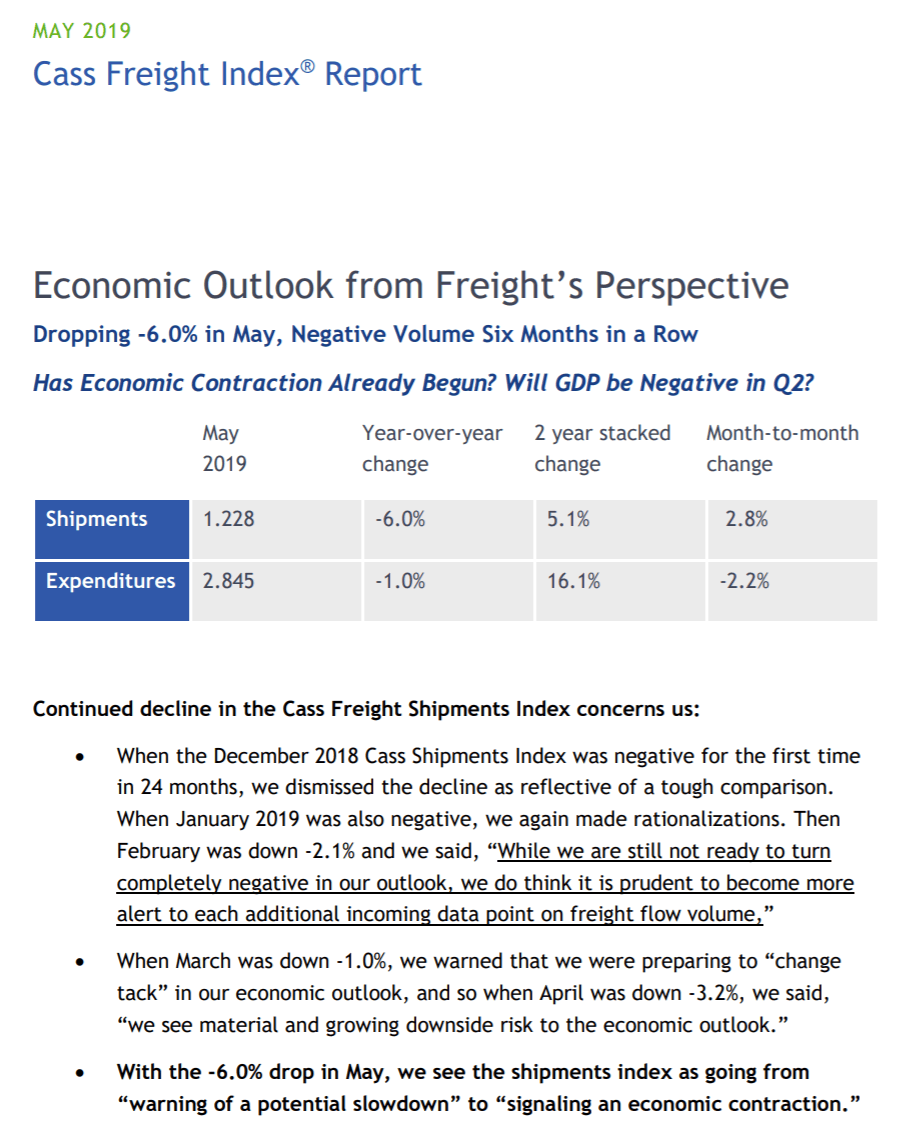 …while global negative yielding debt (a sign of a massive looming economic slowdown) has broached the insane level of $13 trillion: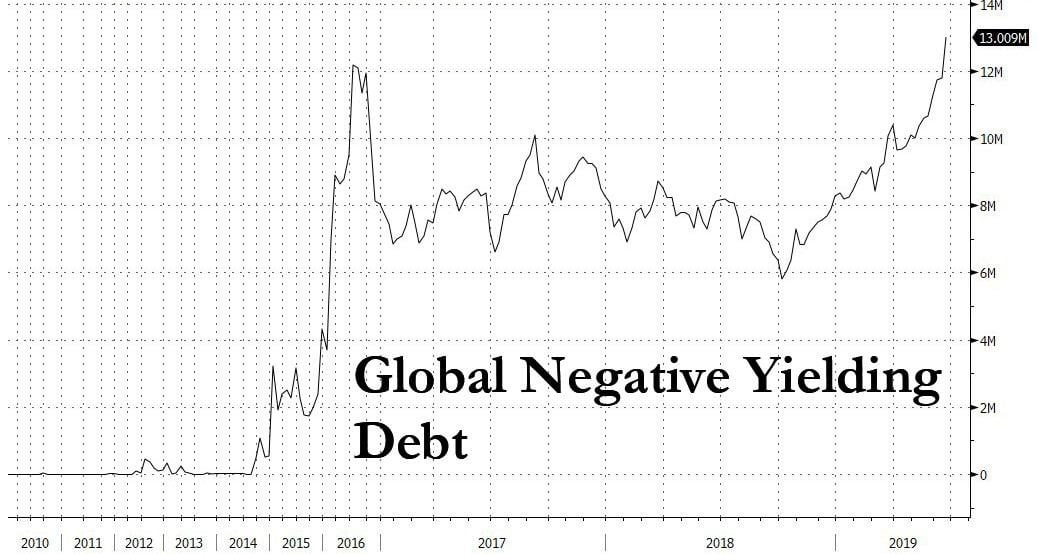 And have a look at how ugly U.S. rail traffic is.
Although the world's economic problems are exacerbated by Trump's tariffs, they're not caused by them; the cause is too much debt combined with satiated consumption following a 10-year economic expansion. Meanwhile the Fed's ongoing (until October) balance sheet contraction combined with a lack of European QE and a drastic reduction in Japanese QE will allow the deflation of the economic and asset bubbles those money-printing policies created, and the Fed's anticipated rate cuts later this year will do little to prevent that.
Also, keep in mind that much of the U.S. bull market's rise came from corporate buybacks, and those tend to slow drastically when the economy does. As the looming recession unfolds and those buyers disappear, look out below.
Seeking the most overvalued of all stock indices, we thus remain short the Russell 2000 (IWM), which has a trailing twelve-month GAAP PE ratio of 35 on what I believe are peak earnings, while 35% of its constituents lose money.
Elsewhere in the fund's short positions…
We remain short stock and call options in Tesla, Inc. (TSLA), which I consider to be the biggest single stock bubble in this whole bubble market. The core points of our Tesla short thesis are:
Tesla's Q2 guidance is to sell 90-100,000 cars and while my own current guess is lower, at around 86,000 to perhaps as high as 88,000, due to 2019's massive price-slashing (approximately six "official" cuts so far this year plus huge discounting on top of that), whatever the delivery number is, it will occur at by far Tesla's lowest ASP ever.
Tesla reported a disastrous Q1, with a GAAP loss of $702 million (over $900 million excluding regulatory credit sales) on just 63,000 deliveries. My guess is that due to Q2's much lower ASPs, it will have an average of around $4000/car in reduced gross profit on those first 63,000 cars (i.e., minus $252 million) while collecting only around $6000/car in incremental gross profit on the additional 23,000 Q2 cars sold (i.e., $138 million). Thus, all else being equal Tesla would lose an additional net of $114 million (-$252 million + $138 million) in Q2 vs Q1's $702 million; i.e., an astounding loss of $840 million. However, the copmpany may be able to book some additional emissions credits and recognize some non-cash deferred Autopilot revenue, as well as avoid some one-time write-downs from Q1. So even if it comes up with $340 million of non-repeating Q2 cost reduction/revenue recognition vs. Q1, Tesla will still lose around $500 million GAAP in the quarter.
Whatever Q2 loss Tesla prints would be at least $100 million greater if the company were providing adequate customer service. Twitter is filled with complaints from aggrieved owners (some of them rather famous) who can't reach anyone to fix their myriad problems within a reasonable timeframe. Although this is resulting in true brand destruction, due to the high cost of batteries Teslas are inherently unprofitable, and thus improving the ownership experience would only increase the losses. In other words, Tesla is truly a non-viable business.
The party's over, folks. With no profitable growth, massive ongoing losses and tens of billions of dollars in debt and purchase obligations, the equity in Tesla will prove worthless, either quickly or—following a series of increasingly ugly capital raises—slowly. And yet as the stock is currently still over $200/share, I shall continue…
With most of the pent-up demand for cheaper models fulfilled in Q2 along with an $1875 cut in the U.S. tax credit on July 1, I expect a large slide in Q3 & Q4 deliveries, with Tesla showing declines both sequentially and year-over-year vs. Q3 and Q4 2018. (Things would be even worse in Q3 if Tesla didn't have several years of the UK's right-hand-drive Model 3 backlog to fill, which it plans to do in the quarter.) Thus full-year Tesla deliveries will be only around 300,000 vs. guidance of 360,000 to 400,000 and the full-year GAAP loss will be egregiously bad—most likely well over $2 billion.
And for those of you looking for a resumption of growth from Tesla's (supposedly) upcoming Model Y, by the time it's available in late 2020 or 2021 (if Tesla is still in business), it will face superior competition from the much nicer Audi Q4 e-tron, BMW iX3, Mercedes EQB and Volvo XC40, while less expensive and available now are the excellent new all-electric Hyundai Kona and Kia Niro, extremely well reviewed small crossovers with an EPA range of 258 miles for the Hyundai and 238 miles for the Kia, at prices of under $30,000 inclusive of the $7500 U.S. tax credit. Meanwhile, the Model 3 sedan will have terrific direct competition in 2020 from Volvo's beautiful new Polestar 2.
And if you think China will be the saving grace for Tesla, I have bad news for you: not only is the competition there for EV market share becoming a vicious dogfight (see all the links below) but Beijing is now switching its subsidies to hydrogen fueled cars, which it perceives as better than EVs.
Early in May $TSLA did an ugly convertible debt and equity deal to plug a hole in a very leaky bucket, netting approximately $2.3 billion which—on the back of my envelope—means it will still be completely out of cash by year-end, and thus will have raise more money in Q3 with its back against the wall on terms that are even uglier.
Meanwhile, Tesla has the most executive departures (and semi-departures) I've ever seen from any company, a dubious achievement that continued in full-force in June with the exit of its much heralded head of production; here's the astounding full list of escapees. These people aren't leaving because things are going great (or even passably) at Tesla; rather, they're likely leaving because Musk is either an outright crook or the world's biggest jerk to work for (or both). Could the business (if not the stock price) be saved in its present form if he left? Nope, it's too late.  Even if Musk steps down in favor of someone who knows what he's doing, emerging competitive factors (outlined in great detail below) and Tesla's balance sheet make the company too late to "fix" without major financial and operational restructuring.
In May Consumer Reports completely eviscerated the safety of Tesla's so-called "Autopilot" system; in fact, Teslas have far more pro rata (i.e., relative to the number sold) deadly incidents than other comparable new luxury cars; here's a link to those that have been made public. Meanwhile Consumer Report's annual auto reliability survey ranks Tesla 27th out of 28 brands and the number of lawsuits of all types against the company continues to escalate-- there are now well over 600!
So here is Tesla's competition in cars (note: these links are regularly updated)…
And in China…
Here's Tesla's competition in autonomous driving…
Here's Tesla's competition in car batteries…
Here's Tesla's competition in charging networks…
And here's Tesla's competition in storage batteries…
Yet despite all that deep-pocketed competition, perhaps you want to buy shares of Tesla because you believe in its management team. Really???
So in summary, Tesla is losing a massive amount of money even before it faces a huge onslaught of competition (and things will only get worse once it does), while its market cap equals that of Ford and is over 70% of GM's despite selling fewer than 300,000 cars a year while Ford and GM make billions of dollars selling 6 million and 8.4 million vehicles respectively. Thus this cash-burning Musk vanity project is worth vastly less than its over $50 billion enterprise value and—thanks to roughly $34 billion in debt, purchase and lease obligations—may eventually be worth "zero."
Elsewhere among our short positions…
We continue (since late 2012) to hold a short position in the Japanese yen via the Proshares UltraShort Yen ETF (ticker: YCS) as Japan (despite having substantially tapered its QE)  continues to print over 3% of its monetary base per year after quadrupling that base since early 2013. In 2018 the BOJ bought approximately 67% of JGB issuance and in 2019 it anticipates buying 70%! In fact, the BOJ's balance sheet is now larger than the entire Japanese economy: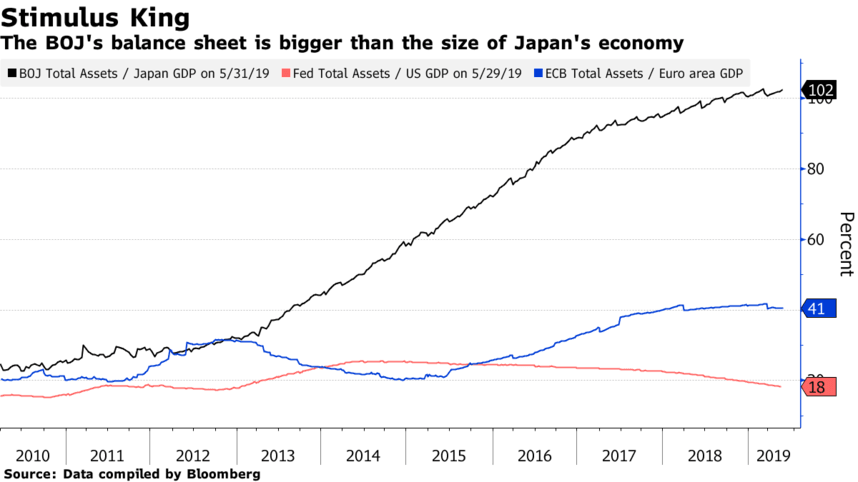 …and it owns nearly 78% (!) of the country's ETFs by market value.
Just the interest on Japan's debt consumes 8.9% of its 2019 budget despite the fact that it pays a blended rate of less than 1%. What happens when Japan gets the 2% inflation it's looking for and those rates average, say, 3%? Interest on the debt alone would consume nearly 27% of the budget and Japan would have to default! But on the way to that 3% rate the BOJ will try to cap those rates by printing increasingly larger amounts of money to buy more of that debt, thereby sending the yen into its death spiral.
When we first entered this position USD/JPY was around 79; it's currently in the 107s and long-term I think it's headed a lot higher—ultimately back to the 250s of the 1980s or perhaps even the 300s of the '70s before a default and reset occur.
We continue to hold a short position in the Vanguard Total International Bond ETF (ticker: BNDX), comprised of dollar-hedged non-US investment grade debt (over 80% government) with a ridiculously low "SEC yield" of 0.67% at an average effective maturity of 9.6 years. As I've written since putting on this position in July 2016, I believe this ETF is a great way to short what may be the biggest asset bubble in history, as with Eurozone inflation now printing 1.2% annually these are long-term bonds with significantly negative real yields. In mid-December the ECB halted quantitative easing, thereby removing the biggest source of support for those bonds' bubble prices. Currently the net borrow cost for BNDX provides us with a positive rebate of nearly 2% a year (more than covering the yield we pay out) and as I see around 5% potential downside to this position (vs. our basis, plus the cost of carry) vs. at least 20% (unlevered) upside, I think it's a terrific place to sit and wait for the inevitable denouement of this insanity—over $12 trillion of negative-yielding debt: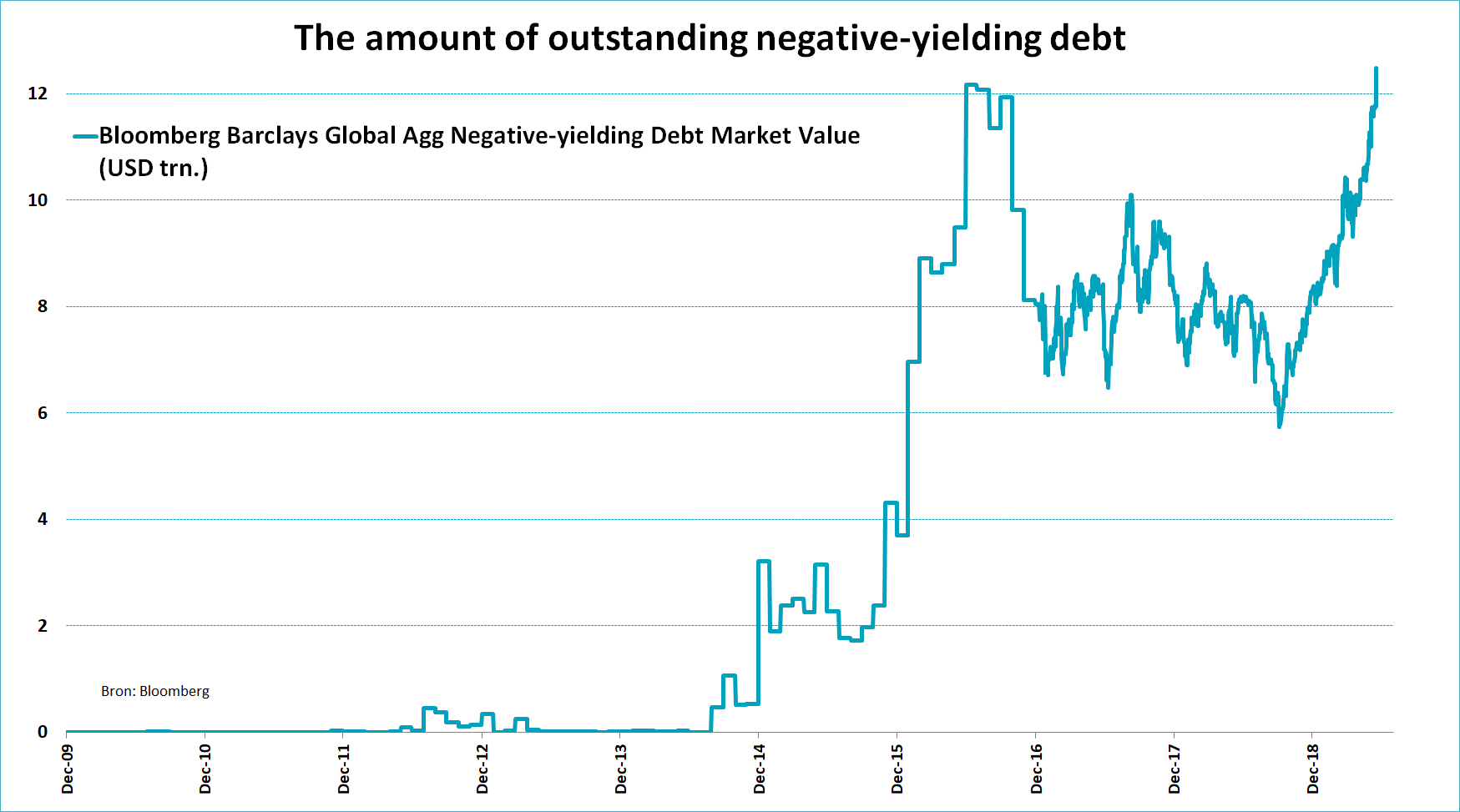 We also have relatively small short positions in Netflix (NFLX) due to its egregious valuation within the context of increasing cash burn and competition (particularly from Disney), Square (SQ) due to its egregious valuation and a stock-dumping CEO who so effusively praises (and enables) Elon Musk that I suspect he's equally untrustworthy (and indeed in June the company fired its auditor), Carvana (CVNA) due to a laughable business model with escalating losses and a founder with a sketchy past who's dumping stock steadily and Wayfair (W), an egregiously bad on-line furniture business with yet another stock-dumping CEO.
And now for the fund's long positions…
We continue to own Aviat Networks, Inc. (ticker: AVNW), a designer and manufacturer of point-to-point microwave systems for telecom companies, which in June reported an interesting deal to be the exclusive North American distributor for NEC's microwave products. In May Aviat reported a lousy Q3 for FY 2019 (with revenue down 13% year-over-year), but guided to a very strong Q4 (ending June 30th) with revenue and income up substantially year-over-year. For all of FY 2019 the company cut guidance to $246-$251 million of revenue (a $4 million reduction from previous guidance) and non-GAAP EBITDA of $11-$12 million (a $1 million reduction), and because of its approximately $330 million of U.S. NOLs, $10 million of U.S. tax credit carryforwards, $214 million in foreign NOLs and $2 million of foreign tax credit carryforwards, Aviat's income will be tax-free for many years; thus, GAAP EBITDA less capex essentially equals "earnings." So if the non-GAAP number will be $11.5 million and we take out $1.7 million in stock comp and $6 million in capex we get $3.8 million in earnings multiplied by, say, 14 = approximately $53 million; if we then add in approximately $29 million of expected year-end net cash and divide by 5.4 million shares we get an earning-based valuation of around $15/share. However, the real play here is as a buyout candidate; Aviat's closest pure-play competitor, Ceragon (CRNT) sells at an EV of approximately 0.6x revenue, which for AVNW (based on the low end of 2019 guidance) would be 0.6 x $246 million =$148 million + $29 million net cash = $177 million. If we value Aviat's massive NOLs at a modest $10 million (due to change-in-control diminution in their value), the company would be worth $187 million divided by 5.4 million shares = just under $35/share.
We continue to own Westell Technologies Inc. (WSTL), which in May reported a terrible FY 2019 Q4, with revenue down 12.5% year-over-year and a drop in gross margin from 45.5% to 37.6% and negative free cash flow of around $1.4 million. About the only good news here is that the company ended the quarter with $25.5 million in cash and no debt, and (as gleaned from the conference call) normalized FCF burn at Q4's revenue level is "only" around $900,000. Westell now sells at an enterprise value of only around 0.1x (i.e., 10% of) revenue, so on that metric it's clearly dirt cheap but the business needs to stabilize and grow. On the conference call management was confident that later this year there should be enough revenue growth to cut quarterly burn to around $500,000 but "break-even" now sounds like more of a "next year" possibility. Westell also suffers from a dual share class with voting control held by descendants of the founder; however, management has often stated that the controlling family is open to merging the two share classes, and the company is so cheap on an EV-to-revenue basis that if management can't start generating meaningful profits it seems primed for a strategic buyer to acquire it. An acquisition price of just 0.8x run-rate revenue (on an EV basis) would be around $3.70/share.
We continue to own the PowerShares DB Agriculture ETF (ticker: DBA) as agricultural products remain the most beaten-down sector I can find that isn't a "buggy whip" (something on the way to obsolescence) or cyclical from a demand standpoint. Additionally, if a trade deal with China is made the implications for U.S. ag products would be huge, and meanwhile disastrous weather in the farm belt may be an additional near-term catalyst.
Thanks and regards,
Mark Spiegel