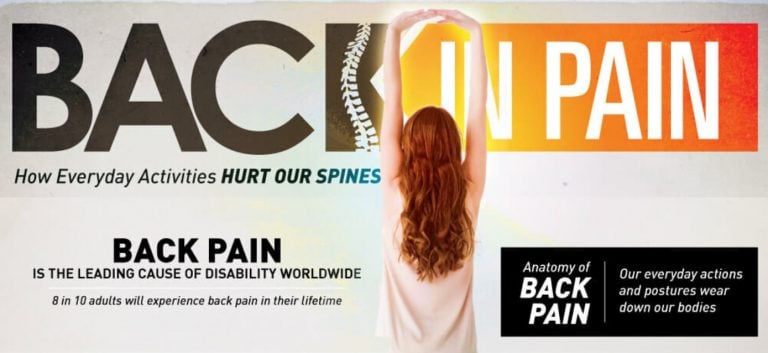 Back pain is the leading cause of disability worldwide – 8 out of every 10 will experience or will experience this pain in their lifetime. Many everyday activities that many of us do can hurt our spines in many ways. Hidden causes of this pain include: bad posture, stress, muscle strain, and obesity. Americans are working longer hours now than in the past few decades – and our bodies are feeling the effects or extended time sitting, standing, and moving. The main causes of injury relating to thisback pain include: force, when lifting or moving overly heavy objects, repetition, by repeating the same movements repeatedly, especially when twisting the spine, and inactivity, when sitting for long periods of time with inadequate back support. Common posture mistakes include: craning forward, as overextended muscles can lead to tension in back and shoulders, slouching back, as the back and neck are strained by extreme backwards angles, inactivity, as sitting for long periods of time with inadequate back support.
There are many surprising costs related to the pain. Back pain, as admitted by American employees, has contributed upwards of 50% of all missed days of work. Approximately 264 million days of work every year have been lost due to back pain – that equals to about 2 days of work missed for every full time worker.
These Are John Buckingham's Stock Picks For 2021
The economy remains in distress, although there are signs of recovery underway. John Buckingham of Kovitz, editor of The Prudent Speculator newsletter, has found that value stocks typically outperform coming out of economic downturns. Thus, he argues that this is an excellent time to be a value investor. Q4 2020 hedge fund letters, conferences and Read More
Q1 hedge fund letters, conference, scoops etc
Back pain cost a lot of money as well. Lower back pain has historically cost Americans upwards of $100 billion per year - much due to lost wages and productivity. Americans pay at least $50 billion in health care each year. Though most can get by with moderate care and expenses, a small number who need surgeries, procedures, or therapy many find that costs can add up very quickly. Physical therapy per session can cost anywhere from $50 to $100, walking assistance equipment can cost $50 to $100, surgery, with insurance can cost anywhere from $200 to $2000 and without insurance, these amounts can balloon quickly as surgery without insurance can cost anywhere from $50 thousand to upwards of $150 thousand.
Back pain can also make quality of life plummet. Pain can affect mood, concentration, and even appetite. This pain can reduce the ability to do everyday - repetitive chores involving standing or moving can be very difficult, and peace of mind not knowing the causes of the pain can be frustrating and anxiety inducing.
Find out how to prevent and treat back pain at work and home here.