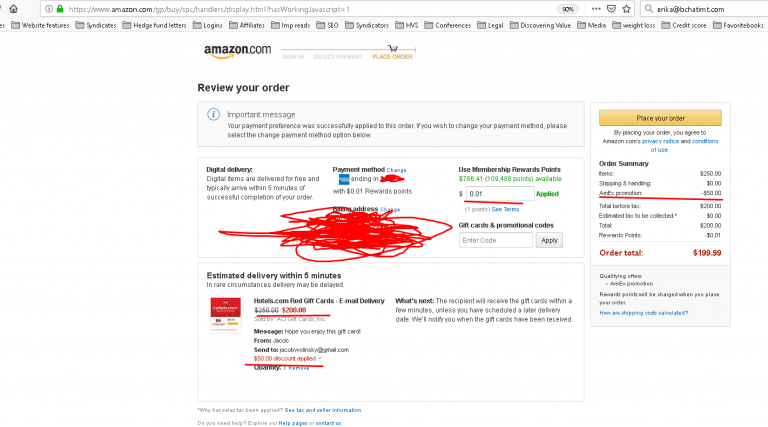 Amazon is back with another amazing targeted offer which is too good to be true, one would think. This is yet another reason everyone should get an Amex card because this the third or fourth offer using one AMEX Membership Rewards point this just in the past year! Do not have one? Do not fear as you can still sign up to take advantage of this offer.

You may even be able to get this using multiple cards which in effect would be up to several hundred dollars off depending on which cards you want. Additionally, this is easy to do and takes a few seconds if you are targeted. Currently you can get a 20% discount on anything sold on Amazon if you use 1 AMEX Membership Rewards Point. This offer is targeted to select users. If it doesn't work for you then you can try calling Amazon (888-280-4331) or chatting with Amazon and ask if they can apply it to your account.
Amazon Amex membership rewards basic guideline
I am currently being targeted – Sound too good to be true? See screenshot from today of my checkout with a $200 uber GIFT card receiving $40 off just by using 1 AMEX Membership Rewards Point!
London Value Investor Conference 2022: Chris Hohn On Making Money And Saving The World
Chris Hohn the founder and manager of TCI Fund Management was the star speaker at this year's London Value Investor Conference, which took place on May 19th. The investor has earned himself a reputation for being one of the world's most successful hedge fund managers over the past few decades. TCI, which stands for The Read More
UPDATE I tried on both my business and personal accounts and was targeted on both so I get $100 off $500 of gift cards!
Another way to do this is by linking your American Express Membership Rewards card to your Amazon account and try back in a few hours or days. But first check if you are targeted as there is a good chance you already are.
If you clip the "Click here to activate" coupon via this link it will tell you if you are targeted to save 20% off anything sold from Amazon when you redeem 1 AMEX Membership Rewards Point even gift cards (see more below).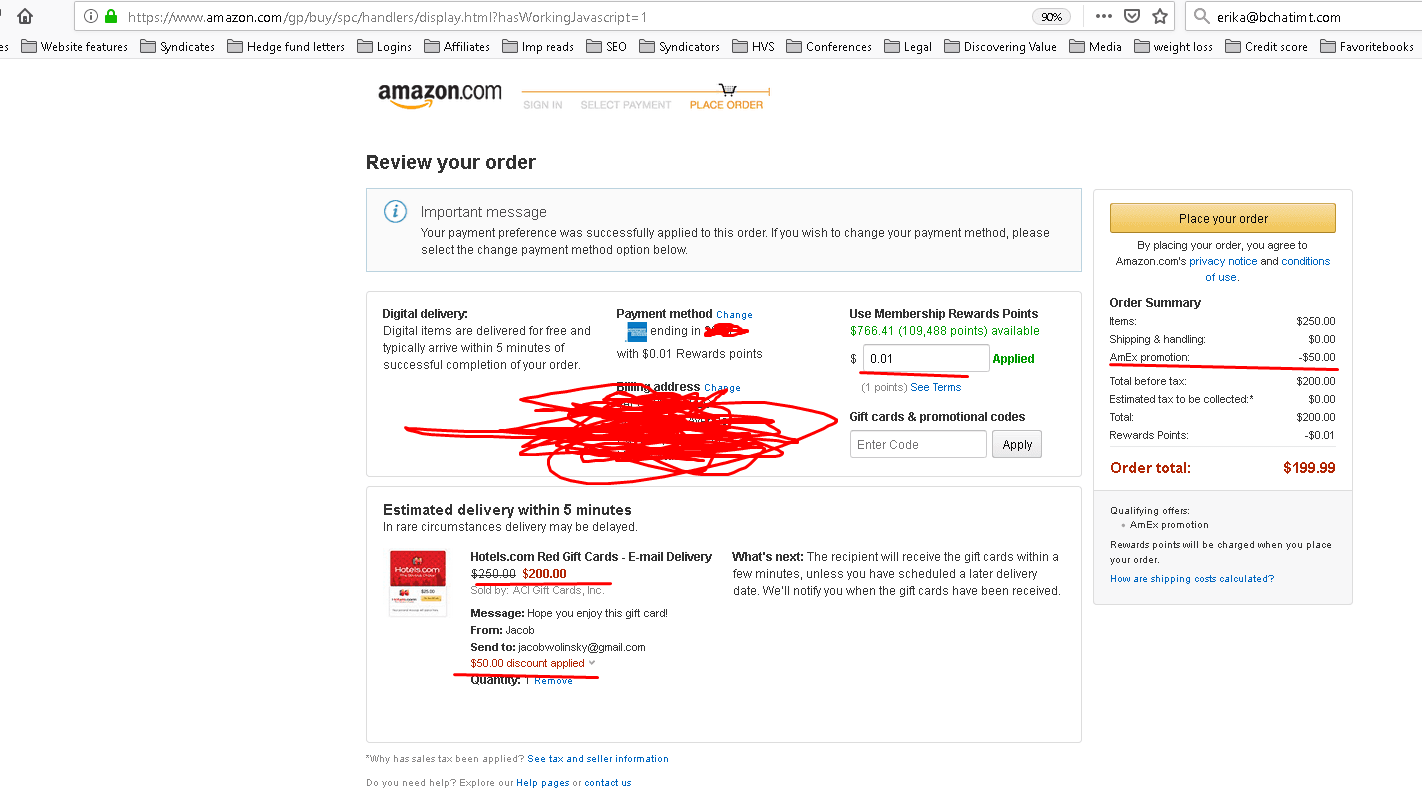 Amex membership rewards – expiration date
You should hurry as Amazon states:
This is a limited offer. The promotion will end on the earlier of (a) 11:59 PT on 07/16/2019, or (b) the time at which offers worth $5,000,000 have been redeemed.
It is supposed to end 07/16/2019 but could well end even earlier so please get started if you want to take advantage.
See also if you are targeted for this amazing deal which should still be active!
Please note VALUEWALK participates in the Amazon Associates Program:  To clarify, we earn a small percentage if you purchase an item (we have no idea who purchases what).  Additionally, each of your purchases via our Amazon affiliation links supports quality journalism at no additional cost to you.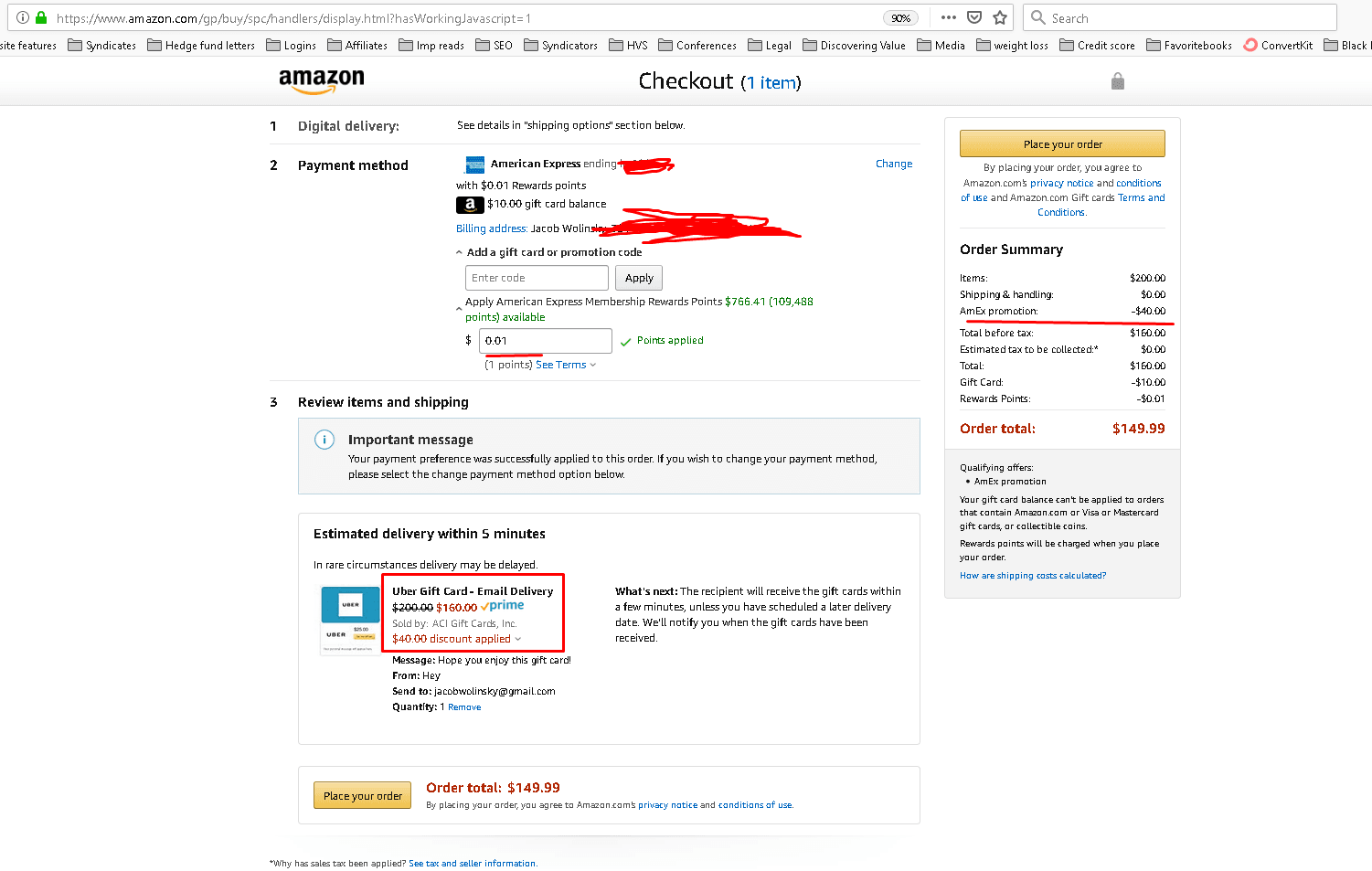 Last year this promotion stacked with some Prime Day sales and made for some incredible deals as it took 20% off of the original price. Last year I got a trampoline for like $150 with prime day and an Amex deal.
Once you do that, just add items that are shipped and sold from Amazon to your cart. This won't work for items sold by 3rd parties. You can save up to $50 off $250 with this offer. You can use this offer on multiple orders until you reach $50 in max savings. This offer expires 7/16.
Amex membership rewards – which credit cards offer them
This will only work with AMEX cards that earn Membership Rewards points, including:
Platinum
AMEX Gold Card
AMEX Everyday Consumer
I think these are great cards and personally have a Gold, Platinum and Blue Business plus card, one day will try everyday one. Additionally, the Business Blue card earns a lot of points and I believe has no yearly fee.
Disclousre: If you get approved I get extra points from Amazon but it costs you nothing and is anonymous.
When you have multiple Amazon accounts, you should try to save this offer to all of them before the offer fills up.
If you are also targeted for the $30 off $60 offer then Amazon will give you the better offer at checkout, so if your order is between $60-$149.99 you will get the $30 off promo, while other orders will get the 20% off promo.
Discounted gift cards using Amex membership rewards
Gift cards sold by Amazon that work for this promotion include:
At checkout select the Amex Membership Rewards card that you linked.
You may need to click "Change" by the credit card at checkout if it's showing a different default credit card.
On the final checkout page click on "Apply rewards points" and enter $0.01 to use 1 point to save 1 cent (Don't use more than 1 point as buying on Amazon only gives a paltry value of 0.7 cents per AMEX point!):

For example I added $200 of Uber gift cards and got the $40 off with the 20% off AMEX Promo and $0.01 from the 1 point used at checkout: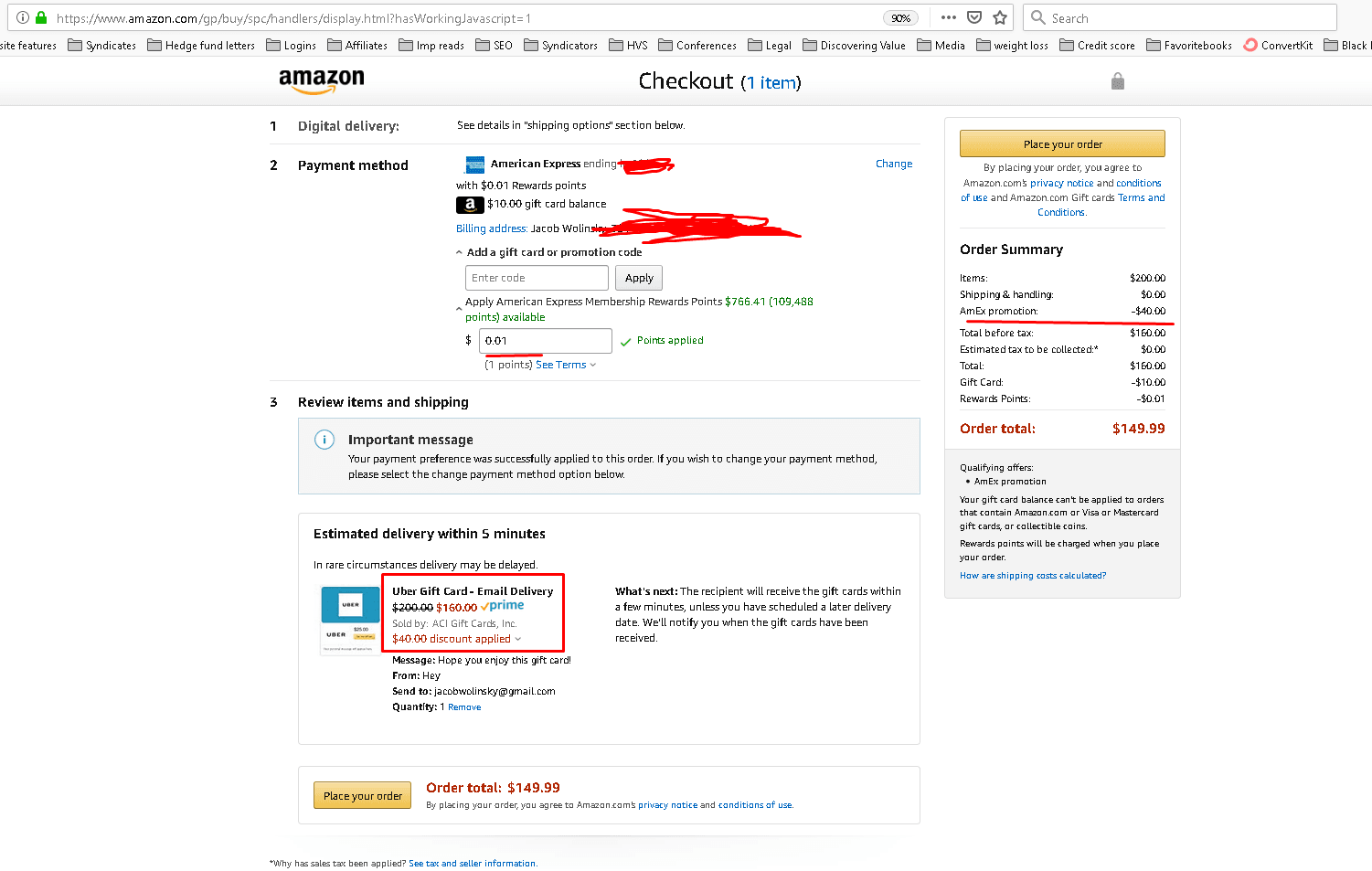 You can also try linking your AMEX card to another Amazon account and see if it works from there as well!
What will you buy with 20% off? Is it working for you like it is for me?

Updated on