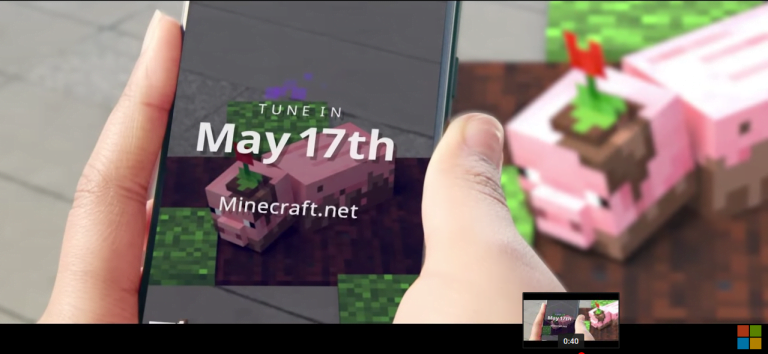 Today is the second day of Microsoft Build 2019, and a lot was revealed on the first day, including the addition of a Linux kernel to Windows 10, a new Minecraft AR game and more. Here are the details on everything that was announced on the first day of the conference.

Minecraft AR game revealed at Microsoft Build 2019
The hugely-popular game Minecraft seems almost a natural fit for augmented reality, and Microsoft finally announced plans to release an AR version of it for mobile devices. More details will be released on May 17, but the company did release a video of the AR version at the end of its Build 2019 keynote on Monday.
The video was more of a teaser to whet the appetites of fans, but it does reveal the company's plans for the game. In the video, Minecraft Creative Director Saxs Persson is sitting on a bench in front of the Washington State Convention Center. He accidentally switches phones with the woman sitting next to him, and when she picks up his phone, she sees Minecraft in AR running on it. Here's the full video:
Connor Leonard Of IMC Explains: Here's What Value Investors Should Know About Moats
When it comes to value investing, one strategy that's often used is seeking out companies which have sizeable moats against competition. In a presentation for the Value Investing Club at Google earlier this year, Connor Leonard of the Investors Management Corporation explained two ways of looking at moats and how value investors can benefit from Read More
AR games so far have almost turned out to be gimmicks rather than lasting trends. Pokemon Go is the most popular AR game so far, but even that trend has died down a lot since the game was released. It will be interesting to see what Minecraft looks like in AR and whether Microsoft can make it stick around.
There was also another gaming announcement involving Xbox Live. The company has teamed up with Gameloft to port Xbox Live features to select mobile games. This isn't a complete surprise because we've been hearing about this plan for months.
Chromium-based and Mac version of Edge revealed
Microsoft has been having a difficult time in the browser game since Internet Explorer fell out of favor years ago. The company's newer Edge browser hasn't really caught on, so it seems it is looking elsewhere to capture browser users. We've been hearing for quite some time that the company has been working on a Chromium-based browser, and executives did talk about it during their keynote at Microsoft Build 2019 on Monday.
The new browser will feature an Internet Explorer mode, privacy tools and a "Collections" feature, according to multiple sources. The Chromium-based Edge browser was released to developers last month, but it's still very new and not yet in the final version. The company also plans to bring the browser to macOS at some point, although executives did not say exactly when it will happen.
"Digital wellbeing" focus and AI
Executives also spoke about what they call "digital wellbeing" at Microsoft Build 2019. They're encouraging business users to put down their phones through the new Office 365 business productivity service by tracking how devices are used via a dashboard. This will make it clear to users how much time they spend on each task and whether they actually disconnected at the end of the work day. The new features are expected to be added in the coming months.
Microsoft also wants to make it possible for people to actually speak with their computers more than typing things on a keyboard. It seems like an increased push to get users interacting with Cortana on their computers. The company is adding new artificial intelligence technology to Cortana to enable the digital assistant to act a bit more like a human assistant by having conversations about scheduling reminders or appointments or performing other tasks. Microsoft wants to enable users to address their digital assistant with questions about their schedules without even saying "Cortana." The company also wants to make such conversations more like speaking with other humans.
Updates to HoloLens 2
The first day of Microsoft Build 2019 also brought announcements about HoloLens 2. The company is working to enable futuristic holograms to HoloLens 2 via technology from Spatial. The next-generation model will include 3D avatars and is better at tracking users' hands and eyes. The technology is also able to combine documents from a variety of devices and sources. Workers in different locations can share documents and webpages with each other via hologram. There is no release date for the HoloLens 2 yet, although the company did say it will add support for Microsoft Teams to the software for the current model this summer.
Unfortunately, the HoloLens 2 may be further away from launch than Microsoft would like. According to multiple news sources, the Apollo 11 demo initially failed to launch. However, the company did get it back up and running before the end of the day, and it seems safe to say that it was a crowd pleaser.
Updated on