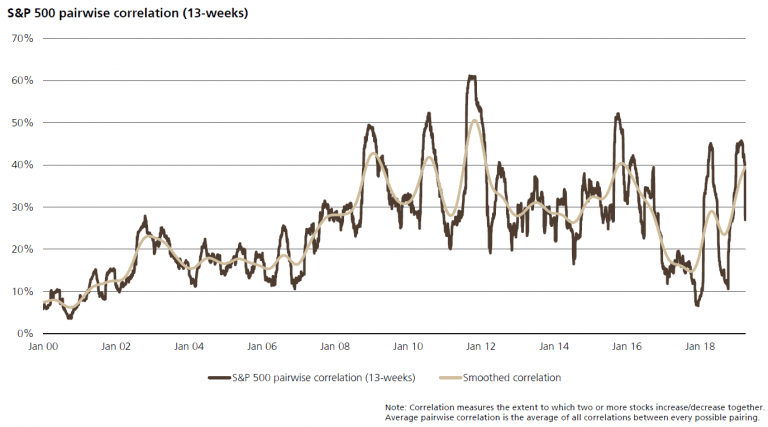 Hedge funds in general seem to be having a much better year this year. Interestingly, the first quarter looked somewhat similar to what we have seen in the last few years in terms of sector and factor favorites.

By some accounts, the hedge fund industry had its best first quarter since the Global Financial Crisis. The Eurekahedge Hedge Fund Index was up 1.06% for March and 4.36% for the first quarter, making it the best first quarter since the financial crisis. The HFRI FWI index was up 5.9% for the first quarter, beating Eurekahedge.
Q1 hedge fund letters, conference, scoops etc
[Exclusive] ExodusPoint Is In The Green YTD Led By Rates And EM/ Macro Strategies
The ExodusPoint Partners International Fund returned 0.36% for May, bringing its year-to-date return to 3.31% in a year that's been particularly challenging for most hedge funds, pushing many into the red. Macroeconomic factors continued to weigh on the market, resulting in significant intra-month volatility for May, although risk assets generally ended the month flat. Macro Read More
Markets and hedge funds are going strong
In their monthly "CIO Hedge Funds" report, UBS analysts Karim Cherif and Georg Weidlich said other than macro/ trading hedge funds, most posted positive returns for the first quarter.
They also noted other positive signs in the market which have been great for hedge funds. For example, they said the equity pairwise correlation has normalized, which is good because when correlation is low, it means multiple factors—rather than just one—are driving the markets.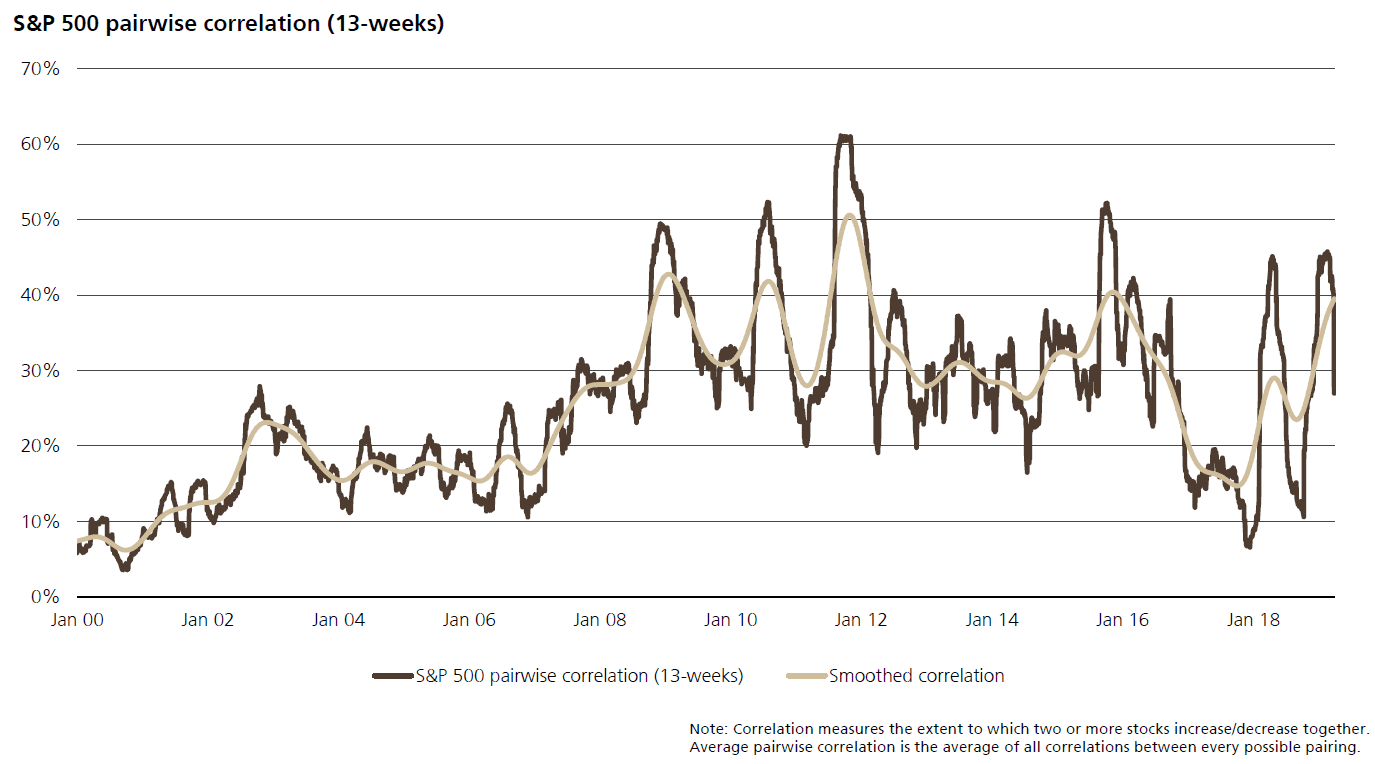 Implications for active funds
UBS also had some caveats for actively-managed funds, however. Volatility was down again, so we expect some hedge fund managers to bemoan this in their first-quarter letters. The problem for active funds is that when volatility falls, dispersion does also, but when dispersion is higher, active positions usually yield a higher impact.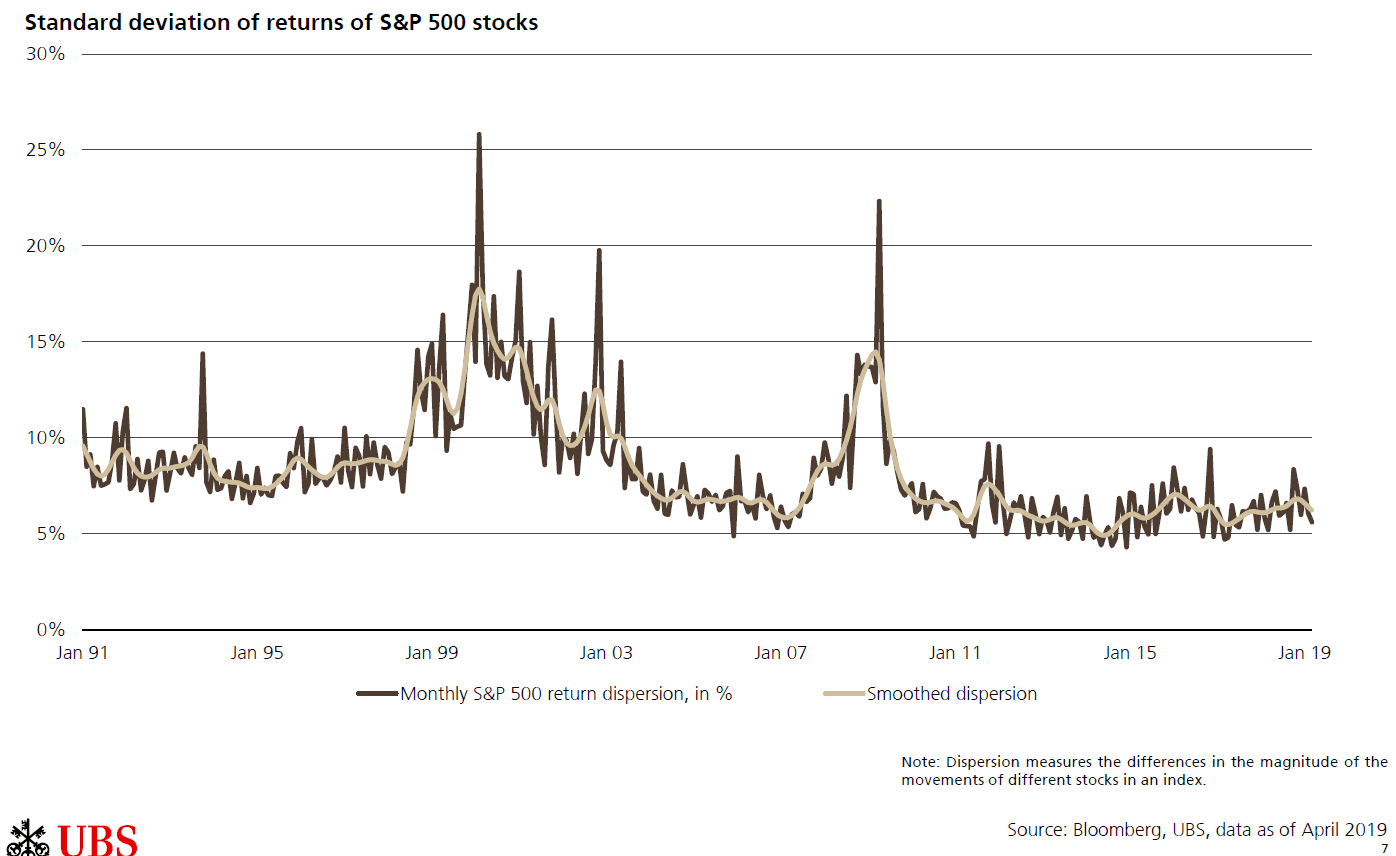 The UBS team explained that active funds usually perform better during periods of low intra-asset correlation and high dispersion. On the other hand, normalizing both correlation and dispersion should support alpha generation.
They also said hedge funds generally perform better in later stages of a cycle, which is good news because hedge fund performance has shifted into the mid-to-late stages of the current cycle.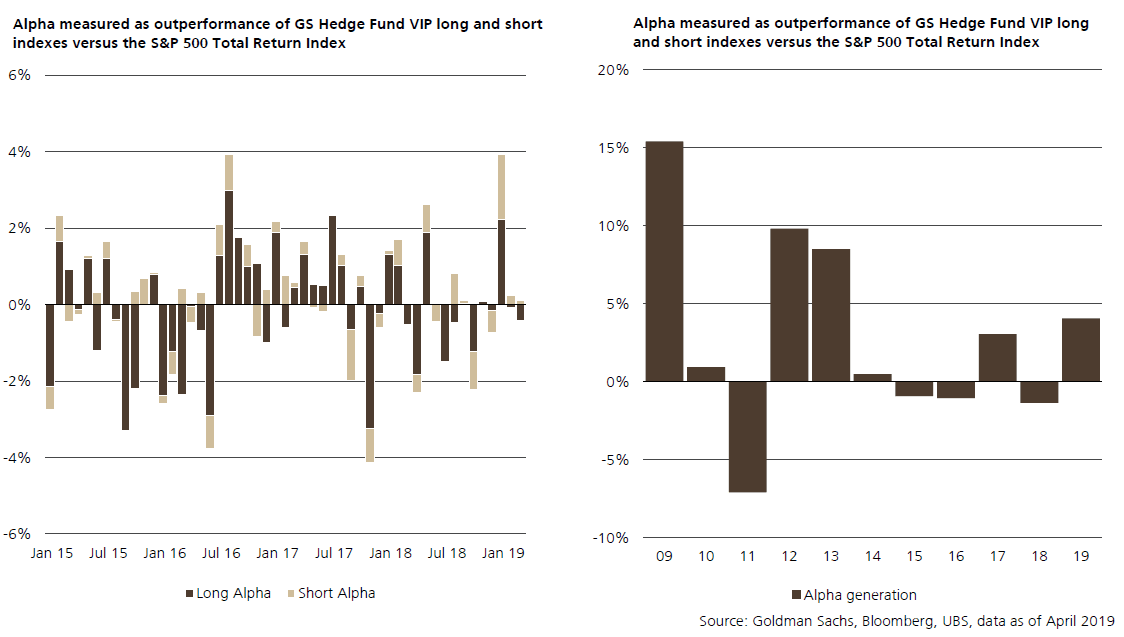 Growth and momentum are back in vogue
The UBS team also looked at the most popular hedge fund styles to gauge performance. They found that long/ short equity funds were up 0.7% for March and 7.9% for the first quarter. March was the third consecutive month in which equity managers slashed their net exposure to U.S. stocks but bought European and Asian stocks. They also found that positioning in China increased even more, and the long/ short ratio across all styles is close to the highs observed in 2014.
As far as factors, equity long/ short managers sold value stocks again and bought momentum names. Sector-wise, hedge funds bought communication services and energy and slashed their healthcare positions.
Equity long/ short alpha has had a solid start to the year with both long and short positions adding value.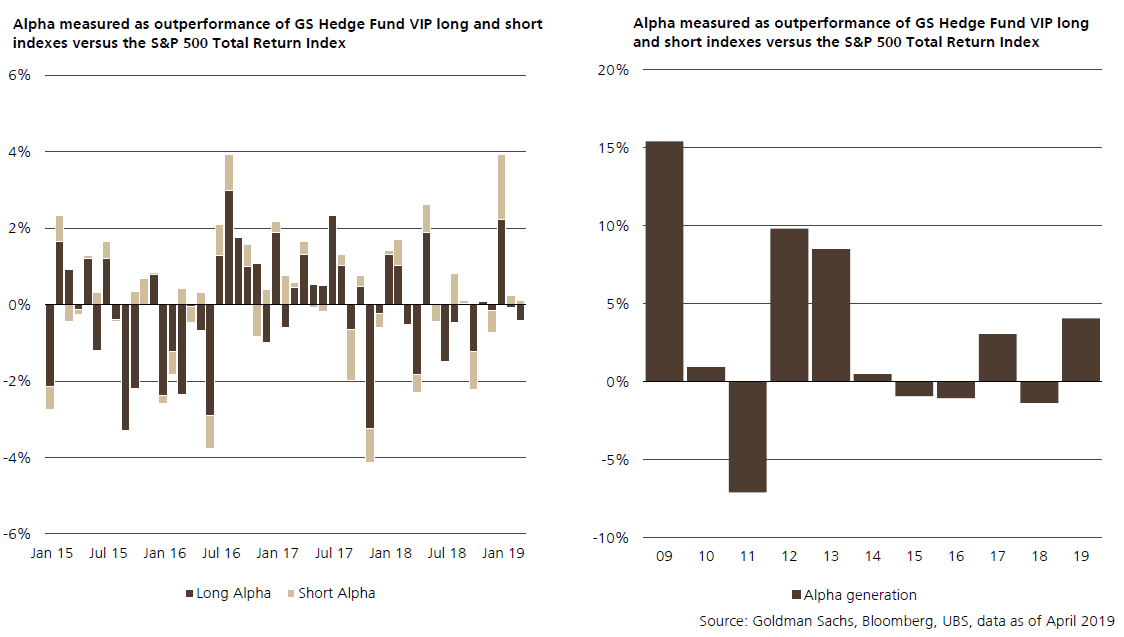 UBS also found that growth and momentum were both major overweight positions for hedge funds, and both favors did well in March.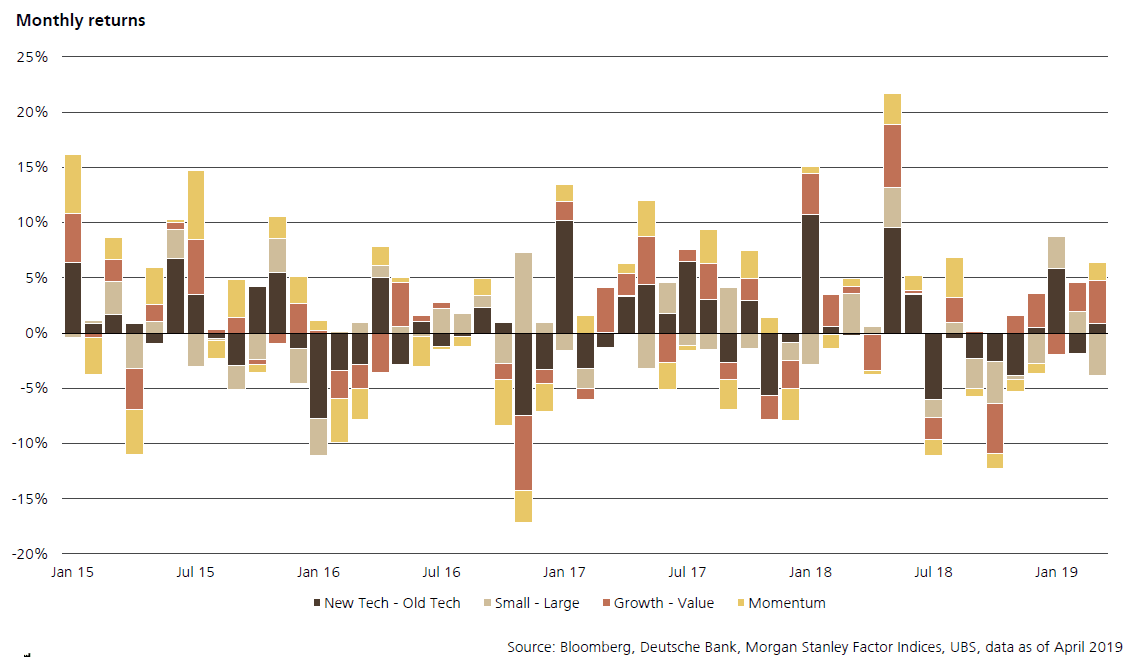 Back to tech
Net exposure to information technology remains at the 99th percentile—just as it has been since 2010—although we have seen signs from other sources that investors may have been selling tech recently. Interestingly, even though hedge funds bought energy stocks during the first quarter, they remain underweight on energy and financials.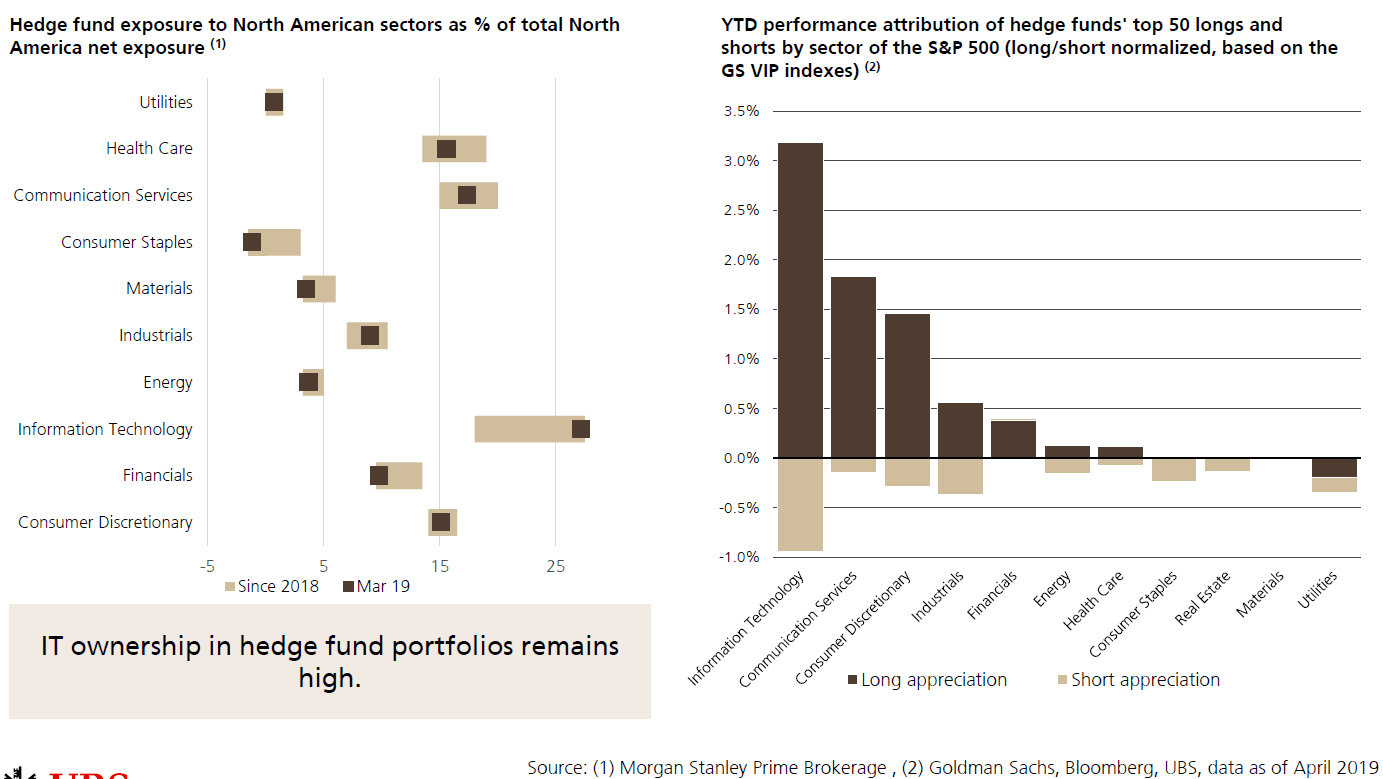 Other hedge fund styles
Event-driven funds were down a bit in March. Merger arbitrage funds benefited from strong M&A activity during the first quarter, especially as cross-border deals into the U.S. rebounded. However, in the U.S., M&A activities are skewed toward larger deals and only some sectors, like consumer non-cyclical sectors and financials. Nonetheless, the first quarter was the second strongest for M&A deals since 2008.
Distressed debt funds recorded losses due to the widening of high-yield energy spreads, and UBS believes the opportunities for this style are still limited as default rates are at record lows, despite the defaults which have occurred in energy and materials. Credit funds were supported by the tightening of the yield spread in investment-grade bonds.
Relative value funds were up 0.5% for March with solid returns from convertible arbitrage funds driven by the upward march of the equity markets. New issuance finally rebounded in March. UBS believes fixed-income relative-value funds might benefit from the increase in rate volatility.
Macro/ trading funds were up 2.1% as the fixed0income markets rallied. Most discretionary macro funds saw gains from the short EUR/USD and long EUR, USD rate positions. Long positions in emerging market debt also performed well, but shorting short-duration U.S. dollar rates brought performance down for some managers.
This article first appeared on ValueWalk Premium
Updated on