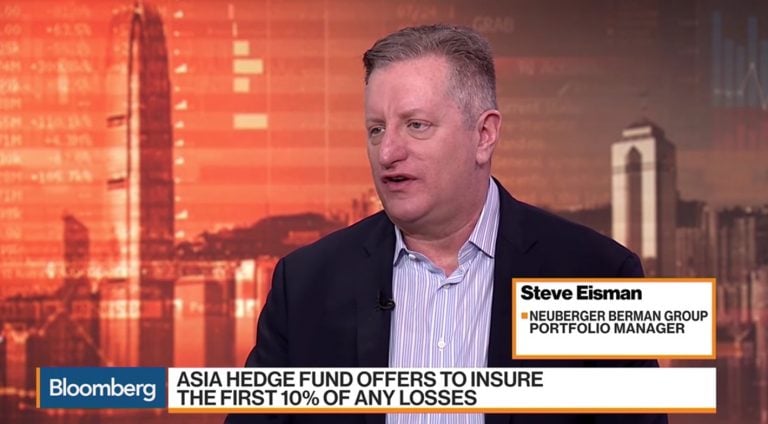 Steve Eisman, portfolio manager at Neuberger Berman Group who foresaw the collapse of the U.S. housing market, talks about hedge funds, corporate dent, and what he is shorting. He also discusses the U.S. financial system on "Bloomberg Markets: Asia." (Source: Bloomberg)
Eisman Says Recession Would Spur 'Massive Losses' in Corporate Debt
[REITs]
David Abrams Explains How To Value Stocks
Continued from part one... Q1 hedge fund letters, conference, scoops etc Abrams and his team want to understand the fundamental economics of every opportunity because, "It is easy to tell what has been, and it is easy to tell what is today, but the biggest deal for the investor is to . . . SORRY! Read More
Q1 hedge fund letters, conference, scoops etc
Transcript
You might notice him. He was in a movie called The Big Short as well. Yeah. Steve thanks for joining us. Good to see you here in Asia. Once again I mean to tell us what how hedge funds are doing this year already knew it was quite a bad year for 2018. How is your fund performing so far.
Well 2018 we beat the market on the hedge fund index. This year we're trailing. You know in an environment where markets go straight up. Hedge funds tend to underperform because you'll do well on your longs and if you have any shorts since the correlations are very high your shorts lead up to performance. I tend to do better and more volatile environments which upset me.
What about fees and how they play into all this because this continued cost pressures on that. How is that being digested by the industry I suppose.
Well I think there's a very slow relentless pressure on fees. Just general I think 10 years from now fees the hedge fund industry will probably be lower.
I've tried to circumvent the process by only charging a flat fee what do you make of some of these hedge funds that they have insurance policies now where they'll take the time first 10 percent of net losses or something. I mean is that where the industry is going now to.
It's unclear by his experiment to try and figure out what to do. I'd say generally speaking there'll be pressure on fees.
Okay. Let's just get to short positions etc.. What are you looking at. What is this is the U.S. pressure from let's say the tariff war and recent tariff at the tariff whether we're talking about at the moment. What.
Who will be the biggest losers and what are you looking at here I mean my base case is there'll be a deal at the very last second. Things like this tend to go to the end hour so that everybody can save face. They'll be a lot of volatility but my best guess is that there'll be a deal or some kind of the end of the day. It's very hard to plan your portfolio around a disaster that you have no control over whatsoever. You just That's like rolling dice.
Given that you said you work better in volatile markets this is I guess the opportune time for you. What's good to short at the moment. Are you still seeing parts in sectors that are expensive.
You know my philosophy about shorting is I don't short expensive stocks just because they're expensive shorting expensive stocks in an Age of Disruption just because they're expensive is a recipe for burning your money. So that's to be a reason to short a stock. Other than PE, you know my largest short is a company called Zillow Group Inc (NASDAQ:Z) which is the place in the United States where you go to the front part of the white house and apartment. The reason why I think it's an interesting short is they've just entered into new business out of their basic business of being an internet platform company where they're going and buying houses and flipping them. And what I find ironic about is why do people like it's their platform companies they love them because they generate a lot of revenue they generate they generate a lot of free cash flow they're not cyclical and they have margin expansion. And now Zillow is getting into the business of capital intensive cyclical low margin and in a recession they'll get killed. It's almost like you know every financial services company that I know of would kill to be thought of even for a nanosecond as an internet platform company. And here I have an internet platform company has tried to become a financial service.
You could say he wants to finance a block change to the word block changed and suddenly the stock price goes up exponentially almost. I think we played that game. Yeah.
But tell me this is interesting. So when you look at something like Zillow how then do you look at Lyft or Uber.
For instance lift a bird is dangerous. It's just like I'm short Tesla. I'm short Tesla but I've never been short Tesla big because it's an incredibly volatile stock and a response information that I think is unimportant. And I've done well in the short and Tesla. I think it's going to go lower. But getting involved with Uber and Lyft at this early stage it's so difficult because evaluation really doesn't matter. So you're trying to figure out what's the next incremental data point that's going to matter. I'm just not involved is too hard.
I you know when Facebook listed it was almost universal everybody went you got this is just a screaming short.
And it turned out it was one of the best laws of all time often went after. Laughs Yeah exactly.
But you know Uber and Lyft those are not valued on traditional valuation metrics. So trying to short them is a little bit like shorting a ghost when you're trying to show that the fundamentals are going to deteriorate which is very hard to do at this point.
See we have a viewer question actually that they want to ask you Do you think the volatility the VIX is going to rise above 25.
I'm an agnostic. I have no opinion.
No opinion. Yeah I have a bit more about your shorts like you talked a lot about the Chinese Canadian banks. I should say. What are your views now. Do you still hold. I mean they've actually been quite like them now but the Chinese stock market and banks have been on a tear this whole year. Well I wouldn't call.