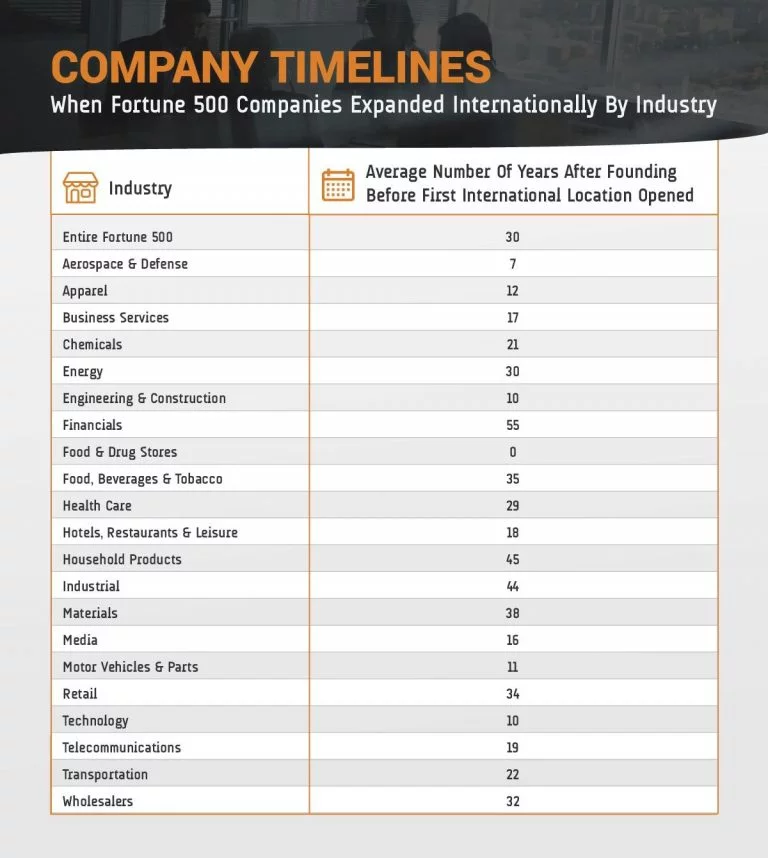 Have you ever wondered how long it takes for Fortune 500 companies to expand internationally? Why they chose to go international or even what kind of companies expand the fastest?
First let's start with what defines a business as a Fortune 500 company: The Fortune 500 list is annually compiled and published by Fortune Magazine and ranks the 500 largest United States corporations by total revenue for their respective fiscal years. The list includes publicly and privately held companies for which revenues are publicly available.
Q1 hedge fund letters, conference, scoops etc
Exclusive: Dan Loeb's Two New Stock Picks [Q1 Letter]
Third Point's Dan Loeb discusses their new positions in a letter to investor reviewed by ValueWalk. Stay tuned for more coverage. Loeb notes some new purchases as follows: Third Point's investment in Grab is an excellent example of our ability to "lifecycle invest" by being a thought and financial partner from growth capital stages to Read More
Although the companies on the list have to be American in origin, the list is home to some of the most successful multinational companies in the world and often they have offices in international locations.
A recent study done by CapRelo, a full-service global relocation management company, analyzed Fortune 500 companies and the rate at which they expanded internationally. They dug into the history of each company on the 2018 Fortune 500 list to see how those businesses expanded internationally, how many from the list have overseas locations, which industries were fastest to expand, how many countries they operate in, and much more.
According to the data, it takes on average around 30 years for Fortune 500 businesses to expand internationally with the shortest time being seven years for aerospace and defense companies and the longest being 55 years for financial companies.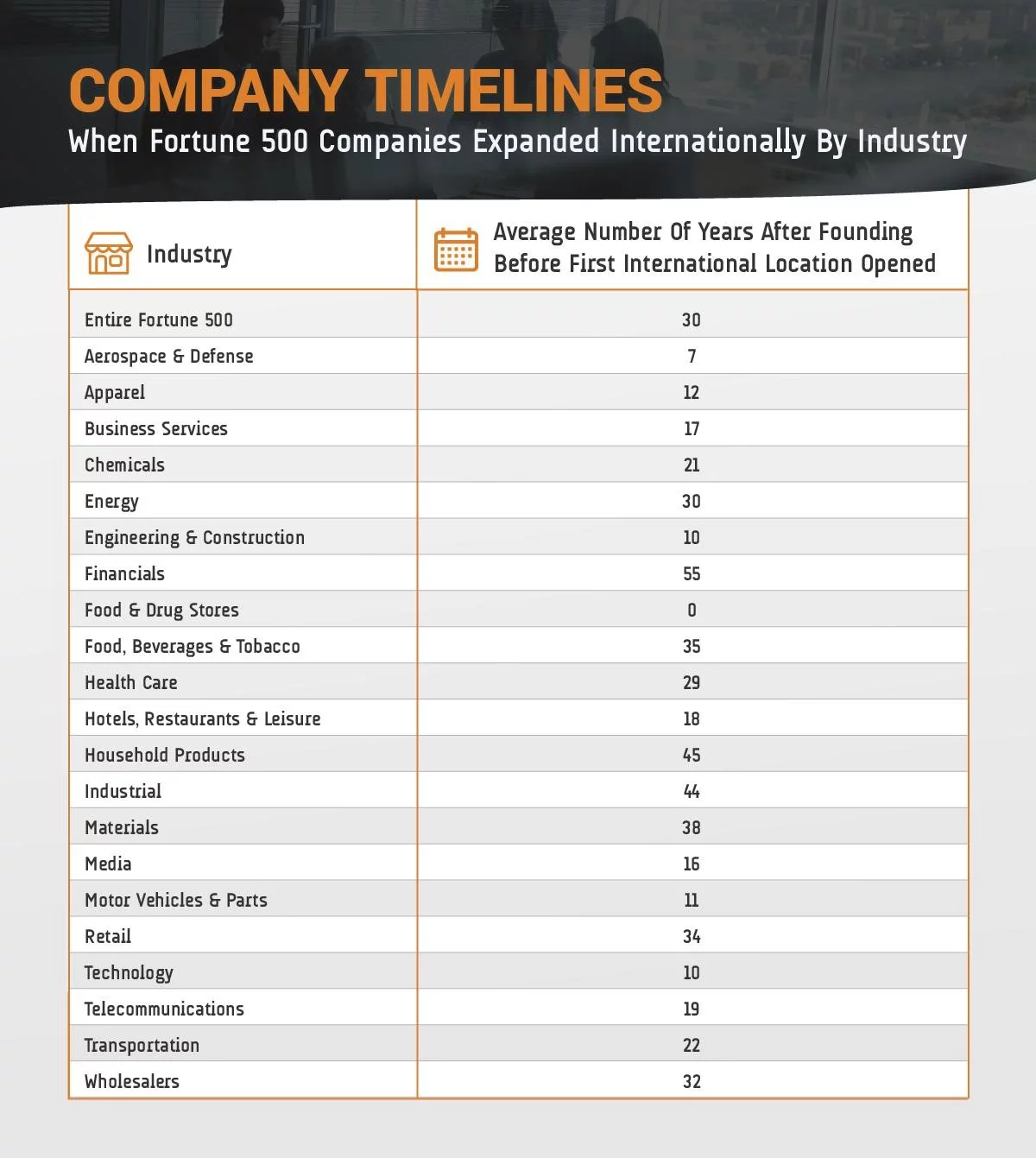 A thought into why financial companies took much longer to expand than the average 30 year timeline is because at the time those companies were founded international travel was a more difficult and dangerous task than it would become nowadays, so it may not be as surprising when you look at it that way.
An interesting thing to note here is that food and drug stores on the current Fortune 500 list have never technically "expanded" internationally. The food and drug companies officially listed on the Fortune 500 were all formed as the result of mergers between companies with existing international operations, which means they all actually started out with a global footprint in year zero. So you could say they had a head start.
So how many Fortune 500 companies actually have international locations? The analysis found that 35% of Fortune 500 companies have no international presence in terms of physical locations, while 25% have fewer than 25 overseas locations. And just 5% have more than 500 international locations.
Fortune 500 companies in the telecommunications, aerospace and defense, and engineering and construction industries typically have fewer than 30 locations. Telecommunication on average has 11 international locations, aerospace and defense has about 25, and engineering and construction has 28.
But unsurprisingly, companies in the hotel and leisure business are the complete opposite, with almost 5,000 locations on average, way ahead of the industries with the second- and third-most locations, which are retail and apparel businesses. Retail has 447 and apparel 372.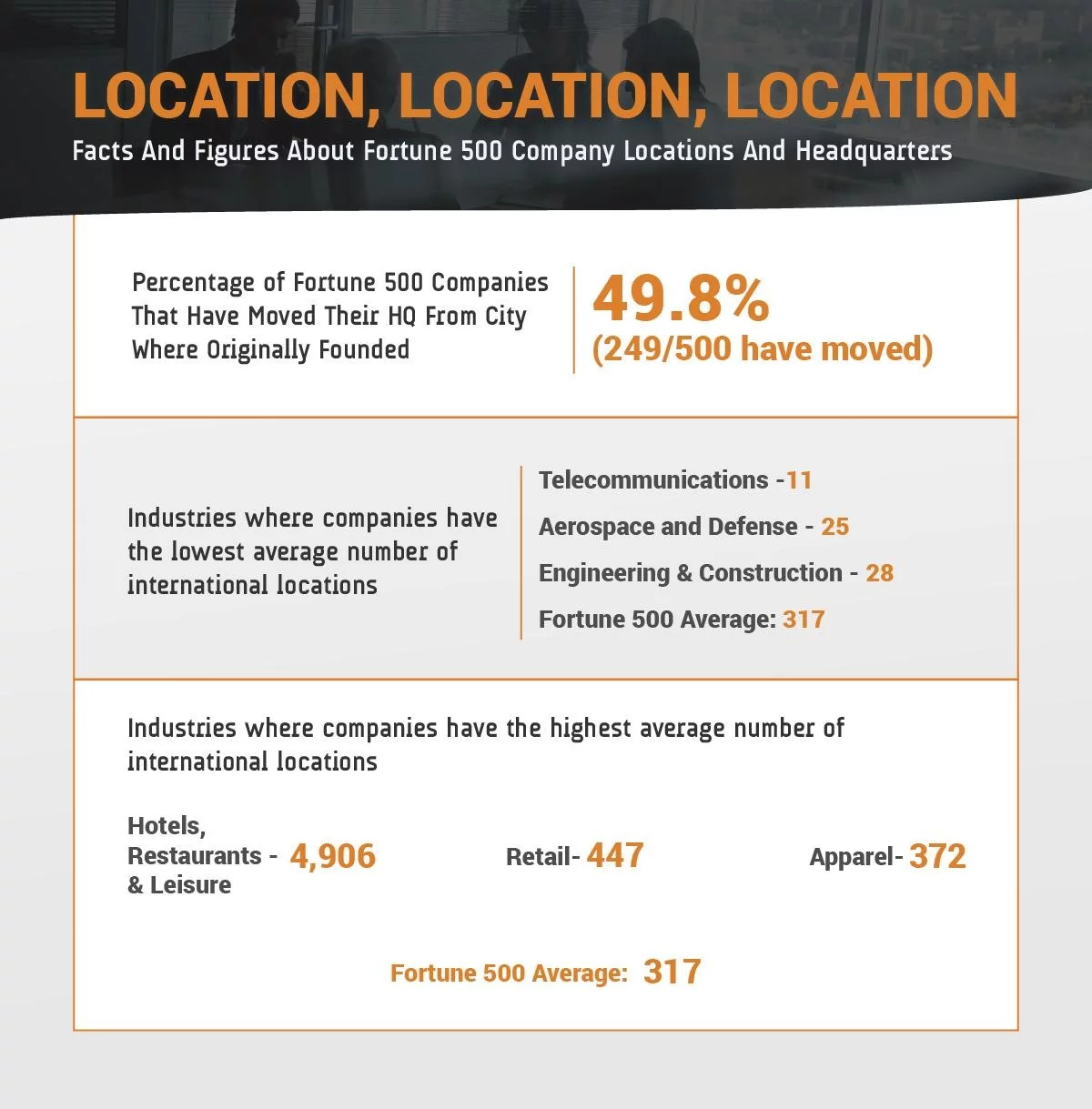 When choosing an international location to call home, 74 companies selected Canada, which is more than double the United Kingdom who has 33 companies and next up is Japan with only 14 companies. The most common city for Fortune 500 companies to choose? The top spot goes to London with 18 companies, which is double that of Toronto and Tokyo who both have 9.
Americans love our fast food and apparently so do other countries. McDonald's can be found in more than 23,000 places outside the U.S, making it the Fortune 500 company with the most international locations. Another notable company is Western Union, which can be found in 205 different nations, more than any other company on the Fortune 500.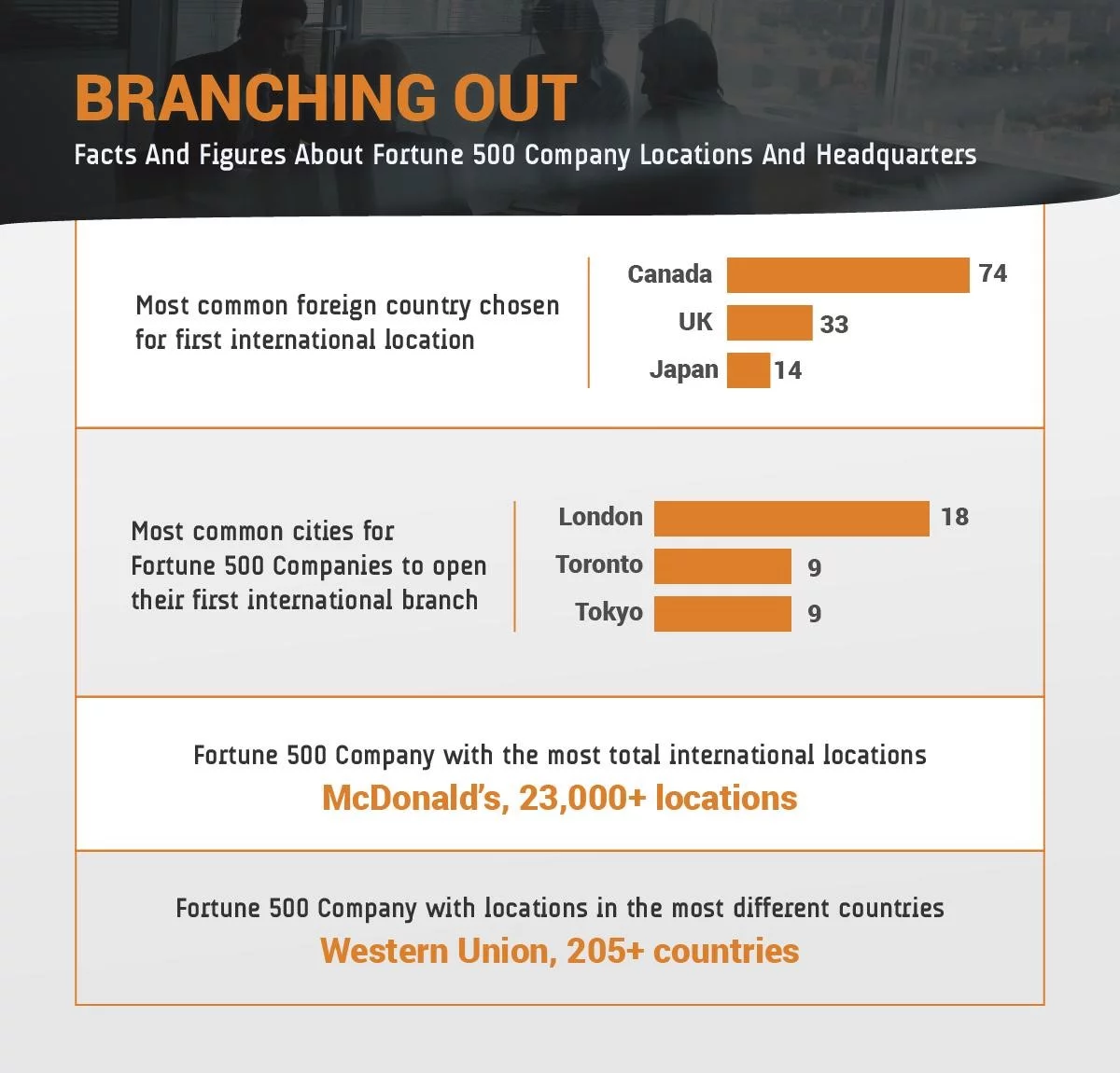 Of all these companies, how many have actually decided to move their headquarters from the city where they were founded? According to the study, about half the companies have moved their company headquarters. Most of these moves have been from one U.S. city to another, but a few have made the big move to an overseas headquarters, such as Avon Products' who moved to a London-based HQ.
Not every company is on the same scale as a Fortune 500 company, but it is interesting to dive deep into the world and see where they started to where the companies are now.