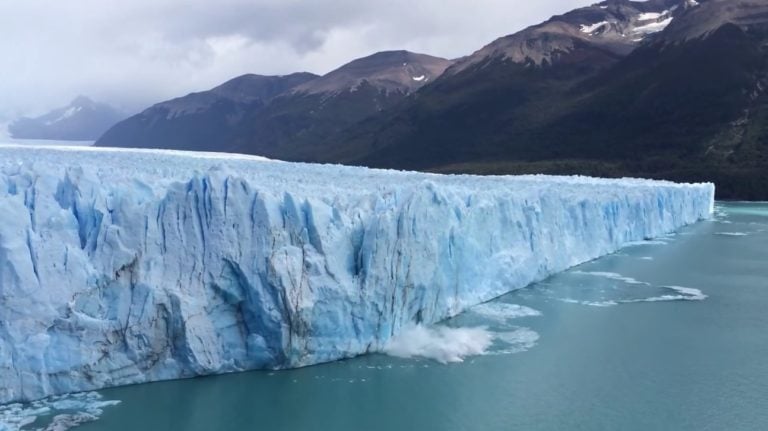 Researchers say climate change is melting glaciers faster than it was previously thought. A new study found that glaciers lose 369 billion tons of snow and ice per year. More than half of the ice and snow that's lost each year comes from North America.
In the most accurate and comprehensive measurement of melting glaciers so far, researchers found that thousands of inland masses of snow compressed into ice are melting 18% faster than what researchers calculated back in 2013. In fact, the new study suggests climate change is melting glaciers five times faster than they were being melted in the 1960s. To make matters worse, the study published in the journal Nature indicates that the melting acceleration is caused by global warming, which is increasing sea temperatures.
"Over 30 years suddenly almost all regions started losing mass at the same time," lead author Michael Zemp, director of the World Glacier Monitoring Service at the University of Zurich, told the Associated Press "That's clearly climate change if you look at the global picture."
Electron Rises 5.1% Buy Renewable And Infrastructure Stocks: Q1 Letter
Electron Capital Partners' flagship Electron Global Fund returned 5.1% in the first quarter of 2021, outperforming its benchmark, the MSCI World Utilities Index by 5.2%. Q1 2021 hedge fund letters, conferences and more According to a copy of the fund's first-quarter letter to investors, the average net exposure during the quarter was 43.0%. At the Read More
Referring to Central Europe, the Caucasus region, western Canada, the 48 states of the U.S. mainland, New Zealand, and the tropics, he added, "In these regions, at the current glacier loss rate, the glaciers will not survive the century."
Using satellite imagery and measurements, the researchers observed 19,000 glaciers, which is far more than previous studies. They found that the glaciers in southwestern Asia are the only ones that aren't shrinking, adding that this is because of local climate conditions.
Scientists have known for a long time that global warming could have scary consequences for our environment, and the problems are caused mainly by human activities like burning coal, methane, carbon dioxide and other greenhouse gas emissions. Researchers are particularly concerned about Antarctica and Greenland, which have sustained grave levels of ice loss.
This study "is telling us there's much more to the story," Mark Serreze of the National Snow and Ice Data Center, who wasn't involved in the study, told the AP. "The influence of glaciers on sea level is bigger than we thought."
Sea levels rise mainly because the global ocean is getting warmer, and that causes the water to expand and glaciers around the world to melt. Melting glaciers could also have consequences on coastal cities and communities, where people are more exposed to flooding and other risks that come with coastal-related storms. Researchers say melting glaciers are a bigger threat than was thought before, being responsible for 25% to 30% of the annual water increase.
While glaciers grow and stabilize during the winter, their shrinking is vastly noticed during the summer season. However, now that climate change is occurring and Earth is warmer than before, there's more ice loss than growth. Hot summer temperatures have become the main reason glaciers shrink faster, Zemp said.