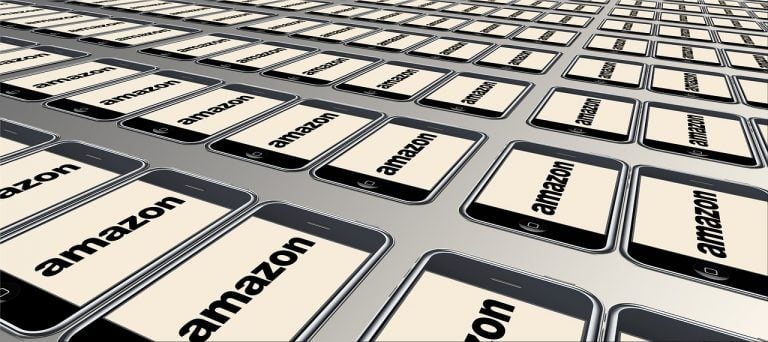 The sales of wireless earbuds have exploded since Apple launched the first-generation AirPods. According to Counterpoint Research, more than 12.5 million pairs of wireless earbuds were sold in the fourth quarter of 2018 alone. Just weeks after the launch of AirPods 2, a new report claims that Amazon is preparing to launch an AirPods rival later this year.
It 'will look and act similar to AirPods'
Inside sources familiar with the matter told Bloomberg that Amazon was all set to challenge the AirPods 2 with Alexa-powered wireless earbuds. Amazon aims to offer better audio quality than Apple's earbuds, which are among the best and most popular in the world. The Alexa-powered AirPods rival would help Amazon bring its virtual assistant to more people. They "will look and act similar to AirPods."
Amazon's wireless in-ear buds will sit inside your ears without clips to hold them in place, says Bloomberg contributor Mark Gurman. The product is being developed at Amazon's Lab126 hardware division. You will be able to summon Amazon's digital assistant using the "Alexa" wake word.
Exclusive: Dan Loeb's Two New Stock Picks [Q1 Letter]
Third Point's Dan Loeb discusses their new positions in a letter to investor reviewed by ValueWalk. Stay tuned for more coverage. Loeb notes some new purchases as follows: Third Point's investment in Grab is an excellent example of our ability to "lifecycle invest" by being a thought and financial partner from growth capital stages to Read More
The earbuds will allow you to use your voice to access music, weather and other information, make search queries, and even order goods from Amazon. The upcoming product will support gesture controls to let you switch between songs, and answer and end calls. However, Amazon's earbuds won't have cellular connectivity, meaning you have to pair it with an Android or iOS device.
Sources told Bloomberg that the earbuds would come with a storage case that would also serve as a charger. You have to plug it in using a standard USB cable. The e-commerce heavyweight is testing the earbuds in black and gray colors. Given Amazon is aiming for better audio quality than AirPods 2, it has faced technical difficulties that delayed the project.
Amazon's AirPods rival could be a little cheaper
Amazon has been looking for manufacturing partners and component suppliers. Bloomberg speculates the earbuds would launch sometime in September. In recent years, Amazon has released new hardware in September.
We should also expect the Alexa-powered AirPods rival to be a little cheaper. The latest AirPods 2 costs $159 for the base model and $199 if you want the wireless charging case. Amazon's hardware products tend to be cheaper than their competitors.
The online retailer has an excellent voice assistant in the form of Alexa. But it doesn't have a popular mobile operating system, which has been a headache for Amazon. In contrast, Google Assistant and Apple's Siri have a ready-made installed base of over a billion devices. Amazon has been selling its own smart speakers and other hardware products to expand the reach of Alexa. It has also opened up Alexa for other headphone vendors like Bose.
Apple debuted the second-generation AirPods only a few weeks ago. It comes with Hey Siri support, a new H1 chip for faster connectivity, and wireless charging. The AirPods 2 also have a longer battery life. Bloomberg added that Apple is currently working on a third-generation AirPods with better noise-cancellation and water-resistance. AirPods and Apple Watch have turned out to be surprising successes for Apple.
Beats, a brand owned by Apple, has also launched its $250 Powerbeats Pro earbuds with an ear hook to keep them in place. The Powerbeats Pro have many of the same features as AirPods 2 such as the H1 chip, sensors, and the charging case, but they offer even longer battery life.
Many other vendors have also launched similar products, but haven't tasted the same success as AirPods. Samsung recently introduced Galaxy Buds that work similar to AirPods. Google's Pixel Buds have failed to grab the attention of consumers because of their flimsy charging case and not-so-great audio quality. Sony, Jabra and other third-party players also have a presence in the wireless earbuds market. It would be interesting to see how Amazon's earbuds would compete with them.