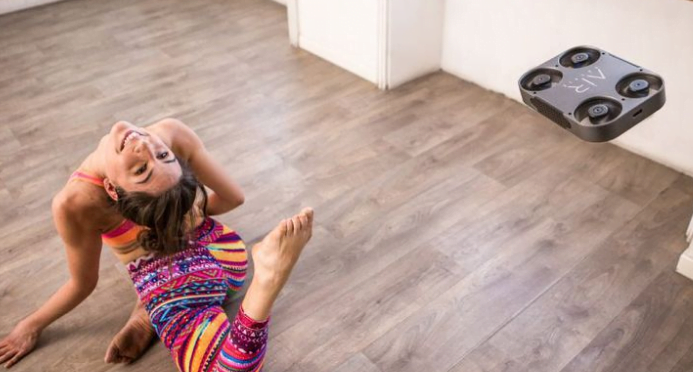 Pocket camera drones have emerged as a worthy replacement for selfie-sticks, and AirSelfie is a popular brand offering hands-free pocket camera drones. At CES 2019, the company showcased three new drones with a built-in camera and other new features.
What's so special about these new pocket camera drones?
AirSelfie revealed three new products: the AIR 100, AIR Zen and AIR Duo aerial cameras. One thing that's special about them is that users get an app which enables them to share, edit and view content captured by the AirSelfie camera. The company is known for making user-friendly pocket camera drones capable of capturing HD photographs and videos. These new products come months after AirSelfie's second-gen flagship, the AirSelfie 2, hit store shelves.
AirSelfie's AIR 100 is the new entry-level option priced at just $100. It is a good option for budget-conscious customers. The device comes with a 12-megapixel camera, HD video and 6-minute flight time between charges.
Option Trading and the Future of Option Alpha with Option Alpha's Kirk Du Plessis
ValueWalk's Raul Panganiban interviews Kirk Du Plessis, Founder and CEO of Option Alpha, and discuss Option Alpha and his general approach to investing. Q1 2021 hedge fund letters, conferences and more The following is a computer generated transcript and may contain some errors. Interview with Option Alpha's Kirk Du Plessis
Those who want a more advanced offering can opt for the AIR Zen, which costs $140. It features a 13-megapixel 120-degree camera, autonomous flight mode and 4K video capturing. This pocket camera drone can be safely used outdoors due to its built-in water resistance. It is also the first drone to come with AirSelfie's Flight System, which enables the drone to follow its subjects.
The third one is the Air Duo, the first pocket drone to come with dual lenses. The drone's camera has a 12-megapixel lens for landscape shots and a second wide-angle, 110-degree 12-megapixel zenith lens. The Air Duo has an aluminum alloy body and AirSelfie's Flight System. It costs $230 and has a seven-minute flight time. Moreover, it comes with a removable battery to extend its flight time.
App to minimize human input
All three pocket camera drones can be controlled via a new companion app. The app allows users to capture, edit, view, and share content via iOS and Android devices without connecting to the drones physically. Thus, the drones can fly, hover and take photos and videos with minimal human input.
"AirSelfie is the first and only true air camera that allows you to be naturally and completely immersed in your everyday life or life adventure while AirSelfie records your experiences," AirSelfie CEO Stefano Cabella said in a statement.
All three drones will be available to buy later this year. Although launch details are scant, the company did mention plans to offer them in more markets beyond the U.S. and Canada. AirSelfie is expected to launch the pocket camera drones in Sweden, Finland, Greece and other countries.
Self-flying air taxi from Bell
One other thing which caught the attention of attendees at CES 2019 is a self-flying air taxi. Bell, a popular name in the aviation sector, showcased a prototype of a vertical-takeoff-and-landing (VTOL) air taxi.
The air taxi is called the Bell Nexus, and it's powered by a hybrid-electric propulsion system which uses Bell's powered lift concept. The powered lift concept features six tilting ducted fans. The air taxi resulted from a collaboration of several aviation and engineering firms, including Bell, Thales, Moog, Garmin Safran, and EPS.
"As space at the ground level becomes limited, we must solve transportation challenges in the vertical dimension — and that's where Bell's on-demand mobility vision takes hold," Bell President and CEO Mitch Snyder said in a press release.
Bell has been a popular name in the aviation sector for decades now. It made fighter planes during World War II and the first supersonic aircraft, called the Bell X-1. For the past 50 years, Bell has been making civilian and military helicopters under Textron, its parent company. In addition to the Bell Nexus, the company also talked about its plans to release an autonomous pod transport (APT).
The air taxi segment holds massive potential going ahead. Many companies and countries are already working on plans to adopt this new technology. Volocopter, a German company specializing in electric multi-rotor helicopters, is working to test its self-driving air taxis in Singapore. These inner-city tests will take place in the second half of this year.
"The tests in Singapore will happen in an urban environment and under completely different climatic conditions than here in Germany," Volocopter co-founder Alex Zosel told Digital Trends.