Whitney Tilson's email to investors discussing this market is NOTHING like 2008; Berkshire; Facebook: The 12 scandals of Zuck-mas; Google; Apple; Twitter; Cohodes from the weekend.
My family and I are off to Kenya tomorrow (on the new nonstop flight to Nairobi!) to spend the holidays with my parents and sister, who live there (they're in the field of international education and maternal health, respectively). We're first going to the Samburu Intrepids safari camp, then a couple of days at my parents' home outside Nairobi, then down to their beach house on the coastal paradise of Lamu Island. I wish you and your family the happiest of holidays!
Jim Chanos Unveils Lastest Short As Fund Manager Bets On Further Market Declines
Jim Chanos has a new short target in his sights. Earlier this week, the hedge fund manager disclosed that he is betting against "legacy" data centers that face growing competition from the trio of technology giants, which have previously been their biggest customers. The fund manager, who is best known for his winning bet against Read More
Q3 hedge fund letters, conference, scoops etc
1) Some interesting data: the Nasdaq is down 21.3% this quarter, its 7th worst quarter of all time, only slightly worse than the -24.6% plunge in Q4 2008!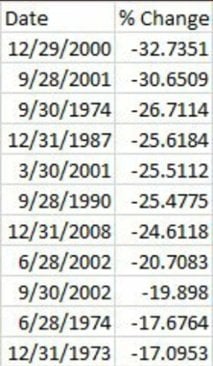 And as this table shows, it's the S&P's second-worst December in history, trailing only 1931: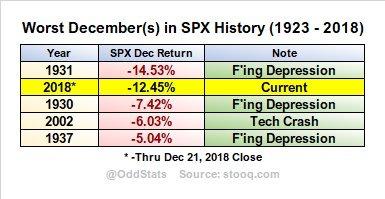 2) A friend of mine emailed me this evening, writing that "the markets DEFINITELY feel like 2008 now. Absolutely insane. You buy stuff and immediately it's down 3%."
I disagree. Yes, it's been a tough December and Q4, but the S&P 500 is down a mere 6% this year – yawn.
There is no comparison to late 2008/early 2009. It's a tough market but a drawdown of 20% is a far, far cry from a 50% drawdown. Also, the macro environment today is quite healthy vs. back then when the economy and corporate earnings were in freefall, the debt markets had seized up, unemployment was 3x today's level, etc. Lastly, while stocks, in my opinion, have gone in the past couple of months from very richly valued to merely the high end of fair value, they're not cheap by any measure – much less insanely cheap like they were a decade ago.
I repeat: no comparison.
3) A Berkshire tidbit: Ajit Jain just purchased $20 million of Berkshire stock, which is meaningful even for a wealthy person. Smart dude, as Berkshire, at $288,000, is trading at more than a 20% discount to our calculation of its intrinsic value (see our Berkshire slides here).
4) A funny (but true) summary of the seemingly endless Facebook scandals:
The 12 scandals of Zuck-mas:
On the 1st day of Zuck-mas, Mueller gave to us: An indictment of Russians who hacked F-B.
On the 2nd day of Zuck-mas, the UN gave to us: FB's role in Myanmar's tragedy.
On the 3rd day of Zuck-mas, the NYT gave to us: The mess that Cambridge Analytica made.
On the 4th day of Zuck-mas, Congress gave to us: Thousands of FB ads for which Russia paid.
On the 5th day of Zuck-mas, the NYT gave to us: Details of undisclosed deals with device makers.
On the 6th day of Zuck-mas, FB gave to us: Info about an Iranian network of frauds and fakers.
On the 7th day of Zuck-mas, the ACLU gave to us: A report about FB's tools for gender discrimination.
On the 8th day of Zuck-mas, FB gave to us: A massive data breach of 50m users' information.
On the 9th day of Zuck-mas, FB gave to us: A confession they lied about video advertising metrics and terms.
On the 10th day of Zuck-mas, the NYT gave to us: A report FB weaponized opposition research firms.
On the 11th day of Zuck-mas, FB gave to us: A report that 6.8m users' photos were stolen by strangers.
On the 12th day of Zuck-mas, the NYT gave to us: News that Facebook shared personal info with partners despite the dangers.
5) Mark my words, however: at $125 today, Facebook's stock is going to do very well over the next 2-3 years. This study shows how much its users value it: How much is social media worth? Estimating the value of Facebook by paying users to stop using it. Excerpt:
…we consistently find the average Facebook user would require more than $1000 to deactivate their account for one year. While the measurable impact Facebook and other free online services have on the economy may be small, our results show that the benefits these services provide for their users are large.
6) This WSJ article underscores why, while I think Apple stock will do fine, I just don't see where the growth will come from (in contrast, I think Facebook and Google, which have 1/5th and ½ the revenues, respectively, have plenty of growth ahead of them, which will drive superior stock performance I believe). 'It's Been a Rout': Apple's iPhones Fall Flat in World's Largest Untapped Market. Excerpt:
Amit Rajput, who runs a counter selling iPhones in a busy electronics shop here, cuts a lonely figure. He is lucky to sell one device a day, compared with the 10 or more smartphones his colleagues at desks for Samsung Electronics Co. , Nokia Corp. and China's Oppo sell daily in the same store.
As customers walk past his display, he recalls a different time in 2013 when he sold as many as 80 iPhones a day. Now most people want to pay less than $300 for their devices—a fraction of what Apple Inc.'s newer models cost.
Smartphone makers, facing sputtering growth in the rest of the world, have looked to India to make up the difference. With 1.3 billion consumers, the country is the world's biggest untapped tech market. Just 24% of Indians own smartphones, and the number of users is growing faster than in any other country, according to research firm eMarketer.
How has that worked out for one of America's most valuable companies?
The number of iPhones shipped in India has fallen 40% so far this year compared with 2017, and Apple's market share there has dropped to about 1% from about 2%, research firm Canalys estimates. The Cupertino, Calif., company posted revenues of $1.8 billion in India this fiscal year. That is less than half of what executives had once hoped to capture, said a person familiar with its targets.
"It's been a rout," said Ishan Dutt, an analyst at Canalys.
7) Kudos to Andrew Left of Citron Research for drawing attention to this Amnesty International study of Twitter, "a place where racism, misogyny and homophobia are allowed to flourish basically unchecked." Twitter has become the Harvey Weinstein of Social Media – New Price Target – $20. Excerpt:
While Wall Street was focused on Facebook being down 7% on a New York Times article citing potential government regulation and criticizing their privacy controls, the real story of the day in the world of social media was more startling and disturbing.
Amnesty International has concluded that Twitter is an abuser of human rights and has become a place that is "toxic" for women, noting that women are abused every 30 seconds on Twitter.  The study focused on 800 female journalists and politicians to show the culture of hate that underpins Twitter.
Citron has been following Twitter for years and when we read the just published piece from Amnesty International, we immediately knew the stock had become uninvestable and advertisers will soon be forced to take a hard look at all sponsorships with Twitter.
8) The world of short selling is losing a legend: Marc Cohodes Bids Farewell to Short Selling. Excerpt:
The wear and tear of activist short selling are catching up, said Cohodes, 58, in a phone interview from Mexico, where he was vacationing. "I've done this at high level since I was 28," he says. "This is a dog year kind of business."
Among other things, Cohodes claims to having been harassed just last year by agents for the Federal Bureau of Investigation for his colorful invectives against Petit. He receives ongoing death threats.
"It's dangerous out there," said Cohodes. "There comes a point where you say enough is enough."
Among the best-known allegations of fraud that Cohodes loudly publicized over the decades were at NovaStar Financial, a subprime mortgage lender, software firm Lernout & Hauspie Speech Products, and AAIPharma, a drug company.
A native of Chicago, he also bet against companies whose business models he viewed as dubious or otherwise felt were simply overpriced.
Still, MiMedx, which Cohodes and others accused of channel stuffing, and whose auditor, Ernst & Young, resigned earlier this month, will be among his proudest achievements, he says. "With MiMedx, I hit the ball out of the park and it still hasn't hit the ground," Cohodes said. "I'm very pleased with how it turned out."
MiMedx shares closed Monday at $1.60, down from a closing high this year of $17.96 in January. "Few people get to write the final chapter the way they want," he added. "I get to write the final chapter."
Cohodes doesn't have a precise, post-short selling game plan going forward. He notes that he has given talks at the business schools at Stanford University and Harvard University. And there has been interest about a possible movie on his life.
Of course, there are chickens and horses at Alder Lane Farm to take care of too.
Overall, Cohodes is downbeat about the state of corporate America and its flourishing culture of rule-breaking. "We live in a world where people are rewarded for lying," he said. "We live in a world where people are rewarded for cheating, we live in a world where people are rewarded for breaking the law."
Cohodes does confess to a dream—running the Securities and Exchange Commission.  "I'd get things jumping," he said. "I'd fight for the people who can't fight for themselves."
Updated on