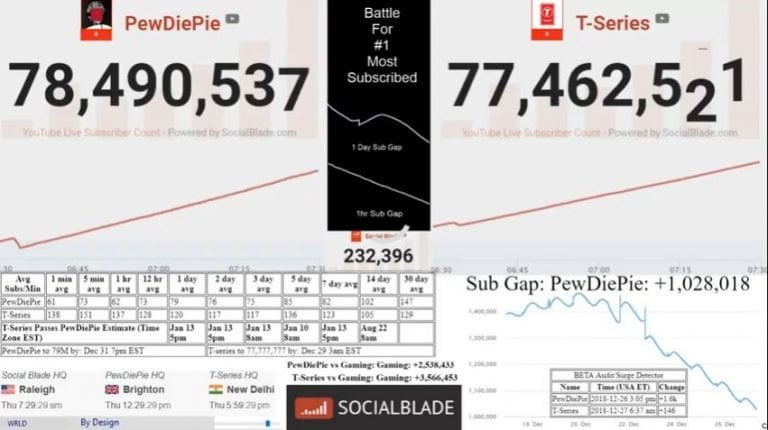 The 29-year-old Swedish gamer Felix Kjellberg aka PewDiePie has held the crown for the most subscribed YouTube channel since 2013. PewDiePie currently has 78.48 million subscribers on the video platform. But popular Indian music label T-Series has threatened to dethrone PewDiePie in recent weeks as the most subscribed channel. While Pewds fans have launched vicious campaigns and hacking attempts to keep the Swedish creator ahead of T-Series, the managing director of the music label says his company was not competing with Felix Kjellberg.
T-Series not competing with PewDiePie
The PewDiePie vs T-Series battle has been dubbed as "David vs Goliath" because Felix is an individual creator while T-Series is an Indian film industry juggernaut. The company uploads nearly a dozen high-quality videos – mostly music and movie trailers – and has a team of 13 people running its YouTube channel. It currently has nearly 77.45 million subscribers and it generates about 15% of its revenues from YouTube.
In an interview with BBC, T-Series managing director Bhushan Kumar said he hadn't heard of PewDiePie until a few months ago when his company came close to dethroning the Swedish vlogger. The music and film production house was founded by Bhushan's father Gulshan Kumar – a former fruit-juice seller in the streets of Delhi – in 1983.
Seth Klarman Describes His Approach In Rare Harvard Interview
In a rare interview with Harvard Business School that was published online earlier this month, (it has since been taken down) value investor Seth Klarman spoke at length about his investment process, philosophy and the changes value investors have had to overcome during the past decade. Klarman's hedge fund, the Boston-based Baupost has one of Read More
Bhushan Kumar told BBC, "I am really not bothered about this race. I don't even know why PewDiePie is taking this so seriously. He's getting his people to push him, to promote him. We are not competing with him." However, he did admit that the online battle has helped T-Series earn global attention. "Everybody's approaching us. International artists want to work with us. Forget about the rankings – our reach is the highest."
Earlier, T-Series President Neeraj Kalyan said last month that it was a "matter of pride for all Indians" that an Indian channel would "soon be world's biggest channel on YouTube." He added that the music label was "not perturbed" by vicious attacks from PewDiePie fans who had been negatively spamming its channel.
T-Series website hacked again
Recently, PewDiePie challenged his biggest YouTube rival to a battle to the death. He has also urged his fans and supporters to fight on his behalf. The support campaign has taken a serious turn in recent weeks. The hacker fans of PewDiePie had taken down the T-Series website a couple of weeks ago. And they have done it again. The music label's website is still down at the time of this writing. Twitter user Azure claims (via Piunikaweb) to be behind the latest hack.
@HackerGiraffe I have now downed https://t.co/vl52gUvnYp to save our lord @pewdiepie

— Azure (@AzureHacker) December 21, 2018
Umm… problem with that. It's actually dead now…

— Azure (@AzureHacker) December 22, 2018
1 day later, a whole day without an attack on @TSeries and the website is still down.

— Azure (@AzureHacker) December 22, 2018
@TSeries website is back up again, will be down again soon.

— Azure (@AzureHacker) December 23, 2018
Just destroyed @Tseries website again…. pathetic. @KEEMSTAR

— Azure (@AzureHacker) December 24, 2018
T-Series website down again. #FightForPewds @pewdiepie

— Azure (@AzureHacker) December 25, 2018
Fans, fellow creators come out to support PewDiePie
Many individual YouTubers have come out in support of PewDiePie. They have launched a "subscribe to PewDiePie" campaign on YouTube and Twitter to boost the Swedish vlogger's subscriber count. Markiplier aka Mark Fischbach asked his more than 23 million followers to subscribe to PewDiePie. Markiplier launched a live broadcast titled "I Literally Won't Shut Up Until You Subscribe To PewDiePie."
Another noted YouTuber Mr Beast purchased commercial hoardings and radio ads in North Carolina to support PewDiePie. Justin Roberts supported his fellow YouTuber by buying a $1 million billboard in Times Square to urge New Yorkers to subscribe to PewDiePie. Felix said he was "desperate" for any help coming his way.
One PewDiePie fan hacked hundreds of thousands of Internet-connected printers around the world. The printers began automatically printing out the message, "Attention! PewDiePie is in trouble and he needs your help to defeat T-Series!" Several victims posted the evidence on Twitter. After the printer hack, PewDiePie said, "All of this support to keep me on top is so funny. I love it. Please keep it up."
My Dymo printer just told me that I need to subscribe to @pewdiepie but I'm already a subscriber ? pic.twitter.com/Hm7veeyEiO

— Jéssica Llinares (@Thrillka) December 15, 2018
Just a few days ago, PewDiePie fans hacked the Wall Street Journal website. The hacked website included a post asking the WSJ readers to subscribe to PewDiePie on YouTube. It said, "WallStreet Journal would like to apologize to pewdiepie." The publication had reported on PewDiePie allegedly recommending an anti-Semitic and racist YouTube channel in one of his videos.
Julia Alexander of The Verge also appears to have fallen victim to PewDiePie fans' actions. According to the Washington Post, Julia Alexander's Twitter DM was flooded with threats, insults, and hateful messages from Pewds fans after she reported last week that Felix Kjellberg had recommended an anti-Semitic YouTube channel to his followers.
Some of the actions of fans – such as hacking and issuing threats – might not reflect well on PewDiePie himself. Even if T-Series overtakes him in subscriber count, he will remain by far the most popular individual creator on YouTube.
Updated on