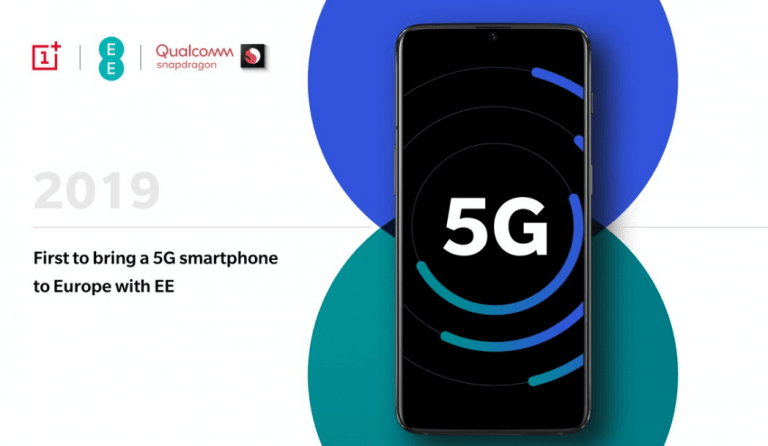 OnePlus has been talking about its upcoming 5G smartphone for quite a while. During Qualcomm's Snapdragon Tech Summit in Maui, OnePlus chief executive Pete Lau told CNET that the OnePlus 5G phone would launch before June 2019. When pressed for a time frame, Lau said the phone would most likely debut by the end of May 2019.
OnePlus 5G phone to run Snapdragon 855
We have learned earlier that the OnePlus 5G phone will be different from its current flagship lineup. It means the OnePlus 6T successor (likely to be called OnePlus 7) won't offer 5G support. The Chinese company is working on a new line to introduce the 5G technology. It would exist outside the current family of phones. OnePlus has partnered with Qualcomm, meaning the 5G phone would run the new Snapdragon 855 processor and the X50 5G modem.
The Snapdragon 855 is insanely fast and is loaded with tons of new capabilities. It comes with Qualcomm's 3D Sonic Sensor, an in-display fingerprint reader that would make it ridiculously easy to unlock your phone. The new processor also allows users to shoot 4K HDR videos and detect faces in front of the camera.
Benjamin Graham GEICO Buy Was Just A Simple Value Play
Was Ben Graham's big purchase of GEICO shares actually a value investment? Perhaps it was contrary to what many believe. "In 1948, we made our GEICO investment and from then on, we seemed to be very brilliant people." -- Benjamin Graham, 1976 Both Benjamin Graham and Warren Buffett can attribute a large part of their Read More
OnePlus wants to keep the prices low
The first 5G phones are expected to be expensive. Until now, no company had commented on the pricing of 5G phones. Now OnePlus CEO Pete Lau has given us a fair idea of how the new technology would affect the pricing of flagship smartphones. Lau said in an interview with The Verge that the OnePlus 5G phone would cost $200 to $300 more than the current flagship. It means the device should start at around $750.
Lau added that the company would want to keep the price below $1,000. If it happens, you'll be able to buy a 5G smartphone with blazing fast data speeds for less than the price of iPhone XS. OnePlus devices have traditionally offered premium features and specs at affordable prices. The 5G components would make its new phone more expensive, but the OnePlus 5G phone should still be more reasonably priced than similar devices from Samsung and other vendors.
Samsung has partnered with Verizon and AT&T to sell its 5G phones in the US next year. Neither Samsung nor its carrier partners have talked about pricing yet. Pete Lau said OnePlus was exploring other unique features to justify the $200 to $300 price hike. He is fully aware that 5G technology is in the early stages and the 5G phone won't "equate to huge sales." But things could be entirely different by 2020 when 5G adoption would increase further.
The OnePlus CEO added that the company would pursue the 5G technology irrespective of the price because customers want ultra-fast download speeds. The company has already been working with Qualcomm to understand the technology to deliver more refined experiences in the future phones.
The Chinese company has joined hands with EE in Europe to sell its 5G phone. EE will expand its 5G network to 16 cities in the UK next year. OnePlus will be the first company to launch a 5G phone in Europe, though it didn't offer a specific release date. It is unclear whether the company's first 5G phone would be sold in the US as well. OnePlus recently partnered with T-Mobile and added support for Verizon's LTE network.
We are taking the next step in our journey to the top of the global flagship market! OnePlus and @EE will join forces to deliver a #5G ready flagship in early 2019. https://t.co/NYppNZ6nYF #SnapdragonSummit pic.twitter.com/bXo0hulRmo

— OnePlus (@oneplus) December 5, 2018
It's too early to say what the OnePlus 5G phone would look like. Pete Lau wants it to be as sleek as the current flagship devices like OnePlus 6T. But adding the 5G components could force the company to make some design compromises. It's also worth pointing out that the company will use a "sub-6" 5G antenna, which is slower but has a wider coverage area. US carriers such as Verizon and AT&T use the millimeter wave, which is much faster than the sub-6 spectrum.