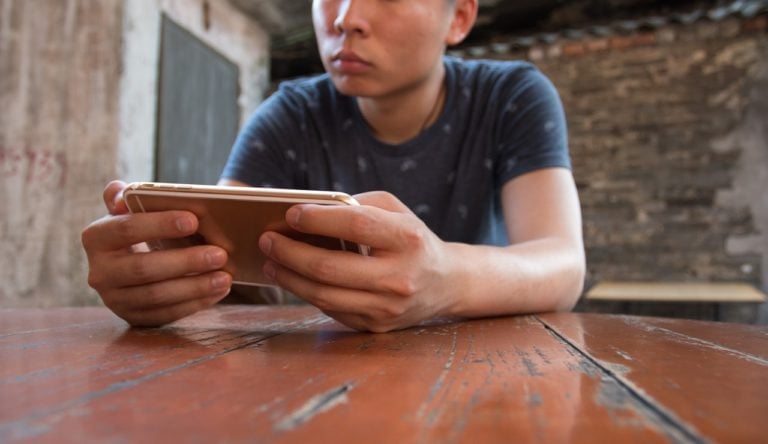 Apple was granted 37 patents on Tuesday, but one patent in particular hints at what future models may one day have in store for us. This new iPhone patent suggests Apple is planning a phone with a full-body or wraparound display which also covers the back and sides.
Here's what the new iPhone patent reveals
Current iPhone X models have glass on both sides, so it is technically feasible for Apple to add touch sensors to the back glass. The new iPhone patent spotted by Patently Apple details a similar concept. It states that the rear glass will have touch-sensitive input capabilities allowing users to scroll, play games, turn pages and more.
According to the patent, "The electronic device has a front face and a rear face and wherein the flexible display layer is configured to display content on the front face based on touch input gathered using the touch sensor on the rear face."
Robinhood 2021 Conference: Cathie Wood discusses her investment process with Lee Ainslie [Exclusive]
ARK Invest is known for targeting high-growth technology companies, with one of its most recent additions being DraftKings. In an interview with Maverick's Lee Ainslie at the Robinhood Investors Conference this week, Cathie Wood of ARK Invest discussed the firm's process and updated its views on some positions, including Tesla. Q1 2021 hedge fund letters, Read More
Apple appears to be pretty serious about the wraparound display. It originally filed a patent for such a technology about five years ago. The company made some changes to it in 2016 and was granted the new patent this past March, reports Patently Apple. Now this new iPhone patent describes even more changes to the technology in question.
In the new iPhone patent, Apple also references tilt controls which would help users turn the pages of a document. The patent says that when reading a document, a sensor would detect the device's tilt with "scroll speed proportionate to tilt angle" and "detect absence of tilt and halt scrolling" when the device is steady.
Is Apple planning a gaming iPhone?
Apple's emphasis on tilt technology suggests an upcoming iPhone could focus more on gaming.
Qualcomm's Snapdragon Tech Summit 2018 also brought discussions about the growing use of smartphones for gaming. Executives at the conference noted that more than 50% of gaming is now done on mobile devices. According to Qualcomm, China alone accounts for about 500 million online gamers. Considering such numbers, it is no surprise that the gaming hardware company Razer developed a gaming smartphone. For the same reason, it should not be a surprise if Apple developes a gaming iPhone. Additionally, there are more hints of the patent being of a gaming iPhone.
One of the images in the patent suggests a user could run their fingers across the rear screen to control the content on the front screen. Users could then move forward or backward on the front display to perform tasks like flipping pages, scrolling through content or using it as a controller for games.
Such a technology is not entirely unheard of. Nubia, a Chinese smartphone vendor, released a smartphone with gaming controls on the backside recently. Thus, it is very possible we will one day see a gaming iPhone which packs a similar technology .
Apple filed a patent for backside controls on the iPad in 2006, notes Patently Apple. Adding controls to an aluminum backside is a difficult ask, but it's not such a difficult thing to do it on a glass back panel.
Combining old and new technologies
In addition to the new iPhone patent, Apple was also granted a patent for the AirPower's "multi-device charging" technology. Using AirPower to charge multiple devices is what differentiates it from other charging devices. The charging mat was first announced in September 2017, but it has yet to hit store shelves. Considering the delay in its launch, many believe the product is dead. However, recent reports suggest Apple is still working on it.
The company was recently granted another patent which combines old and new technology. The technologies in question here are Face ID and Touch ID. According to the patent, we could one day see an iPhone which uses both for biometric authentication. An image in this patent indicates that the device first uses Face ID and then offers Touch ID as a fallback. A point to note is that the illustration shows a phone with a hardware Touch ID sensor, but we can be sure that if Apple ever releases a device having both authentication methods,  Touch ID would be embedded in the display.
Apple's new iPhone patent also references limitations with 2D facial-recognition systems. It also notes that facial-recognition technology could also come to smartwatches. Considering that the current-gen Apple Watch doesn't even sport a camera, it may take a few years before facial-recognition technology debuts on the wearable.