So you missed the awesome Amex $100 off $500 at Amazon, well you are still in luck. You can still find some awesome credit card from American express offers before the year ends. However, you need to hurry as many of these expire on December 31st 2018.
Please note this post contains affiliate links – if you get approved for a credit card we get a small fee – however, it is all anonymous costs you nothing extra and it helps ensure we can find more great deals to post here in the future.
First off, you can get $,1500 of Airline credit or gift cards using the following method. What makes this awesome is you are not getting 5% you are literally getting a 100% return you spend $100 and you get $100 back which you can use for a trip or sell for lets say 90% of value – make sure you are on desktop (NOT mobile) and buy in $50 denominations for Delta. You register the following Credit Card with an airline go to their site
The AMEX Premier Rewards Gold Card offers a $100 annual airline fee credit. 
The AMEX Platinum Card offers a $200 annual airline fee credit. 
The AMEX Hilton Aspire Card offers a $250 annual airline fee credit. 
Now you need to hurry up for 2018 and then you can get $750 for 2019 come next week. I have the gold card and already did this and just applied for the Hilton card and asked Amex to rush shipping so I could quickly buy some Delta Gift cards for 2018 before the year ends.
I just got credit for my gold card and will be getting on my Hilton one shortly – see screenshot as proof. Please note we cannot guarantee it will work but this seems to do the trick for others and did it for us.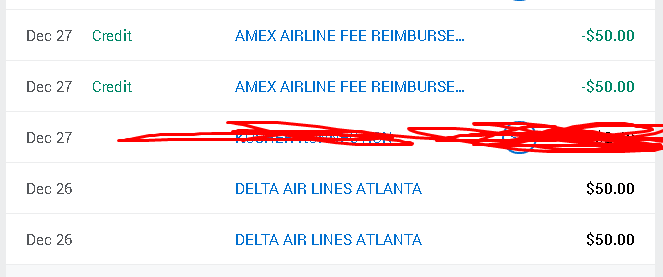 DansDeals has a lit of other airlines besides Delta right here.
These cards do come with annual fees however the rewards more than justify the fees if you like free hotel rooms and/or airline miles. Furthermore, Amex has your back if something goes wrong. Paypal Syncbank (Paypal Extras Mastercard) just messed me over big time on a $1,200 dispute so I now use Amex for all major purpses. It is easily worth $200 to know if you have a serious issue that your credit card will help you out and not charge you for a product which was defective and did not work.
Here are the six cards I use
Business
Personal
All Personal Credit cards from Amecian Express

Business cards
Too confusing? Get the top four mentioned earlier
Click here to see more details about each card.
Another great offer now from Amazon and Amex– Enroll your eligible American Express Card and get $20 or 2,000 additional Membership Rewards points one-time when you spend $50+ – this is available with Amex Gold and possibly others. See more details here
If you have any troubles with anything you can call Amex to add this offer to your card 1-800-297-3276 .However, you should not have to, but if you do require help Amex has top notch customer support.
Let us know in the comments where you plan to travel!