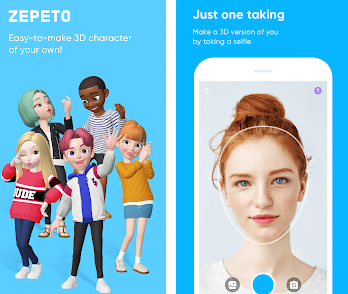 Zepeto is a pretty popular app that allows you to create animated characters of yourself and customize them. However, many users on social forums have been questioning the authenticity of the app recently and complaining about Zepeto tracking them.
Is Zepeto tracking you?
Many users claim on social forums that they have deleted the app.
"i [sic] deleted zepeto because i [sic] thought it was a tracking app," one user tweeted.
From The Archives: Apple IPO Original Document
Today, Apple is the largest public company in the world, and the group's iPhones can be found in stores all over the globe, but not long ago the company was a baby when the Apple IPO was filed in the 1970s. Not only is Apple the world's most valuable company, but it's also arguable that Read More
Many others made similar claims, adding that they deleted the app immediately on realizing that it may be a tracking app. Some users even claimed to hear a static sound from their device's speaker while using Zepeto, leading to speculations that the app is tracking and recording users secretly.
Okay so Zepeto might be recording you. If you put your ear to your speaker as if you are gonna call someone (WHILE ON THE APP!) you will heard almost like a dead line sound, so like just a quiet hum. This is sketchy as fuck and I deleted it right away. Please be careful!

— Cass ? is going to PAX (@alltime_issues) November 26, 2018
Although there has been no clarification from the app's developers, some users are defending the app. They're saying the claims about Zepeto tracking users are not real.
"It was a joke in a group chat that's just gone too far and accidentally started a rumor," one user tweeted.
Those in favor of the app also say it can't be a tracking app because it doesn't have access to the user's location. Additionally, if it were a tracking app, the Play Store and the App Store wouldn't have published it in the first place. There are many such tweets in favor of the app.
The static thing ppl were talking about freaked me out bc I thought I heard static coming from my phone (I don't even have Zepeto) and I started hyperventilating and I couldn't calm down (I'm STILL not okay atm).

Don't spread rumors. You're scaring ppl. (2/3)

— ♠ (@skinnyisunique) November 26, 2018
If you read any threads about Zepeto tracking users, you will find mixed reactions, but there are apparently more voices in favor of the app. Thus, the claims about Zepeto tracking users may be false. Still, we are keeping an eye on the forums and will update readers on any new developments.
What's special about the Zepeto app?
Zepeto is the latest app from Snow Corporation, and it lets you create your own emoji and use it while chatting. To create your cartoon, first you need to install the Zepeto app and then take pictures of your face. After you upload the pictures, Zepeto creates your animated character.
"Imagine a cute character of yourself. It would be cuter than your imagination," reads the description of the app on the Play Store.
You can edit your cartoon character's eyes, nose, lips, mustache, hairstyle, face shape, eyebrows, eyeglasses and more. You can also dress the character any way you want. Once you have created the perfect you, the app allows you to take pictures of your character, including pictures with your friends. You can easily add your friends in the app by entering their Zepeto BTS Codes.
Due to such customizations, the app has grown very popular in Asia and is catching up fast in the U.S. Zepeto is free to download from the Play Store and App Store. However, you will need to buy some of the customization options if you want them.
Google removes apps containing malware
In other Google-related news, the company has removed 13 apps from the Play Store after researchers found them to be harmful. The apps included car and truck driving simulations, including two popular apps featured in the store's Trending section. However, Google didn't remove the apps until after more than 500,000 users had downloaded them.
ESET security researcher Lukas Stefanko revealed the details about the apps in a tweet, adding that they contain Android malware. It was interesting to note that all the apps were from a single developer named Luiz Pinto. These apps were disguised as games which didn't work, but rather, would crash each time a user tries to launch them.
"Don't install these apps from Google Play —  it's malware," read the tweet from Stefanko.
According to the researcher, the infected apps would hide themselves (including their icons) after a user launches them. In some cases, users were also asked to install an additional APK called Game Center. The researcher even posted videos to show how the apps operate.
Google has become very aggressive when it comes to Play Store security. Earlier this year, the search giant revealed that it pulled more than 700,000 malicious apps from the Play Store in 2017.