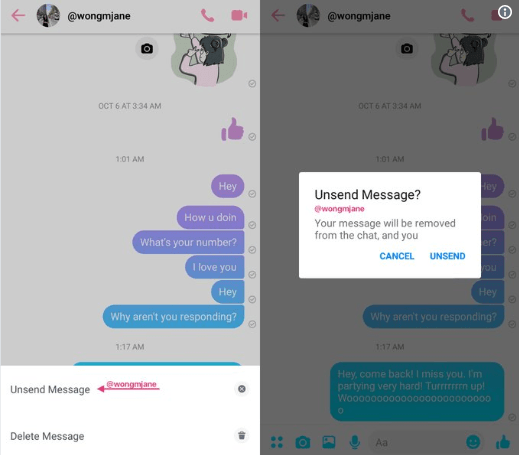 The ability to 'unsend' messages in Facebook Messenger is something that was kept exclusive to Mark Zuckerberg and a few senior Facebook execs for a long time. Now a similar Unsend Message feature is coming to all Messenger users. The company probably didn't intend to bring it to the public originally. But when it was discovered that Mark Zuckerberg was able to delete his messages from recipients' inboxes, Facebook had to do something to save face, especially when it was in the midst of the Cambridge Analytica scandal.
Unsend Message feature 'coming soon'
You will not be getting the same delete powers as Mark Zuckerberg. But you'll soon be able to delete messages after hitting the send button. So, whether you texted your ex or said something mean to your friend, you'll have up to 10 minutes to delete that message. Folks at The Verge discovered in the release notes for version 191.0 of Facebook Messenger's iOS app that the Unsend Message feature was listed as "coming soon."
INTERESTING… Facebook Messenger's long-awaited delete messages feature will only give you a 10 minute window to remove a message in a chat pic.twitter.com/ew1z2WPXbc

This mining and metals fund is having a strong year so far

The Delbrook Resources Opportunities Master Fund was up 9.2% for May, bringing its year-to-date return to 33%. Q1 2021 hedge fund letters, conferences and more Dellbrook is an equity long/ short fund that focuses exclusively on the metals and mining sector. It invests mainly in public companies focused on precious, base, energy and industrial metals Read More

— Matt Navarra | 🚨 #StayAtHome (@MattNavarra) November 7, 2018
As per the social networking giant, the Unsend Message functionality will give users 10 minutes to delete a message. The message would disappear from your Messenger thread as well as the recipient's. It's still unclear how the company would implement it. Will Facebook inform the recipient that a message has been deleted? We hope to find out soon. The company says it will be useful if "you accidentally send the wrong photo, incorrect information, or message the wrong thread."
Facebook Messenger is finally working on "Unsend Message" in the app for everyone!

Tip @Techmeme pic.twitter.com/5OtQrmyID3

— Jane Manchun Wong (@wongmjane) October 12, 2018
Mark Zuckerberg and other Facebook execs didn't have just 10 minutes window to delete their messages from recipients' inboxes. The company told media at the time that it made "a number of changes to protect our executives' communications" after Sony Pictures' emails were hacked in 2014. A massive data breach at Sony Pictures had resulted in private email conversations being leaked.
The company's admission that it was deliberately and quietly deleting its executives' messages further hurt Facebook's reputation. Facebook was already grappling with the Cambridge Analytica scandal and data leaks. As a concession, it promised not to delete Mark Zuckerberg's messages from recipients' inboxes until the Unsend Message feature went public. Experts said at the time that by making an exception for its executives and by not disclosing it to the public, Facebook was mocking its own statement that it wanted to "make the world more open and transparent."
Facebook Messenger joins the long list of apps
Facebook Messenger is not the only app that will allow you to delete sent texts. WhatsApp, a Facebook-owned app, allows you to retract texts within one hour of having sent it. That's far more generous than Facebook Messenger's 10 minutes. Instagram also gives you the freedom to delete DMs. Unlike WhatsApp and Messenger, Instagram has an unlimited window. Snapchat also added a similar feature earlier this year.
It's worth pointing out that just because an app allows you to delete or unsend a text doesn't mean the recipient will not be able to read your message. If the recipient gets the notification for your text and opens it immediately, there is little you can do. The most important thing is to double-check your messages. Hit the send button only if you are sure about what you want to say and what you've typed in. If you have even an iota of doubt, don't send it.
Even if Facebook Messenger deletes your message from the recipient's inbox, it will probably keep the communication on its servers for as long as possible. There is also a "Secret Conversations" feature in Facebook Messenger that makes your conversations encrypted, but it's not easy to switch to that mode for every conversation. And it appears to be designed for people who want to hide things rather than protecting their basic privacy. If you are worried about your privacy, the best way is not to use any Facebook app.
Facebook has been trying to improve Messenger as teens continue to lose interest in its products and services. The company recently added Dark Mode to Messenger. If you prefer texting at night, the dark background should relieve your eyes. The company is also working on a rival to TikTok/Musical.ly in an attempt to recapture the attention of teens who have switched to TikTok. Facebook's TikTok-like video app will allow users to record and share videos of themselves as they dance or lip-sync to popular songs.