Whitney Tilson's email to investors discussing articles on shares Buffett bought back & lessons from Amazon; 10 baggers; advice on writing & reading and Netflix.
Don't Forget To Vote – No Excuses!
1) Glenn and I just published this article: 4 reasons it's a big deal Buffett is buying Berkshire stock. Excerpt:
Alkeon: Big Tech Is Only Just Getting Started
The ACAP Strategic Fund's managers see a "significant scarcity of attractive asset allocation choices globally," but also a strong environment for fundamental stock picking. Q2 2021 hedge fund letters, conferences and more According to a copy of the fund's second-quarter investor update, which ValueWalk has been able to review, its managers currently hold a balanced Read More
Berkshire Hathaway's third quarter earnings report, released over the weekend, showed continued strength across the board, with book value and pre-tax operating earnings (excluding insurance and investment income) up 8% year to date.
But the most important piece of information in the report was the revelation that the greatest investor of all time, Warren Buffett, agrees with our view that the stock offers one of the most attractive risk-reward equations in the market.
We know this because of a major new development: during the quarter, Buffett bought back $928 million worth of his stock at $311,000 per A share ($207 per B share).
For most companies, this wouldn't be news, as the majority of large companies buy back their stock, nor would it indicate a buying opportunity, as various studies show that companies, collectively, do exactly the wrong thing: buy heavily when stocks are most expensive and very little when they're cheapest.
But when Buffett buys his own stock, it's a big deal for a number of reasons. First, he's Warren Buffett. In light of his unparalleled track record, investors rightly pay attention when he says a stock is cheap — and puts his money where is mouth is.
2) I published this article over the weekend: Lessons from my investment in Amazon 2 decades ago. Excerpt:
As part of preparing to teach Amazon as a case study in my Lessons from the Trenches: Value Investing Bootcamp, I took a look back at my history with the stock and discovered that I had owned it for nine months in my first year of managing money professionally, nearly two decades ago at the peak of the internet bubble from mid-1999 to early 2000. (I had forgotten that I had ever owned it — probably because my brain was protecting me from the pain of knowing I'd sold one of the greatest stocks of all time!)
It's a fascinating case study, with lessons that are just as true today as they were then.
… Fortunately, I got out in time, selling at $64 on March 9, 2000, the day before the Nasdaq peaked, to buy more Berkshire Hathaway at its nadir, making it 30% of my fund — one of my best trades ever!
But I more than made up for this brilliance by almost completely failing to take advantage of the incredible bargains that presented themselves amidst the carnage of one of bursting of one of the biggest bubbles in history. There were countless stocks that went up 10x and some far more: for example, Amazon is up 269x since it bottomed, Apple is up 231x and Booking Holdings (formerly Priceline) is up 285x.
This was the greatest whiff of my investing career.
I wouldn't beat myself up so much if I had done the work and concluded that these companies were outside of my circle of competence (as many were) or that I couldn't value them (which was hard). But I didn't. Instead, I did two things: 1) congratulated myself for having very publicly nailed the internet bubble and selling my tech stocks like Amazon and AOL in the nick of time; and 2) I wrote off the entire tech sector as uninvestable because it was too hard to predict and therefore the stocks were too hard to value.
3) Speaking of Amazon, comedian Hasan Minhaj, who left The Daily Show in August, does a hilarious but also insightful riff on his addiction to the company as part of his new show on Netflix, Patriot Act, which is outstanding.
4) Speaking of huge misses, this article identifies the 38 stocks in the S&P 500 that have risen more than 10x since the market bottomed in March 2009 and the 25 that have added $100 billion or more to their market caps: A Top or The Top? Here are the two charts (so painful!):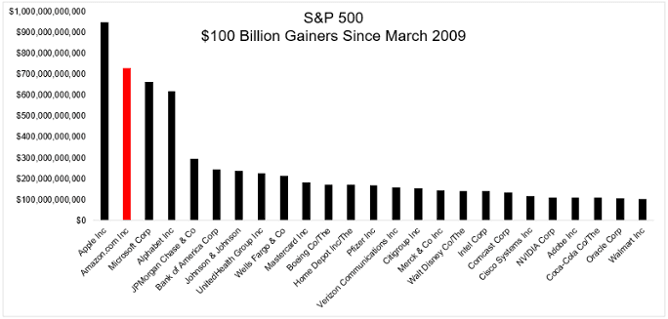 5) In our webinar last week, I was asked two questions: my advice on becoming a better writer and what I read. I've posted the videos of my replies on the Kase Learning YouTube channel here (6 min) and here (15 min).
5) This article from the Sydney Morning Herald discusses activist short sellers in Australia and cites how Netflix CEO Reed Hastings responded to my short thesis as a model for other companies and CEOs like Elon Musk: What corporate Australia can learn from Netflix and its short-seller détente. Excerpt:
Investors engaging in the tactic are often attacked by executives at targeted companies, or even political figures (going as far back as Napoleon, who reputedly described shorters of French government bonds as "treasonous").
Yet most people with a basic grasp of finance understand the role short sellers can play in a functioning, adequately regulated market. They can provide liquidity and deflate asset bubbles by countering euphoria in prices. And they also can expose fraudulent behaviour.
There have been a few high-profile short-selling campaigns against Australian companies in recent times. Yet just about every major listed company of significance experiences a degree of short selling in its listed securities.
Streaming video juggernaut Netflix has been a constant target of the shorts throughout its existence. Its lofty valuation relative to its profits, and the billions of dollars of content liabilities on its balance sheet have raised scepticism among some investors.
Back in 2010, Whitney Tilson, a respected American short seller, went public with his short thesis on Netflix, arguing that the service's growth could be stifled by its "weak" content and rising competition, while higher costs for bandwidth and TV shows could hurt its profit margins.
Hastings, the company's CEO, responded in a way that other executives would do well to remember.
Telsa's Elon Musk is reportedly consumed by "jerk" short sellers.
Instead of  taking it personally and launching a public tirade against Tilson or short sellers generally, Hastings praised him as a "wonderful human being" and a "big-hearted donor to causes that I care about". He added that "short sellers are a positive force in capitalism".
The Netflix CEO went on to calmly and dispassionately explain why he thought Tilson was wrong  and implored him to change his mind so that he wouldn't lose money.
Since then, Netflix shares are up a whopping 900 per cent.
PS–Here is a link to the presentation I gave at my Value Investing Congress on Oct. 1, 2012, the day Netflix bottomed at $7.78/share (split adjusted), a 40-bagger ago.