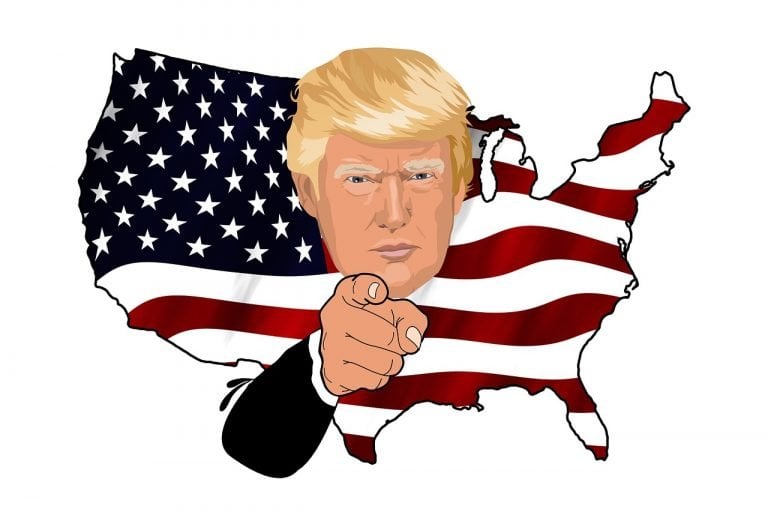 Apple's smart assistant Siri is not that smart after all. People across the United States were enjoying their Thanksgiving dinner when some of them decided to ask Siri questions like "Who is Donald Trump?" or "How old is Donald Trump?" And Siri completely ruined their Thanksgiving. Apparently, it's indeed a "mean & nasty world out there" Mr President. It was Thanksgiving in the US, and Siri thought President Donald Trump looks like a penis.
Did you ask Siri about Donald Trump?
People who asked Siri who Donald Trump was or how old he is, were surprised to see the digital assistant showing them a picture of an actual penis instead of a photo of the President. The issue was first reported by The Verge, which noted that someone might have been editing the Wikipedia page associated with the President or at least gaming the algorithm that Siri uses to pull up photos.
A Wikipedia editor confirmed to The Verge that more than one people were involved with "vandalism" with Trump's page. They appear to have engaged in an edit war. "They have now been blocked indefinitely." You can see the edit history of Donald Trump's Wikipedia page here.
Investing in the Next Generation of Emerging and Frontier Markets with Maurits Pot
ValueWalk's Raul Panganiban with Maurits Pot, Founder and CEO of Dawn Global. Before this he was Partner at Kingsway Capital, a frontier market specialist with over 2 billion AUM. In the interview, we discuss his approach to investing and why investors should look into frontier and emerging markets. Q2 2021 hedge fund letters, conferences and Read More
Apple hasn't yet officially commented on the issue yet, but the company has fixed it from its end. The iPhone maker appears to have disabled showing images when you ask Siri something about Donald Trump. Currently, the AI assistant returns a variety of links to different websites and a photo-less Wolfram Alpha result when you ask about Trump or his age.
Okay, they sorted it. You just get generic web search results now. pic.twitter.com/7iDegzWlg6

— Benjamin Mayo (@bzamayo) November 22, 2018
It's not just Siri that thought Donald Trump looked like a penis. A Twitter user pointed out that asking similar questions in Apple's Safari browser also turned up images of male genitalia. Google Assistant doesn't appear to be affected by the issue as it returns appropriate images of Donald Trump. Siri shows proper pages and images if you ask about former US Presidents such as George W. Bush or Barack Obama.
Guys Donald trump shows up as a penis on Safari pic.twitter.com/MQ32xO8SYi

— Vore Enthusiast (@vore_enthusiast) November 22, 2018
It's not the first time someone has tried to game the algorithms of online services to malign Trump. Last year, Reddit users tricked Google's search engine such that it would return images of Trump when someone searched the word "idiot." Also, it's not the first time Siri has failed. There is a dedicated subreddit with tons of examples of Siri's erroneously responses. Last year, Apple's AI assistant thought Luis Fonsi's Despacito was the national anthem of Bulgaria.
Donald Trump toilet brush on sale
Since we are talking about Trump, Michelle Rubel of SpacedOutDesigns recently released a 'Donald Trump toilet brush' on the occasion of World Toilet Day earlier this week. The toilet brush is available on Etsy.com, and has received a humongous response from buyers. The toilet brush has a figure of President Trump near the end of its handle. The figure has a red tie and blue suit. The resemblance is uncanny.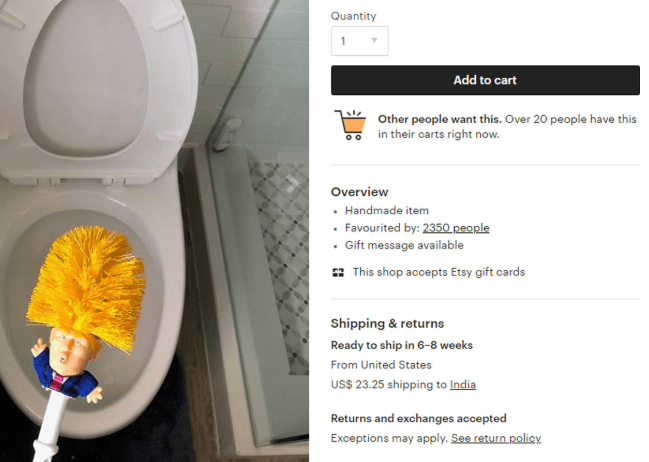 The toilet brush is priced at $23.50, and is shipped from New Zealand. The product description reads, "Make Your Toilet Great Again! No president has had a Toilet Brush like my Toilet Brush! I am automatically attracted to toilet bowls, I just start scrubbing, I just kiss, I don't even wait and when you are a toilet brush they let you do it." The product has received such an overwhelming response that the shipping has been delayed by 6-8 weeks for most customers.