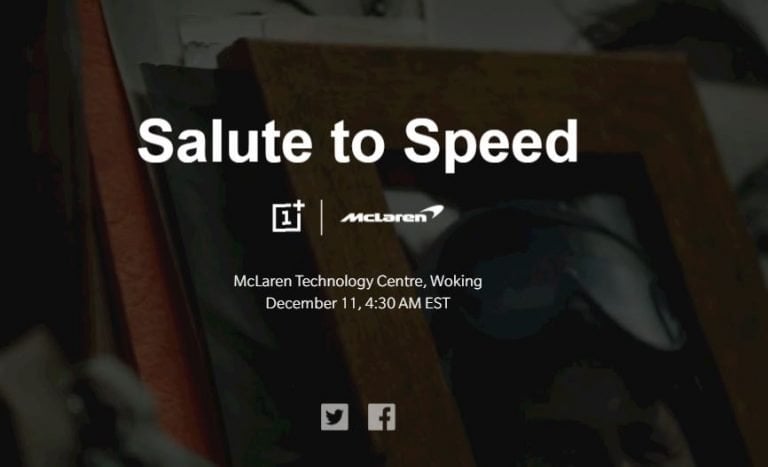 Popular Chinese smartphone vendor OnePlus launched the OnePlus 6T only a few weeks ago. The rumor mill revealed a few days ago that the company was preparing to launch a limited OnePlus 6T McLaren Edition in December. OnePlus hasn't confirmed the special edition phone, but said on Twitter that it was collaborating with McLaren. It will hold a special event on December 11 at the McLaren Technology Center in Woking.
OnePlus 6T McLaren Edition to get 10GB RAM, 256GB storage
The company is expected to announce a special OnePlus 6T with McLaren branding and colors on Dec.11. Other Chinese vendors such as Huawei and Oppo have launched Porsche and Lamborghini special editions of their flagship phones in the past. OnePlus teased "Salute to Speed" in its Dec.11 event invite, suggesting that the McLaren edition will be more powerful than the currently maxed out OnePlus 6T with 8GB RAM and 256GB storage.
OnePlus and @McLarenF1. Forever in pursuit of speed. Experience the #SalutetoSpeed on December 11. https://t.co/inqbUCRYcK pic.twitter.com/Q7HGBqmZtw

Odey Falls -2.5% In Q2, Bets On Economic Recovery

The LF Brook Absolute Return Fund lost -2.52% in the second quarter of 2021, compared to a positive performance of 7.59% for its benchmark, the MSCI Daily TR Net World Index. Year-to-date the fund has returned 4.6% compared to 11.9% for its benchmark. Q2 2021 hedge fund letters, conferences and more According to a copy Read More

— OnePlus (@oneplus) November 27, 2018
So, what should we expect from the OnePlus 6T McLaren Edition? McLaren is all about performance cars. That coupled with the "Salute to Speed" tagline suggests that the special edition device will get even bigger RAM than the existing models. Sources familiar with the matter told MySmartPrice that the OnePlus 6T McLaren Edition would pack 10GB RAM and 256GB RAM. The current OnePlus 6T comes in three different variants: 6GB+128GB, 8GB+128GB, and 8GB+256GB of RAM and storage.
It is also expected to have McLaren's logo on the back panel. The Chinese company could also customize the UI with a new theme based on McLaren cars, says MySmartPrice. The phone will be available just in time for the Christmas shopping season. It will first launch in the UK, followed by India on December 12th.
Another Chinese vendor Xiaomi has already launched the Mi Mix 3 with 10GB RAM. So, OnePlus won't be the first phone with that kind of RAM.
A bigger question here is whether 10GB RAM is really necessary on a smartphone. The current 8GB OnePlus 6T is already more powerful than most Android phones out there. It is powerful enough to easily handle any task and game you throw at it. The additional 2GB RAM on the OnePlus 6T McLaren Edition will be lying idle for most users. It would be more of a gimmicky feature to differentiate the new model from the crown.
Most other premium phones such as Google Pixel 3, iPhone XS Max, and Samsung Galaxy S9 use only 4GB or 6GB RAM, which is more than sufficient. However, Samsung is planning to launch at least one variant of Galaxy S10 with 12GB RAM next year, which would be an overkill.
Other than the extra RAM and design tweaks, the OnePlus 6T McLaren Edition would be similar to the standard OnePlus 6T. It means the special edition will have the same 6.41-inch AMOLED display with a waterdrop notch, a combination of 16MP and 20MP cameras on the back, and a 20MP front-facing selfie camera. It would run Qualcomm's Snapdragon 845 chipset and OxygenOS on top of Android 9 Pie. It is expected to have the same 3700mAh battery with Dash Charge technology.
How much will it cost?
Currently, the 8GB+256GB variant of OnePlus 6T costs $629. So, the 10GB+256GB McLaren Edition should be more expensive. But the price is unlikely to be too high because RAM is capped at 256GB. Huawei's Porsche edition and Oppo's Lamborghini edition were also more expensive than their regular versions. It's not yet known whether the special OnePlus 6T variant will reach the US.
OnePlus is also preparing to launch a 5G smartphone early next year. However, the company has clarified that the 5G technology won't be introduced with OnePlus 7. Instead, it will bring a separate line with 5G modem. OnePlus has teamed up with Qualcomm for 5G, meaning the 5G phone would run the Snapdragon X50 modem and Snapdragon 8150 processor. OnePlus social head Ard Boudeling recently tweeted a picture showing off the back panel of a OnePlus phone. The rumor mill speculates that Boudeling was teasing next year's OnePlus 7.