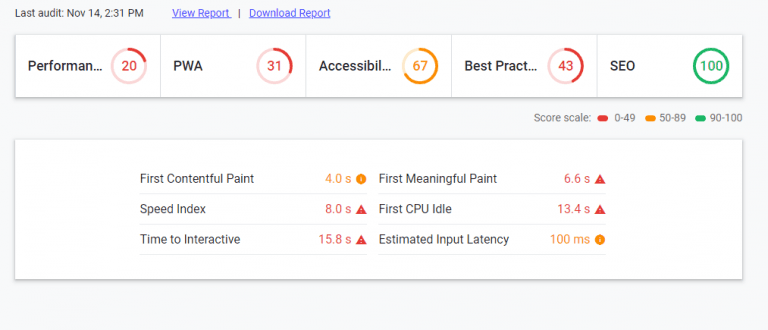 Google never likes talking about its search engine algorithms, but the company often goes the extra mile to help websites and developers offer the best user experience. The search engine giant has launched a new SEO tool to let developers and publications review the performance of their websites. The SEO tool also offers detailed and actionable guidance on how they can "apply the web's modern capabilities to improve their own websites and apps.
Here's what the SEO tool does
The tool, still in open beta, is available at Web.dev. It shows you how well your website follows SEO best practices. Google says its web platform team has spent more than a decade learning about user needs, and this SEO tool is the culmination of all the learning. Modern users expect high-quality experience when they visit a website. If the experience is anything less than impressive, they leave the site.
Google noted that the web now has enough capabilities to overcome the challenge of providing users with the best possible experience "wherever they are." All you have to do is visit Web.dev, click on 'Test My Site' and then enter your website URL. The Lighthouse algorithms will run a series of audits, review the audit reports to identify areas of improvement, and show you how you can improve your scores.
Robinhood 2021 Conference: Cathie Wood discusses her investment process with Lee Ainslie [Exclusive]
ARK Invest is known for targeting high-growth technology companies, with one of its most recent additions being DraftKings. In an interview with Maverick's Lee Ainslie at the Robinhood Investors Conference this week, Cathie Wood of ARK Invest discussed the firm's process and updated its views on some positions, including Tesla. Q1 2021 hedge fund letters, Read More
The tool analyzes:
Performance: It audits for metrics such as first paint and time to interactive to determine the lag
PWA: It assesses your page against the Progressive Web App checklist
Best Practices: It looks at things like whether your website uses HTTPS and correct image aspect ratios
SEO: It checks for best practices to ensure that your website is discoverable
Accessibility: It looks for common problems that could prevent users from accessing your content
Once you enter your URL on Web.dev, it analyzes the site and shows your score along with a list of recommended improvements. It lists recommendations in the order of their impact on your site. You can also choose to download the detailed report for extensive guidance on how to improve your site in every area. If you implement the recommended changes, they will reflect on Web.dev only after 24 hours.
Google's new tool could be useful not only for developers and web publications, but also for SEO consultants. The search engine giant already offers a 32-page guide for best SEO practices. If you want to become an SEO expert, you need to have at least a basic understanding of HTML web page components, CSS3, jQuery, PPC, and local SEO.
That's just the beginning of the SEO journey. You have to become familiar with how to optimize a Google My Business listing, content creation, link building, and a lot more. Even your social media reach plays an important role in your website's SEO. You also need to learn how a website can recover from a Google penalty. SEO and digital marketing has become far more complex than ever before. You have to keep learning new things consistently to stay at the top of the fast-changing landscape. We have put together a list of 75 effective techniques for SEO success.