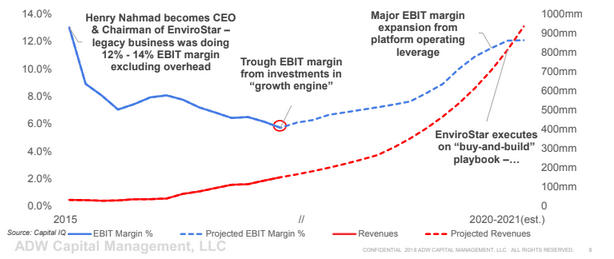 Adam Wyden's ADW Capital Management has been very active recently. In October the long/short equity hedge fund, which has an activist slant, sent a letter to the board and management of PAR Technology Corporation, expressing its concerns about the direction of the company.
After waiting 19 days with no response, ADW, which owns just over 10% of the business, issued a letter demanding "this Board must take immediate steps to proceed with an outright sale of the entire Company immediately and PUBLICLY DISCLOSE ITS INTENTIONS THROUGH ISSUING A PRESS RELEASE."
Two weeks after issuing this demand, the firm sent a public letter to the board of Fiat Chrysler asking for, what ActivistInsight describes as "just about everything an activist investor could possibly ask for."
Investing in the Next Generation of Emerging and Frontier Markets with Maurits Pot
ValueWalk's Raul Panganiban with Maurits Pot, Founder and CEO of Dawn Global. Before this he was Partner at Kingsway Capital, a frontier market specialist with over 2 billion AUM. In the interview, we discuss his approach to investing and why investors should look into frontier and emerging markets. Q2 2021 hedge fund letters, conferences and Read More
Alongside Fiat and PAR, one of the newest positions in the ADW portfolio is a micro cap with lots of room to run up. According to an internal copy of the firm's presentation on the company dated October 20th 2018, which has been reviewed by ValueWalk, Adam Wyden (son of US Senator Ron Wyden) and his team believe "the market is significantly underpricing EnviroStar's growth opportunity," and the skill of its underrated CEO, Henry Nahmad who controls around 70% of shares outstanding. ADW believes "Nahmad is in the early innings of creating monumental shareholder value."
Q3 hedge fund letters, conference, scoops etc
If you're looking for more timely hedge fund insight, ValueWalk's exclusive newsletter Hidden Value Stocks offers exclusive access to under-the-radar value hedge funds and their ideas. Click here to find out more and signup for a free no-obligation trial today.
Undervalued management
After publishing its first quarter results on November 9, shares in the laundry and dry cleaning equipment business have lost more than a third of their value (at the time of writing).
It seems investors are concerned about EnviroStar's growth strategy. The business has recently completed large acquisitions for undisclosed amounts.
Nahmad has utilized a buy and build strategy to turn EnviroStar into what it is today after he acquired a 40% stake in the business back in the first quarter of 2015. According to ADW's analysis, the CEO and majority shareholder has displayed discipline in all of his deals, financing acquisitions with a mix of cash and stock and paying on average only 5x EBITDA, replicating the strategy he refined at his uncles business as head of M&A (Watsco).
Exclusive access to value-focused hedge fund managers
EnviroStar's stock has risen 11-fold since Nahmad took control of the business.
The team at ADW believes the company can maintain its current growth trajectory, consolidating the highly fragmented laundry and dry cleaning industry. The team believes Nahmad already has a strong acquisition pipeline queued up, ready to fuel the company's growth for many years to come.
Organic growth
Acquisitions are only part of the EnviroStar story. ADW's presentation points out the company has been able to grow organically add between 6.2% and 6.8% between 2016 and 2018. While the focus has been on acquisitions, the core of the business has continued to grow helped by growing economies of scale and stronger manufacturer customer relationships. The increasing size of the company also means it can leverage manufacturer relationships across markets to sell more products and increase energy.
Overall, analysis suggests that the total addressable market for EnviroStar's laundry and dry cleaning products in the United States is around $55 billion. These are not fast growing, exciting markets the company operates in they are boring, slow and steady businesses such as commercial laundry equipment, industrial detergents, commercial kitchen equipment, and commercial boilers. These markets are about as far away from Silicon Valley as you can get, but with industrial detergents market currently worth around $20 billion and growing at 5% per annum, they are full of opportunity. Even if the company can capture just 10% of the overall total US addressable market in the four core industries where it has the most experience, by using cross-selling, economies of scale and efficient capital allocation, "investors could see a more than 30x increase in the stock price," according to ADW.
Deals, deals, deals
A significant part of this investment thesis hinges on EnviroStar's ability to be able to maintain its current level of acquisition activity. ADW's presentation speculates that this is highly likely because the business targets small "mom and pop shops" that want to sell, but do not want to sell to private equity businesses. They would rather hand the enterprise to someone who plans to look after their existing staff and run the firm as they would. Here's where EnviroStar has the edge according to Wyden and team. By using its size (~$400 million market cap), EnviroStar can continue to roll up small mom and pop operations with $3 million to $4 million in operating profit at attractive valuations for the foreseeable future because the industry remains highly fragmented.
Managers are also incentivized to produce the best returns for shareholders. As noted above, Nahmad owns the bulk of the company through his two funds, money managed for family and friends rather than flighty hedge fund capital. Also, the rest of the management team owns around 25% of the company as business owners have stayed on board after being acquired.
Others disagree. Ben Axler of Spruce Point, a short biased firm has been short the stock since 2017. He is still bearish and told ValueWalk that he believes the company will continue losing money, and margains are only going down. Price target? Somewhere in the single digits.
This article first appeared on ValueWalkPremium